London DE founder Phil Spencer created a scalable jewellery business from scratch, offering bespoke coloured gemstone jewellery from mine to market.

Every new business needs its niche and every entrepreneur needs passion and vision. Start-up jeweller London DE established the USP to offer coloured gemstone jewellery that is tailored to the customer, ethically sourced, transparent and traceable, all the way from source.

When I founded London DE in 2013 it was with a passion for gemstones and jewellery, combined with a long-running urge to start and scale my own business from scratch. After serving in the armed forces, followed by a spell in financial services, I wanted to break out and do something new and creative.

I took the decision to start the business in summer 2012. As my 30's dawned I began to feel the pang of 'it's now or never'. Then as a spectator watching the London 2012 Olympics, I was inspired to create a brand based around London as a trademark.




The next five years were tough and rewarding in equal measure, with ups and downs, successes and failures but I gradually learned my industry and entrepreneurship little by little. Crucially, family and friends in the gemstone and jewellery industry and the gemstone trade gave me access to the partners and support that I needed to create a niche and USP - the ethical sourcing and supply of coloured gemstones and bespoke jewellery from mine to market.

Emeralds are real a focus for us. These beautiful green gemstones have enjoyed a fashion renaissance in recent years. Royalty, movie stars and celebrities have popularised them as the ultimate luxury jewellery accessory. The best emeralds are mined in Colombia, and we ethically source our stones from the Chivor, Coscuez and Muzo mines.

The customer should expect transparency and traceability. Every jewel should have its own story, from the moment it was mined, to the moment the customer buys it and beyond. To tell a stone's story, I want to know where a stone comes from. To do this, I fly out to Colombia and the other source countries to ask the questions about where a rock came from, buying the finest quality emeralds as locally as possible.




My business is based on the premise that fair trade ethics and a fair price tag can both be achieved together. As a basic rule of thumb, the fewer hands a gemstone has passed through, before it reaches yours, the better. And this is when a fair price comes in. Fewer middlemen, mine-to-market, does more than create confidence about a stone's provenance. It also means fewer people taking a cut along the way, allowing a fairer price for the customer.

The popularity of coloured gems has attracted investor attention. From early 2019 I began to expand my team and moved into new sales offices in Hatton Garden, having completed several successful rounds of fundraising via equity crowdfunding and Angel investment channels. We are growing apace, and, despite the current difficult trading environment of 2020, we are charting further expansion from the middle of this year.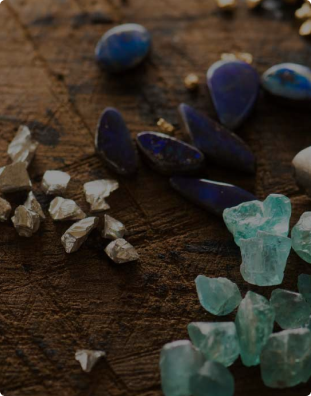 Featured / seasonal collection banner
RESPONSIBLY SOURCED.
BEAUTIFULLY CRAFTED.
SHOP NOW
Featured products
Featured products