One of the highlights of the film calendar is the Cannes Film Festival in France, where stars from across the world come to premiere their new films ahead of them being released for the public and for awards consideration. On the red carpet, these stars get to show off in their glamorous gowns and pieces of jewellery. We will highlight those here and show you how you can capture a slice of Cannes with your jewellery choices, separating them by gemstone. 
Luxurious Yellow Diamonds
Viola Davis, a triple crown winner and darling of the academy, owned the red carpet in her bright yellow dress. She complimented this wonderful outfit with a luxurious yellow diamond ring, which she gleefully showed off to the cameras. 
Viola Davis, wearing a yellow Diamond ring
If you are looking for a similar piece of jewellery, this Fancy Yellow Diamond Ring is the piece for you.
Fancy Yellow Diamond Ring
Diamonds are a girl's best friend
Deepika Padukone, with an elegant Diamond necklace
A member of the jury this year for the festival, Deepika Padukone looked radiant in her low cut red dress and accentuated the plunge of the dress with her elegant diamond necklace. The jewellery would have been fit for a queen, but looks equally incredible on her. 
Lori Harvey, with a stunning Diamond collar
Padukone was far from the only star wearing diamonds, with Lori Harvey dazzling in her Diamond collar. 
Alessandra Ambrosio, wearing a delicate Diamond necklace
Alessandra Ambrosio similarly shone, wearing a slightly more delicate necklace with smaller diamonds.
Diamond Point Drop Earrings
If you want to capture a bit of the Cannes diamond fever, then you can't go wrong with these Diamond Point Drop Earrings, which are both glamorous but can be worn on any occasion. 
Sumptuous Sapphires
Anne Hathaway, with a lovely Sapphire centrepiece
Sapphires are gemstones that are on the rise once again, and popular with red carpet stars such as Anne Hathaway, who graced Cannes with a large sapphire centrepiece.
Rym Saidi, wearing a Sapphire necklace with a brilliant centre stone
She wasn't alone. Rym Saidi, the acclaimed model, showed off her wonderful facial features by wearing these stunning sapphire earrings and necklace. 
Ceylon Sapphire ring
If you love the deep blue of a sapphire, this Ceylon Sapphire Ring is box office and would certainly wow any jewellery aficionados. 
Envious of their Emeralds
Emeralds are gemstones that always steal the show, and they have a definite allure whether they are on the red carpet of Cannes or in your living room at a party. 
Lashana Lynch, wearing intricate Emerald and Diamond earrings
Lashana Lynch, star of the recent Bond film "No time to die", graced the festival with these  intricate Emerald and Diamond earrings that paired nicely with her dress.
Emily Ratajkowski, wearing a dainty pair of Emerald earrings
Emily Ratajkowski similarly paired her slinky sheer outfit with a dainty pair of Emerald earrings.
Cleopatra Emerald earrings
You can emulate these wonderful emerald earring looks with these Cleopatra Emerald earrings, which have a vintage look to them. 
Julianne Moore, wearing a grand Emerald necklace
Earrings weren't the only type of Emerald jewellery on show, Julianne Moore wore an impressive Emerald necklace to pair with her plunging black dress. 
If you want to wear a dramatic emerald centrepiece fit for the red carpet of an international film festival, the 'Enchantress' Emerald and Diamond Necklace wouldn't look out of place at the Oscars. 
'Enchantress' Emerald and Diamond Necklace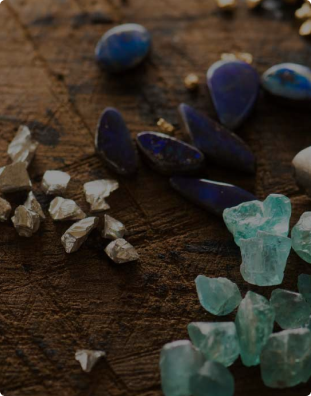 Featured / seasonal collection banner
RESPONSIBLY SOURCED.
BEAUTIFULLY CRAFTED.
SHOP NOW
Featured products
Featured products