Jewellery is a very sentimental thing, which can be imbued with great emotion. Jewellery is something we accessorise ourselves with, elevating what we wear on a daily basis, to spice up our look on a special occasion, or as a form of connection to the person who gave us a piece of jewellery and to keep them near to our hearts. No piece of jewellery is more special or linked to your emotions than your engagement ring.

For that reason, many people who are searching for an engagement ring want their ring to feel of the time and in line with the trends at the time. Whilst there can be concerns with buying something due to the fact that is trendy, because trends come and go and your engagement ring is going to be worn everyday and holds such profound meaning; the engagement ring trends that are emerging as we move towards 2023 are actually often based off timeless engagement ring styles, so are worth looking at. 

Toi et Moi engagement rings
At the top of our list of engagement ring trends at the moment is Toi et Moi engagement rings. The phrase translates as a "You and me" ring in french, and it is a style where two centre stones that represent each of the people in the relationship are entwined together in a ring. 
This style can have endless variety. Sometimes people choose two matching gemstones, or contrasting gemstones like in Megan Fox's engagement ring that brought this new trend to light.  
The style symbolises the harmonious pairing of two gems, and this can be done with endless variety. Other's use an heirloom diamond from their family and combine it with their fiancé's birthstone. Some also returned to the classic combination of diamonds and rubies being paired in an engagement ring, where the diamond represents love and prosperity, while the ruby symbolises passion and devotion.
Machine Gun Kelly / Instagram / Toi Et Moi engagement ring for Megan Fox
When Machine Gun Kelly talked about the bespoke Toi et Moi engagement ring that he got created by the esteemed jeweller Stephen Webster; he said that the ring was full of tradition, and combined an emerald which as her birthstone represented her, and a diamond as his birthstone which represented him. The two gemstones were brought together by a magnetic band of thorns which brought them together as the two halves of their combined soul. 
Whilst they might be trendy at the moment because of Megan Fox's stunning engagement ring and the adoration it received, the "Toi et Moi" is a classic engagement ring style. 
Napoleon Bonaparte's engagement ring for Josephine de Beauharnais
Napoleon Bonaparte is to thank for the ring catching on. Over two hundred years ago now, in 1796 the French Emperor proposed to a famous outcast from French society Josephine de Beauharnais. The proposal was the biggest "celebrity" scandal of the time, with her being six years older than him, and also the widow of a famous aristocrat. 
To reflect their different stories and social standings, Bonaparte commissioned a custom pear-shaped diamond and sapphire ring, which sat next to one another in one setting. This was the birth of the "Toi et Moi" style ring. Back in 2013, the particular ring made waves when it was sold at auction for the eye-watering price of nearly $1 million dollars.
Marquise diamond engagement rings are on the rise
From one French tradition to another, Marquise diamond engagement rings are back on the rise. The demand for them has skyrocketed, due to the fact that carat for carat, the marquise diamond as a style, has the largest surface area of any diamond cut. This means that no matter your budget or the size of stone you choose, a marquise diamond engagement ring will always look very impressive.
Marquise Fancy Brown Diamond Ring | London DE
As we said previously, the marquise diamond emerged after King Louis XV of France (1710-1774) commissioned a jeweller to design a diamond cut that resembled the lips of his mistress. This lips-shaped diamond then became very fashionable, and due to the cut's versatility and impact it has now returned as one of the most popular engagement ring styles and will be very sought after.
Engagement rings with big diamonds and small bands
Etsy / A brilliant diamond oval engagement ring, with a thin gold band
Another recent type of engagement ring that is set to emerge as a trend next year is engagement rings which have a big diamond but a thin and elegant band. The idea of this design is to make the centre stone stand out and draw attention to it. 
It also allows people to wear an engagement ring, without it looking crowded or busy if you have more. This trend covers simply any engagement ring with a thinner band than the average ring on the market. This doesn't mean you need to compromise on the ring's quality, or size; it just means the ring's dimensions are compacted to create a smaller but more impactful engagement ring.
There are a number of reasons why this is set to become an engagement ring trend. There are those who want an engagement ring that is slightly more demure, and don't necessarily want a flashier engagement ring. If you are someone who wants a ring with a more simple design and smaller diamonds, there is a large chance that it would look best if accompanied by a thin band diamond engagement ring. There is also a growing market for engagement rings that cater towards those with smaller and more slender hands, and an engagement ring with a thinner band is better suited to them because it appears more proportionate. 
Beyond being trendy, engagement rings with a smaller band often end up being lower in cost due to the amount of metal needed for the ring. 
Yellow sapphire engagement rings are all the rage at the moment
Another more specific engagement ring trend that is emerging ahead of next year is rings made of Yellow Sapphires. Yellow Sapphire gemstones are available at a competitive price point, allowing couples to opt for a bigger carat stone when searching for their engagement ring, and this is often very appealing. They also offer a very distinctive and interesting appearance, rather than looking like the average white diamond solitaire engagement ring. 
Yellow Sapphire and Diamond Halo Ring | London DE
It may be less well known than a traditional royal blue sapphire, it is still a very mysterious stone that holds a lot of meaning. 
Yellow Sapphires are a symbol of the planet Jupiter, our sun, and of happiness. Something we could all do more of after a number of rather traumatic years. Yellow sapphires are also a symbol of childhood, something that many new couples recapture through new love, and have the hopes of fostering their own children. 
There are also more mystical reasons why Yellow Sapphire is popular among some couples who are looking at engagement rings. Yellow sapphires are believed to help provide those who wear them greater luck in their life, be that in business, work, or in a relationship. It is also believed to aid you in overcoming the difficulties you face in life by granting you the power of Jupiter, which provides one with mental strength and the energy needed to make any breakthrough, be that romantically or in other areas of your life. 
Related Articles
Recent posts
The meaning behind different gemstones
Opal and Tourmaline: October's opulent birthstones
Ways you can make your wedding more environmentally friendly
Engagement rings
How to Propose with a Bespoke Engagement Ring
The Ultimate Engagement Ring Guide
Your Guide to Coloured Gemstone Engagement Rings
The 12 Engagement Ring Traditions You Need To Know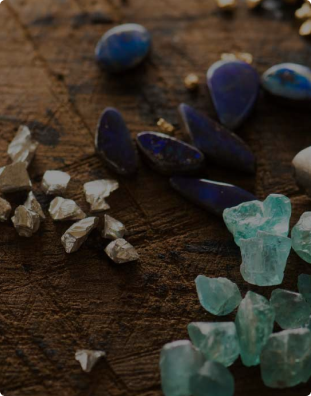 Featured / seasonal collection banner
RESPONSIBLY SOURCED.
BEAUTIFULLY CRAFTED.
SHOP NOW
Featured products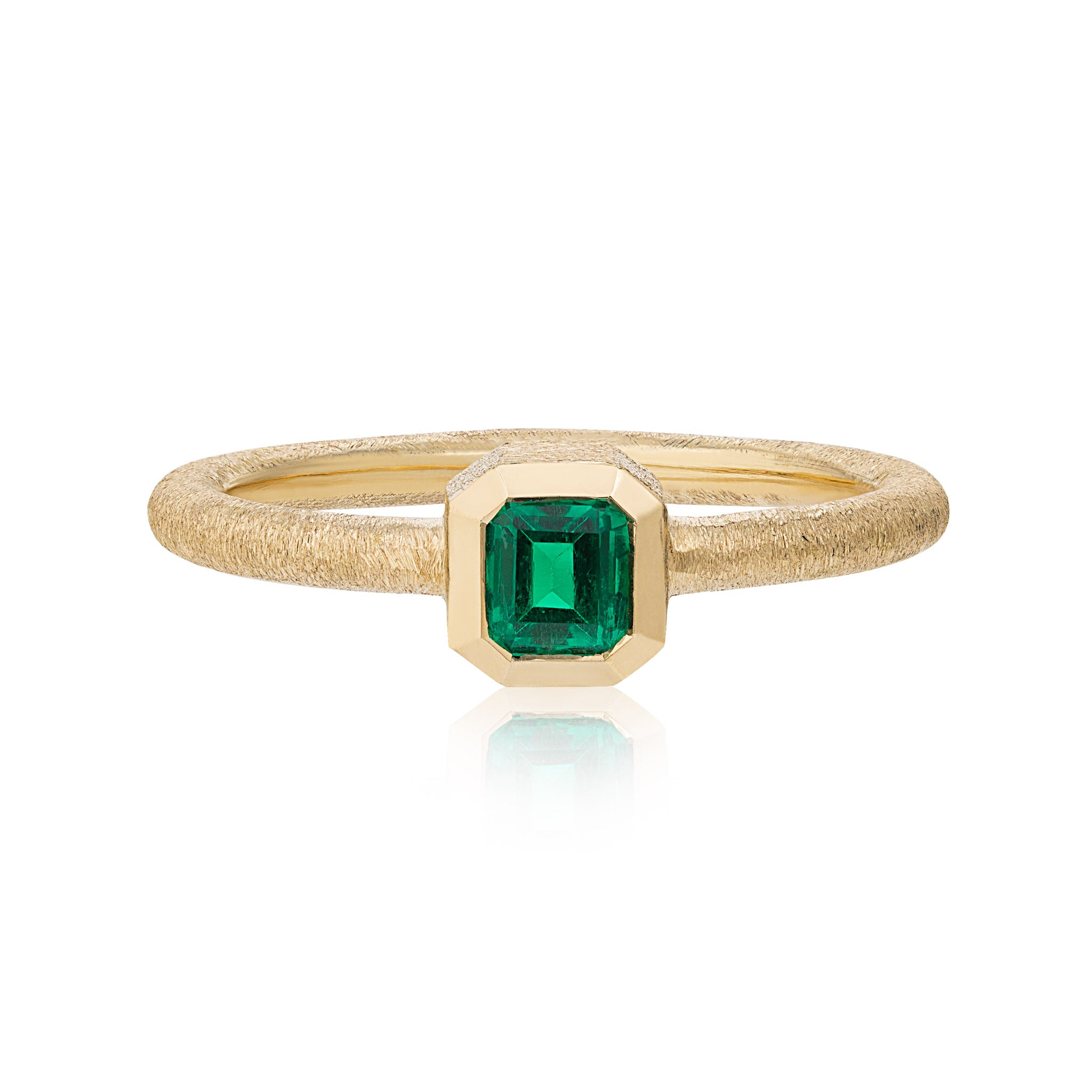 Featured products