Why ethical sourcing of jewellery is important
As people have become increasingly aware of some of the horrors within the jewellery industry and the darker side of the way gemstones and jewellery have been sourced in the past; ethical sourcing has become ever more important, and a thing people should have at the front of their mind.
When looking at jewellery, we advise both businesses and customers alike to devote time and care to consider the cut, colour, clarity, and carat of a gemstone within an engagement ring; and we should now be just as scrutinous if not more so when looking at the origins and journey of our gemstones.
When creating any piece of jewellery now, the ethics of sourcing gemstones and during the creation of a ring are the things we first think of. In practice this means doing the right thing at every step and not cutting corners. Making sure that we use sustainable materials, that are processed by labour, which is fairly treated and fairly paid, and that every stage of production is carried out with an ethical business partnership in mind. 
So you can understand how a company like ours creates an ethical engagement ring, we have created a comprehensive guide to what it means to create ethical jewellery and to have sustainable policies in place. We will take you through each step of our process and the dark side of the supply chain we eliminate through our efforts to remain ethical and sustainable. 
Examples of unethical diamonds
Before we dive into explaining the details of ethically sourcing an engagement ring, or any other piece of jewellery for that matter, we should first explain what unethical gemstones are. 
The most common form of unethical diamonds that you would find within the jewellery market are conflict diamonds. Commonly referred to as 'blood diamonds', conflict diamonds are diamonds that are mined and sold, with the intention of the profits being used to directly fund a conflict, such as an international war, civil war, insurgency or illicit operations. 
London DE and many other leading jewellery manufacturers or suppliers of gemstones, now take every precaution to remove any diamonds or gemstones that have been sourced from a conflict zone or been used to fund conflict from our supply chain. Aside from just removing our capital from the cycle of gemstone extraction and conflict, we also actively support and help develop the standards in the countries we source from. 
How to counter the use of unethical gemstones
Beyond avoiding 'conflict diamonds', which is the bare minimum; we also want to remove all unethical gemstones from our supply chain. Any gemstone that London DE believes has been produced in unfair working conditions of any sort will be filtered out of our supply chain. For example, many leading jewellery brands and suppliers have now actively sought to exclude diamonds from Zimbabwe, Angola and Russia as well as a number of other countries where labour rights are non-existent, are infringed upon, or simply do not meet our expectations about how workers should be treated and the working conditions they should operate in.
Luckily it is now easier for companies like ours to assess gemstones and how ethically they have been sourced. After the devastating civil war in Sierra Leone, a war which was funded heavily through the thriving blood diamond industry in the country, attention was brought to the great suffering caused by their exploitative diamond industry. In response to the new details which emerged, a process to assess diamonds was created, now known as the Kimberley Process.
This process uses a variety of certification schemes that are applied to mined diamonds, and helps trace diamonds through the supply chain, preventing the diamond trade from directly or indirectly financing conflict or extrajudicial violence. This process has proved extremely productive, successfully reducing the blood diamond trade to less than 1% of the global diamond industry.
What does an ethical engagement ring mean?
Now that we know what blood diamonds and other forms of unethical gemstones, we can now explore what an ethical engagement ring is. 
Your engagement ring is supposed to be the material embodiment of a magical connection. No matter the design, a bespoke engagement ring from London DE will be handcrafted from diamonds, gemstones, and precious metals which come together to represent the loving bond you have created with your partner. This important symbol shouldn't be tainted by the use of unsustainable metals or unethically sourced gemstones. We believe that by using sustainable materials that are brought together to make a piece of jewellery in a responsible manner, your ring will be a more meaningful symbol. It's something that we are proud of. 
This is what is meant by an "ethically sourced" or "ethically created" ring. It's a piece of jewellery that's been crafted with materials that have had their provenance and origin considered, and their quality for jewellery making considered against our ethical standards. You can look at a piece of jewellery from London DE knowing that the gemstones and metals used within your engagement ring, marriage band, stunning necklace or glitzy earrings, have all come from conflict-free operations, and created by workers who enjoy fair and safe working conditions.
London DE
London DE was founded in 2013 with the desire to build an ethical and sustainable business revolving around gemstones and jewellery. Since then, we have expanded into an international operation, with a large web of third-party customers as well. In 2020, we opened our Colombian subsidiary, London DE SAS, in the heart of the emerald district of Bogota. This helps us ensure that we are buying our gemstones, metals and any other materials from ethical sources and keep a closer eye on the sources within our supply chain. We can truly claim that we have a rigorously assessed mine-to-market supply chain and have cut out any of the potential ethical conflicts that middlemen can bring in. 
 London DE SAS, in Bogata, Colombia
It is a point of pride that we carefully monitor our supply chain and only work with partners who have a detailed policy relating to the ethics and sustainability of their own supply chains. As proud members of the Responsible Jewellery Council and the National Association of Jewellers, we work hard to ensure that we operate in an ethical and considerate fashion at all times.  
We do this by having paperless offices to reduce the impact of our administrative work, and we have reduced our carbon footprint by working with local businesses and workshops in London to minimise transportation of goods. On the ethical side, to reduce the exploitation of the areas we mine from, we use local industry for the production of our jewellery. For example, we operate a workshop out of our centre in Bogota, Colombia, employing local craftspeople on a fair and equitable basis.
Related articles
The Relentless Drive Toward Ethically Sourced Jewellery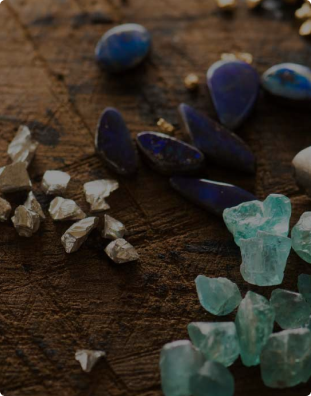 Featured / seasonal collection banner
RESPONSIBLY SOURCED.
BEAUTIFULLY CRAFTED.
SHOP NOW
Featured products
Featured products