(A beautiful trilogy engagement ring made from Welsh Clogau gold)
Having closed in 1998, the Welsh mine that produced the gold for three generations of royal weddings, including those of the Queen Mother, Princess Margaret, Princes Anne, Diana, Princess of Wales and the Duchess of Cambridge, is set to reopen this year. All of these rings were produced from the same nugget of gold from the Clogau St David's mine at Bontddu, North Wales. Mining operations at this site halted some 20 years ago due to declining gold output but it has now been described as a mine that has "expansion potential" and the possibility of further discoveries of fresh gold veins. Alba Mineral Resources has taken a 49% share in Clogau's parent company, Gold Mines of Wales Limited, and plans to restart production at the site in 2018. In a press release George Frangeskides, Alba's executive chairman, stated that "the opportunity presented by this project is pretty unique - high grade gold in the heart of the United Kingdom, and the fact that Welsh gold attracts a significant premium." He went on to say "The historic connections of Welsh gold with the heritage of the United Kingdom and the potential for finding more gold in the vastly under-explored exploration ground make a strong case for investment." Geological, geophysical and geochemical surveys of the mine and its surrounding areas suggest there may be significant gold seems lying undiscovered beneath the Welsh countryside, raising speculation that further mines may open in the near future.
(A disused shaft at the soon to be reopened Clogau mine)
It is interesting to note that Welsh gold achieves a 500% premium to the gold spot price and that Clogau has produced over 81,000 (62%) of the 131,000 troy ounces of gold that has been mined in Wales over the past two hundred years. The first member of the Royal Family to endorse Welsh gold was the Prince of Wales (later King Edward VIII) at his investiture in 1911, where the coronet, rod, ring and sword used in the ceremony contained gold from Clogau. Just over a decade later in 1923 Elizabeth Bowes-Lyon, later to become Queen Elizabeth and subsequently the Queen Mother, chose a Welsh gold ring for her wedding, starting a royal tradition that continues to this day, almost a century on. In more recent times, Kate Middleton, now the Duchess of Cambridge, followed this practice when she wed Prince William in 2011 with a Welsh gold band. Meghan Markle and Prince Harry are set to continue the trend, which is having a very positive effect on the demand for this rare commodity. In December 2017 Alba Mineral Resources announced they are now prospecting an area around the mine of just over 100 square kilometres. The plan is to conduct a detailed underground structural mapping and surveying operation, followed by airborne magnetic and electromagnetic surveys to zero in on the seams, with the benefit of 21st century technology not available to previous generations of gold miners in this region.
(The Cononish gold mine is located in the beautiful Loch Lomond National Park)
In Scotland the UK's only fully underground gold mining operation is also about to be reopened. It is estimated by its owner, Scotgold Resources Limited, that the Cononish Mine, located in the village of Tyndrum, 60 miles north of Glasgow, contains over 200,000 troy ounces of gold. John Riley, chairman of Strathfillan community council, stated: "we live in a tourist economy and this kind of Work tends to be cyclical, which causes problems with people having no work off-season. The gold mine opening would solve some of these problems and provide the opportunity of skilled work for a long time." Scotgold have been producing precious metals above ground at the site for over a year and have so far generated over 2,400 tonnes of ore, originally stockpiled in the 1980s. However, the gold finds in these easy 'pickings' won't last so they need to start underground excavation to ensure a longer term future. Production will be split between two of Scotland's largest manufacturing jewellers and it is thought there may be as much as half a million tonnes of gold and silver ore held in an underground quartz vein. Scotgold has won significant financial backing from Australian investors who are highly experienced in gold production and the wider mining sector. As the mine is located in the Loch Lomond National Park, it requires special permission from the park authorities. To help raise the profile of Scottish gold, Scotgold auctioned 10 special one ounce gold coins embossed with a stag's head to collectors, one of which sold for a staggering £21,000!
(An artist's impression of the completed works at Curraghinalt, County Tyrone, Northern Ireland)
In Northern Ireland too there are plans to resume commercial gold mining as the London Listed Dalradian PLC has pledged a £45 million investment to develop a mine known as Curraghinalt in the Sperrin Mountains, County Tyrone, an area of outstanding natural beauty. The Curraghinalt site is thought to contain over 1.4 million troy ounces of gold with a retail value of almost £1.5 billion but previous attempts to commercially exploit it have failed, due in part to difficulties in obtaining an explosives licence during the infamous 'Troubles.' Today the greatest resistance to the operation comes from environmental concerns surrounding the planned use of cyanide in the process of extracting the gold from the ore and the fact that (akin to Cononish) the site is also located in an area of outstanding natural beauty. As a result of this, a two year public enquiry has been set up to determine the final say as to whether production can get underway. Dalradian bought the Curraghinalt site back in 2009 and has subsequently raised hundreds of millions of pounds developing over 2KM of underground tunnels. The site already employs over 100 people, a figure set to increase to over 350 when full-scale production commences. The aim is to produce 100,000 troy ounces of gold in the first year of commercial production, an annual output figure that may increase by up to 70% over the first 20 years of mining. With the resumption of operations at Curraghinalt, Connonish and Clogau it is clear that the future is bright for the British gold mining industry.
(The Duke and Duchess of Cambridge complete their nuptials with a Welsh gold wedding ring)
To search our huge range of gemstones and learn more about our bespoke jewellery visit:
londonde.com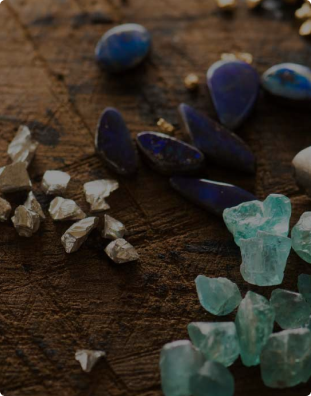 Featured / seasonal collection banner
RESPONSIBLY SOURCED.
BEAUTIFULLY CRAFTED.
SHOP NOW
Featured products
Featured products