Who are Hatton Labs?
Hatton Labs, who were founded by a pair of friends who were also business partners, Jack Cannon and Joe Gelb, have quickly become pioneers in the fashion and jewellery scenes.
Departing from the rigid definitions that separate the various areas of jewellery; Hatton labs collections walk the fine line between "costume" jewellery and the high end world of haute jewellery.
The brand has now become famous for its iconoclastic use of pearls and sterling silver, blending it with 3D printed components. They have built up a wide array of celebrity followers, including influencers like Bella Hadid, music stars like Miley Cyrus and Bad Bunny, and model Iris Law.
Miley Cyrus wearing Hatton Labs jewellery
Their pieces cover a wide range of jewellery types, but many of them can be seen as contemporary reimaginations of classic jewellery favourites. This means that their jewellery has a well established appeal, based on what has come before, whilst maintaining a modern and inventive vibe as a company. 
They pitch their wares towards young people, and have directly stated that "(Hatton Labs) want to be the place where young people go to get their first real bit of jewellery." This is more than just wasted words, their pieces are available at accessible price points in comparison to many other high end jewellery brands. Some of their sterling silver pieces start at £75. They have done all this whilst trying to use environmentally-conscious methods of production, such as their use of recycled materials and biodegradable plastics to help lower the company's carbon emissions.
Looking to the future, Hatton labs have stated that going forward they want to remain synonymous with quality whilst being the place that the next generation wants to buy jewellery, which they can also afford to wear. All whilst being a gateway for people to be confident enough to start wearing louder, more experimental pieces.
Their latest collection 
Hatton Labs 2022 autumn/winter collection builds on the roots of their success. Entitled La Croisette, the collection is inspired by the third largest jewel heist of all time, which took place at a hotel in Cannes in 2013.
The collection's designs reference the cuts and colours of the 72 stones that were stolen. These include a necklace and bracelet set that features lilac zirconia stones in a mixture of shapes, which is layered on top of sterling silver chains; or a 55 carat replica diamond ring inspired by the hotel janitor's master key.
If you are looking for a similar dose of vibrant jewellery that will take your fancy, there are a number of great pieces for you.  
If you enjoy bold and striking colours, this
ruby and diamond eternity ring
is an elegant piece of jewellery that is also bursting with colour.
If you prefer something on the sparkly side, this
emerald and diamond halo ring
has an emerald centrestone flanked by a series of glistening diamonds which are to die for. 
If you enjoy a bit of sparkle, but still prefer the stone to be the star of the show, this
aquamarine and diamond halo ring
is a wonderful piece of jewellery. 
A similarly simple but striking piece of jewellery, the
ceylon sapphire and diamond halo ring
features a brilliant sapphire which is flanked by diamonds. If I could choose one out of all these pieces, this is the one I would treasure most. The deep blue of the sapphire is enchanting.  
Last but not least, if you are a fan of birthstones and are born in August; this
Peridot
and diamond
halo ring
matches the vibrant nature of Hatton Labs latest collection.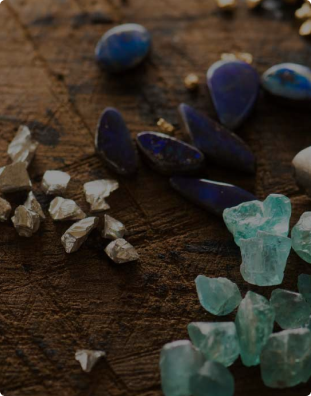 Featured / seasonal collection banner
RESPONSIBLY SOURCED.
BEAUTIFULLY CRAFTED.
SHOP NOW
Featured products
Featured products