(Some examples of JAR's work - nature is a common theme, often with references to flora & fauna)

Joel Arthur Rosenthal was born in the Bronx, New York City in 1943 as the only child of a postman and a school biology teacher. He is famous for his founding of the French fine jewellery house JAR in Paris in 1978. The JAR boutique is to be found in the Place Vendôme, just to the left of the Paris Ritz and in the vicinity of many other great jewellers including Van Cleef & Arpels, Cartier, Chaumet, Tiffany & Co, Chanel and Boucheron. What is unique about JAR is the fact that it operates with no shop of any kind (either online or bricks and mortar), it has no advertising budget and its elite clientele numbers just 250 or so of the world's wealthiest and most famous women. These are rumoured to include Elle Macpherson, Barbara Walters and Gwyneth Paltrow, as well as members of the Rothschild family and royalty. To become a patron of JAR you must be invited, either by someone directly known to Rosenthal or one of his high end clients. As you can imagine the prices of JAR pieces are befitting their rarity and remarkable customer base. A ring with two pigeon's blood rubies originating from a Maharajah's tunic, enclosed in a diamond pavé heart would set you back £200K and a necklace comprising 3 strands of small natural pearls, matched and suspended from links of pavé diamonds £275K.


(The world renowned Place Vendôme in Paris)
Rosenthal originally studied art history and philosophy at Harvard University, where he graduated in 1966. Shortly after graduation he moved to Paris and took up various jobs as a writer and embroiderer, opening a small shop in the late 1960s. It was around this time he met his partner and companion the Swiss psychiatrist Pierre Jeannet. He became drawn to the world of jewellery when a friend asked him to draw a mount for a stone and he spent a short period of time back in New York as a salesman for Bulgari. He returned to Paris in 1977 and began to create and sell jewellery made from the more affordable materials, such as coral and moonstone. His talent for this line of work quickly developed and by 1978 he was able to launch JAR. Akin to Van Cleef & Arpels, JAR have often taken inspiration from the flora and fauna of nature in their work and they have sought to blend elements of classical and contemporary design. Every JAR piece is a unique, one-off expression of individuality. Remarkably they employ just 4 people and generate revenues of around €17 million annually, with a net profit of about €3 million (equal to €4.25 million / €750,000 per employee). In keeping with the 'discrete' nature of JAR, there has only ever been one public exhibition of his work in which many of his devoted followers displayed over 400 pieces in London in 2002.
(A classical Van Cleef & Arpels piece, similar to those that inspired the young Rosenthal)
JAR's early work clearly demonstrated Rosenthal's influence from working at Bulgari in New York. One of his first pieces in 1978 was a wide diamond band ring set in white gold, echoing the Bulgari design aesthetic that was contemporaneous to that period. The only difference being the arrangement of the stones and their positioning on the band but the overall "Tubogas" like appearance and twin diamonds are very similar to Bulgari pieces from the late 1970s. It is true to say there were clear Boucheron influences upon JAR's early work. The eminent jewellery historian Marion Fasel assets that Rosenthal is "known to have handled" a colourful Boucheron pansy pendant watch from the late nineteenth century said to have been the inspiration for much of his work. The art of meticulously arranging coloured pavé stones to create colour fields is often associated to JAR pieces and that is clearly evident in the Boucheron pansy pendant pieces of the 1890s. The similarities between the two become clearly apparent when examples are places next to one another:
(Left: a Boucheron pansy pendant time piece from the 1890s - Right: more recent JAR pansy rings)
JAR favoured a realism in the appearance of the flora and fauna depicted in his pieces and he often sought to show flowers swathed in pavé stones as though they were caught in a gust of wind, rather than in their resting state. Here parallels have been drawn with the work of Paulding Farnham of Tiffany & Co in the late 18th and early 19th centuries. Farnham's attention to detail and realism was astounding and he was best known for his orchids and studies of flowers in precious materials. These often appear to be very similar to JAR's lilac brooches with pavé diamonds and purples sapphires. Another similarity between JAR and Farnham is his mix of common and unfamiliar stones, including a brooch made with rhodolites as petals, damantoid garnets for a stem and rare cornflower blue Yogo sapphires that are only produced in Montana, USA.
(A Paulding Farnham piece from the nineteenth century)
It is also said that Cartier have exerted an influence over the designs of JAR pieces, most notably those that have drawn inspiration from Egypt and India. Many of Cartier's most famous jewels of the Art Deco era were inspired by the fantastic jewellery of the Mughal rulers of India. Carved coloured gemstones, intertwined with vivid enamels and unusually cut diamonds were the hallmarks of Indian jewellery in the 1800s and 1900s and many of these features found their way into Cartier designs. Tassels consisting of several strings of pearls, representing the the 'turah' or turban, were devised by Cartier in the inter-war years and proved to be a popular motif of the Art Deco period, often echoed in the work of JAR. Due to its rareness, uniqueness and the provenance of its collectors, JAR work will likely continue to attract vast sums at auction and private sales alike.
A jaw dropping jewellery collection inspired by the natural world

Stretch Your Creativity with Bespoke Designs Using These Unique Ideas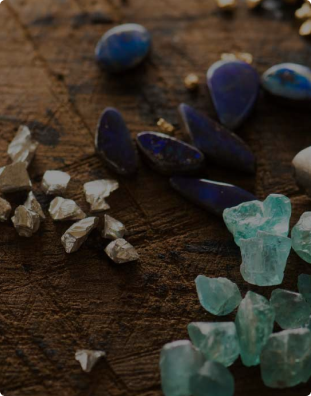 Featured / seasonal collection banner
RESPONSIBLY SOURCED.
BEAUTIFULLY CRAFTED.
SHOP NOW
Featured products
Featured products