The diamond industry has taken a bit of a hit this year with De Beers announcing the closure of their Damtshaa mine and the cancellation of many events and shows, but an exciting new discovery may be exactly what was needed to end this year on a high.

On Tuesday 10th November, Lucara Diamond Corp. revealed in a press release, that they had unearthed an unbroken high white clivage diamond, weighing an impressive 998 carats.

The stone was recovered from the well-known Karowe Diamond Mine during direct milling of ore within the mine's South Lobe. For Lucara, who have 100% ownership of the Botswanan mine, the diamond is yet another addition to their already lengthy repertoire of remarkable gems.

In addition to their most recent find, the Karowe mine has, in this year alone, produced 31 diamonds greater than 100 carats with 10 of these exceeding 200 carats. Included in this was the exceptionally pure 549-carat Sethunya diamond, which hit headlines earlier this month after being purchased by Louis Vuitton.

Eira Thomas, Lucara's CEO commented: "Lucara is extremely pleased with the continued recovery of large high-quality diamonds from the South Lobe of the Karowe mine. To recover two +500 carat diamonds in 10 months along with the many other high-quality diamonds across all the size ranges is a testament to the unique aspect of the resource at Karowe and the mine's ability to recover these large and rare diamonds."




Whilst adjusting to new social distancing procedures may have hindered many mining operations, Thomas comments that Lucara has taken the challenges in their stride: "Operations at Karowe have continued through 2020 and operational challenges, due to Covid-19 restrictions, have been met with professionalism by the team. We look forward to a safe finish to 2020 and continued success at Karowe as we remain focussed on strong operations to ensure maximum resource performance."

Botswana is known globally as one of the main producers of diamonds in the world and the Karowe mine has, so far, proved testament to this. Commissioned in 2012, the state-of-the-art mining facility has gained a reputation as one of world's foremost producers of large, high quality, Type IIA diamonds. Karowe, meaning precious stone in the local language, is the location for which both the second and third largest diamonds in the world originated.




Recovered in 2015, the Lesedi La Rona diamond ranks third largest in the world, weighing 1,109-carats. Described as Sotheby's as "the find of a lifetime", the stone was a positive example for modern mining techniques, being the largest recovered by Large Diamond Recovery ("LDR") XRT machines.

Exceeding the Lesedi La Rona is the Sewelô diamond which weighs a staggering 1,758 carats. The stone, which was discovered in April 2019, made headlines earlier this year due to its impressive size as well as its sale to Louis Vuitton. A thin carbon layer coats the exterior of the stone, making the gem "mesmerisingly mysterious" as to what will be revealed inside, though it is speculated to be of high-quality gem grading.




Additionally, the mine also yielded an 813-carat Constellation stone that fetched a staggering $63 million, making it the "the highest price ever achieved for a rough diamond".

Lucara's newest find will sit behind both the Sewelô and Lesedi La Rona, as the fourth largest diamond in the world and, if the price of the Constellation is anything to go by, it is set to make an exciting sale.

At London DE we offer a wide range of diamond and coloured gemstone jewellery, and can handcraft any bespoke piece to order. Get in touch with us today to arrange a free consultation and to find your perfect bespoke piece.

By Holly Johnson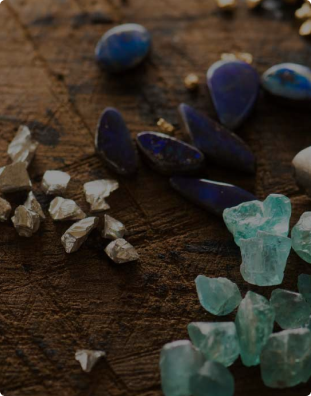 Featured / seasonal collection banner
RESPONSIBLY SOURCED.
BEAUTIFULLY CRAFTED.
SHOP NOW
Featured products
Featured products