The time has come to rid our wardrobes of our strappy dresses and replace them with chunky knits. As another season takes hold, it brings another wealth of trends to consider. So, to keep you on top of your game and prepare you for the oncoming chill, these are the industry approved Autumn/Winter trends taking place this year.

Transitional tones

You only need to step out of the door for a moment for the chill breeze to remind you that Winter is certainly on its way. However, whilst the weather is changing, you can make the transition a little bit easier by accessorising with transitional tones. Bridging the gap between Summer and Autumn, rose gold is the perfect shade with enough warmth to brighten any Autumnal outfit. As seen in TATLER, our pink sapphire and diamond halo ring is the ideal choice for the changing seasons. A rose gold band adds a much-needed warmth, whilst the pink sapphire retains that Summer glow.

Prepare to go Rouge
As the season continues, the colour dominating our palettes is crimson red. Earlier this year we saw blood-red suits and dresses dominating the runways of major fashion houses, from
Alexander McQueen
to
Givenchy
.
Whilst McQueen's bold suit looks perfectly at home on the runway, we understand it can be quite a daring colour to incorporate into everyday wear; so, accessorise with hints of colour instead. A subtle but effective nod to the oncoming trend can be achieved with a vibrant
ruby cocktail ring
, like ours below.
Back to classics
After a Summer of uncertainty, this year's Autumn/Winter trends have taken inspiration from the past. Old Hollywood glamour, 1920's flapper girls and modest Victorian tailoring were the inspirations for many shows. Ankle length skirts swept the runways at
Chloe
and
Kenzo
whilst tassel fringing was the chosen statement for
Jill Sanderson
and
Prada
.
With a vast array of vintage styles available, jewellery is the perfect choice to add a touch of the past to any modern outfit. As seen in
British GQ
, our gorgeous emerald and diamond drop earrings are the perfect choice. With drop earrings a popular style in the 1950s and pear-cuts dating back centuries, our earrings will add a touch of quintessential class to any modern outfit.
Quality over quantity
As well as fashion, this year's Autumn/Winter trends include a change in the way we buy. A pause in our lives has given us time to reflect and with that comes a desire to buy better – both quality and ethically minded.
In a thought-provoking editor's letter, British GQ's Dylan Jones describes the shift of attitude towards meaningful purchases. Instead of a quick purchase, the way forward is to look for "quality, intimacy and a relationship that isn't simply transactional" when filling our wardrobes. As well as sustainability and transparency being at the forefront or our minds, a "sense of community" is what will define our shopping habits. Considering British GQ's commitment to sustainable and quality brands, we are thrilled to have our pink sapphire and diamond ring featured within their
ultimate gift guide
for 2020.
At London DE, all our jewels combine style with substance. Complete transparency takes place from beginning to end, leaving no nasty surprises as quality craftmanship rounds off the process. We value our customers and take pride in contributing to Hatton Garden's long legacy of providing the finest jewels. For us, this is certainly a trend we are committed to and one we believe is here to stay.
At London DE we offer a wide range of diamond and coloured gemstone jewellery, and can handcraft any bespoke piece to order.
Get in touch with us
today to arrange a free consultation and to find your perfect bespoke piece.
By Holly Johnson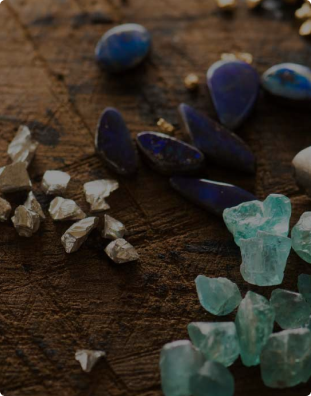 Featured / seasonal collection banner
RESPONSIBLY SOURCED.
BEAUTIFULLY CRAFTED.
SHOP NOW
Featured products
Featured products