Coloured gemstones are becoming increasingly desirable luxury fashion items. In particular the 'big-3' (ruby, sapphire and emerald) are featuring in the designs and collections of the foremost fine jewellery houses. Colombia is the world's most prolific producer of fine quality emeralds but they are also found in Brazil, Zambia, Zimbabwe, East Africa and the Swot valley (between Pakistan and Afghanistan). It is the Colombian stones, primarily sourced from the mining regions of Muzo, Chivor and Coscuez in Boyacá department of the country, that attract the highest prices, largely due to their unrivalled colour and transparency. Rubies are most commonly associated with Myanmar (Burma), Thailand, Sri Lanka and East Africa. Their discovery in Mozambique in 2009 started a gem production boom in the region which was spearheaded by the international coloured gemstone mining giant Gemfields PLC and the country is now the world's largest exporter of these precious stones. Following the lifting of the 2008 ban on gemstones exports to the US from Myanmar by Barak Obama in 2016, production in the South East Asian nation has soared. Sapphires are mostly sourced from Myanmar, Sri Lanka, Thailand, Australia and East Africa but Kashmir (the disputed territory between modern day India and Pakistan) produced the finest sapphires historically, before its mines reached depletion. Famously Diana, Princess of Wales, and later the Duchess of Cambridge, wore the same beautiful 'royal' blue Kashmir sapphire and diamond engagement ring for their respective weddings.




There is certainly some cultural significance to the value placed upon the colours red and green, which in China for example are often held to bring good luck and fortune. According to Gemfields, the average price per carat of the finest emeralds has increased by as much as 500% over the past decade. Prices achieved at auction have also surpassed new records, such as the "Sunrise Ruby," which set the world record for a ruby at US$30 million in 2015, making it the most expensive example ever sold. The per carat record for a ruby was also set at Christie's in 2015, when the 15.04 carat "Crimson Flame" fetched an astonishing US$1,196,809 per carat. Coloured stone prices in general have risen by over 100% in the past decade, according to the Natural Resource Governance Institute findings. In 2018 the global gemstone market was valued at US$23 billion, of which the 'big three' (ruby, emerald and sapphire) staked a combined claim to just over US$2 billion, whilst diamonds had slipped from their all time high of almost 90% market share to comprise US$12 billion. According to industry sources, if current trends continue and strengthen, the big three could account for over US$10 billion by 2030. Coloured gemstones offer greater creative flexibility to jewellery designers, dealers and collectors alike. Celebrity endorsement has clearly helped the coloured gemstone cause, most notably with the Duchess of Cambridge's sapphire engagement ring and Meghan Markle's aquamarine piece.




"The Past decade has seen the world record prices for an emerald and a ruby surpass that of a colourless diamond on a per carat basis. It surely can't be long before sapphires overtake diamonds too" (The Knight Frank Luxury Investment Index Q1 2019). Consumer awareness of coloured gemstones is also building, aided by the power of the web and social media but also by advances in industry transparency, accountability and gemmological analysis. Many designers and jewellers are moving towards more bold, adventurous and colourful designs, further driving demand for coloured gemstones. Unlike diamonds, where clarity is one of the most important factors, flaws in coloured gemstones are accepted and even recognised as emphasising their uniqueness! "Potential buyers are looking to expand their collections beyond colourless diamonds. They're keen to seek out the very best examples of highly desirable and rare specimens, whether that be Kashmir sapphires, Burma rubies or no-oil emeralds, the likes of which they may never find again" (Jean Ghika, Global Head of Jewellery at Bonham's). "The swing towards precious coloured gemstones is overwhelming. The last decade has seen the world record prices for an emerald and a ruby surpass that of a colourless diamond on a per carat basis." – Sean Gilbertson, CEO of Gemfields.

"Promising auction prices of coloured gemstones depict that consumers prefer high-quality gemstones that are rare to collect and unique in designs" (Shishir Baijal, Chairman & Managing Director, Knight Frank India). The largest centres for cutting and trading rubies and sapphires are Thailand, Sri Lanka, Myanmar and India, while the largest markets for these stones are found in China, the USA and India. Colombia maintains control of more than 60% of the world's emerald production and a near monopoly on the finest quality stones. The major markets for 'green gold' include the USA, China and South East Asia. The digital space has hastened the growth in demand for coloured gemstones. "We see many younger customers in their 30s, 40s, even late 20s who are quite comfortable with investing in coloured gemstones online," (Paul Redmayne, former head of Sales - Jewellery at Bonhams Hong Kong). As the purchasing power of the millennial consumer continues to grow, we are likely to see the renaissance of the coloured gemstone continue well into the twenty first century.

The Knight Frank Luxury Investment Index, Q1 2019:

Source: Compiled by Knight Frank Research using data from Art Market Research (art, coins, furniture, jewellery, stamps and watches), Fancy Color Research Foundation (coloured diamonds), HAGI (cars), Rare Whisky 101 and Wine Owners. All data Q1 2019 except watches (Q2 2018)and coins, furniture, jewellery and stamps (Q4 2018, stamps provisional).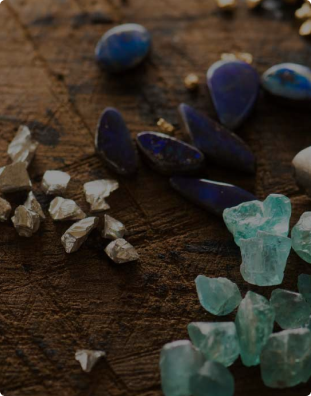 Featured / seasonal collection banner
RESPONSIBLY SOURCED.
BEAUTIFULLY CRAFTED.
SHOP NOW
Featured products
Featured products