When searching for your next jewellery piece, you may be at a cross roads in terms of choosing a crisp diamond or not. It is the most sought after of the gemstones, and some may say the most stunning – however with the rise of clear/coloured stone alternatives, you may need help in which to choose.




It is fair to say that diamond rings, necklaces, and earrings are by far the most popular of the jewellery choices. They are a timeless classic which will never die in the eye of fashion, aging beautifully and lasting a lifetime due to their unbelievable strength. Furthermore, due to the holdfast trend of diamonds in the wedding industry, the price of these said stones will remain fairly constant, meaning they can be passed down as heirlooms or sold for a similar price.

Diamonds do not have to be colourless either. Natural fancy diamonds, which are those diamonds displaying colour due to structure imperfection, are quite rare and therefore sell at a very premium price. That being said, they are beautiful stones that have that gorgeous brilliance and unique colour character.


London DE is currently running a 10% discount on all diamond jewellery this October (18th – 31st 2021), so if you're on the hunt for your perfect piece then sign up to our newsletter and redeem your code!
However, there is now a pull to purchase coloured gemstone jewellery for your chosen item. These pieces are much more eye catching and unique due to their bright and endless colours, and add an aspect of originality as coloured gemstones have unique and varied inclusions/colourings. They truly are one of a kind pieces.
The diamond is starting to be labelled a "boring" gemstone – now many may rise in uproar about this statement, but as diverse and complimentary the diamond is to outfits and other paired jewellery, it also blends in with the crowd. Since the 1920s, diamonds have been the go to ring for engagements and that still hasn't died. However, wearing a vibrant emerald on your finger, or dazzling crisp aquamarine, will catch others attention and pay attention to your fashion choices. There are many stars in the sky, but only a few planets!
We see coloured gemstone rings shifting from being viewed as tacky, to very trendy. Since the Duchess of Cambridge displayed her fantastic sapphire and diamond engagement ring to the many, others started catching on investing in coloured gems. They're also a far more affordable choice to the diamond meaning you can save a few pennies and put it towards something else shiny.
Both the diamond and coloured gemstone routes are brilliant and have their pros and cons – when it comes down to picking, weigh up the options and choose one that is the perfect fit for you or your loved one.
Related Articles
Autumnal Gemstone and Jewellery Guide 2021
Lets Talk About Trapiche Emeralds
Why Choose a Coloured Gemstone Ring
Written by Victoria Fletcher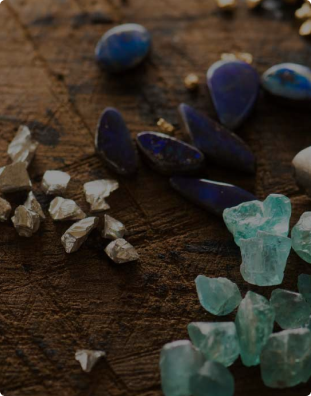 Featured / seasonal collection banner
RESPONSIBLY SOURCED.
BEAUTIFULLY CRAFTED.
SHOP NOW
Featured products
Featured products