Many a man has come unstuck in the process of buying fine jewellery for the special lady in his life, the aim of this article is to help you avoid the common mistakes and find her that special piece she'll treasure for the rest of her life. It is true to say that diamonds (or indeed coloured gems) are a girl's best friend and buying her the right engagement ring, wedding ring, eternity ring, bracelet, necklace or broach needn't be a traumatic experience if you follow our commonsense steps. The internet and highly reputable and well reviewed jewellers, such as the London Diamond & Emerald Exchange, can offer a vast array of opportunities at a fraction of the price of high street retailers. They achieve this by operating online, over the phone and face to face, without the expensive burden of retail premises or inventories to pass on to their customers. The key advantages of hybrid jewellers with direct links to the top of the gem supply chains are that they offer the best of both worlds: the personal touch of a helpful consultant, coupled with the ease and comfort of click and buy and home delivery. When it comes to finding that special item, a little direction can often help!


(It pays to get it right when making one of the most important decisions of your life!)


Always consider her current jewellery collection


First and foremost avoid the clash of colour that could result from a careless, ill planed purchase. If your lady has a preference for platinum, palladium or white gold for example, don't buy her a yellow gold piece. Women pay a lot of attention to how items they wear (including clothes, makeup and jewellery) compliment their skin tones. The key metal types you will consider (yellow gold, rose gold, white gold, palladium & platinum) work differently with different complexions so pay attention to her current preferences. Choose something befitting her style and avoid a clash with her existing fashion and always view the purchase as something she will like and love and not as something you would like to see her wearing. There is an increasing trend in the fine jewellery market for sets or layers of pieces that can be worn together and some even have adjustable components to enable the wearer to set the position or height of an item in relation to others around it. 


If you are not sure, 'KIS' (keep it simple!)


Simple but not cheap - there is nothing worse than a piece of faded white gold that has started to tarnish yellow or a stone coming loose and ruining the whole set! This is especially true if you are in the early months or even years of a relationship as it takes time to fully grasp her tastes. The best advice is to keep to clean lines and avoid any item that may be bulky or in any way uncomfortable to wear. When buying an engagement ring always think ahead and purchase a wedding band friendly piece with a raised centre stone, enabling the subsequent wedding ring itself to sit neatly and comfortably under its edge. 
(Sometimes the simplest designs can be the most elegant!)


Consider setting multiple stone types into a piece that includes diamonds


De Beers have ensured that the whole world and his dog think of diamonds when they turn their attention to buying jewellery pieces but it needn't be (and hasn't always been) this way. Coloured gemstones are now fighting back from 10% of the overall gem market to a predicted 30% by 2030 (edition.cnn.com). Consider the impact a splash of colour can make with the addition of Colombian emeralds, Burmese rubies or Champagne Argyle diamonds, for example. When adding coloured stones always consider the setting, which may look better capped in yellow gold with some stones to pronounce their hue. Green has been shown as the part of the visible spectrum the human eye is most attuned to so emeralds often make a piece all the more eye catching. 
(Diamonds and emeralds complement one another beautifully in a piece, as do other coloured gems)


Make it unique


Carefully consider the benefits of purchasing a bespoke, handmade piece, safe in the knowledge she will never encounter another exactly the same anywhere else! Engraving can also add that so important personal touch to a jewellery gift. Consider the inscription carefully - you may wish to engrave her initials, the date of your anniversary, a symbol or symbols that are special to her, a line from a poem or a unique expression. Here you would also do well to consider her interests - if she is into astrology she may appreciate the addition of her sign of the zodiac or if she has a favourite animal this may be suitable to add. 
(Fine jewellers can create bespoke pieces to almost any design from scratch)


Consider what type of jewellery she most desires


Here it is a good idea to consider very carefully what she already has in her collection and mirror it with your gift. Some women do not like wearing necklaces, others may have a huge collection of earrings and some may have a ring on every finger. On the point of buying rings, however, this is to be avoided at all costs unless you intend to propose with it! Purchasing a ring pre engagement can send out mixed messages and it could turn into a major source of embarrassment!
The London Diamond & Emerald Exchange (LDE) are specialists jewellers and gem dealers, based in London's Hatton Garden. LDE can create any piece of jewellery from any design at unbeatable prices. LDE have an extensive range available via their website and they can source almost any precious gem from anywhere in the world at genuine wholesale prices.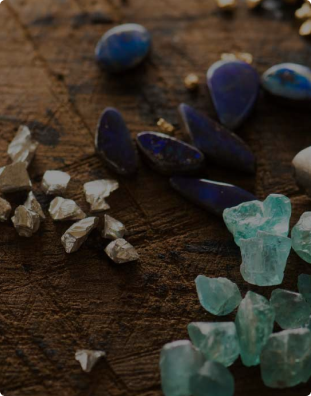 Featured / seasonal collection banner
RESPONSIBLY SOURCED.
BEAUTIFULLY CRAFTED.
SHOP NOW
Featured products
Featured products