Amethyst is a beautiful and popular gemstone that is often used in jewellery. It is the birthstone for February, and is believed to have a number of special properties and associations.

Conscious Design / An amethyst gemstone
What is Amethyst?
Amethyst
is a type of quartz that ranges in colour from pale lilac to deep violet. It is often found in the form of large, transparent crystals that are cut and polished into gemstones. The colour of amethyst is caused by the presence of iron and other trace elements in the quartz, and is most intense in stones that are found in large, well-formed crystals.
Amethyst is a quartz that can mainly be found in Brazil, Bolivia, Uruguay and Zambia. The Brazilian stones tend to be the largest but they generally do not display the richest violet colours. Because of this and other reasons, collectors prefer stones that originate from Zambia and more recently Uruguay because despite their size they do have a richer colour.
As is the case with most coloured gemstones; hue, saturation and tone are the largest determiners of the value of an amethyst. The combination of even colour, with depth of colour and the absence of visible zoning are the key factors. The most sought after amethyst of all are those that are said to be "Siberian quality," a term that no longer relates to the stone's provenance but rather a red and blue hint within a deep purple combination.
Amethyst's history and symbolism
Amethyst has a long history of use in jewellery, and has been prized for its beauty and supposed mystical properties for centuries. It was a popular gemstone in ancient Rome and Greece, and was believed to have a number of special properties, including the ability to protect the wearer from drunkenness and to promote sobriety. A good gemstone for following
Dry January
then!  
In addition to its supposed spiritual properties, amethyst is also popular for its beautiful violet colour. It is often used in rings, earrings, pendants, and other types of jewellery, and is a popular choice as a gift for February birthdays. It is also seen as an alternative choice to more typical gemstones for engagement and wedding rings, as it is believed to symbolise eternal love and commitment.
Abigail H / A vintage Amethyst brooch from the early 20th century
Amethyst jewellery
Amethyst is relatively affordable compared to other precious gemstones, and is widely available in a range of cuts and sizes. It is also durable and resistant to scratching, making it a great choice for everyday wear. It is also a popular choice for men's jewellery, as the deep violet colour adds a touch of sophistication and style to any outfit.
When shopping for amethyst jewellery, it's important to consider the quality of the gemstone. The colour of amethyst can vary greatly, and the best stones are deep violet in colour. The clarity of the gemstone is also important, as a clear, transparent stone will have more sparkle and brilliance than a cloudy or included stone. It's also a good idea to consider the cut of the gemstone, as a well-cut stone will have more sparkle and brilliance than a poorly cut stone.
London DE /  Princess Madeleine of Sweden, wearing a set of beautiful Amethyst jewellery
There are a number of different cuts available for amethyst, including round, oval, pear, and cushion. Each cut has its own unique characteristics, and the right cut for you will depend on your personal preferences and the style of the piece you're looking for.
When
shopping
for amethyst jewellery, it's also a good idea to consider the metal the piece is made of. Amethyst looks beautiful paired with gold or silver, and is often set in these metals. It's also a good idea to consider the style of the piece you're looking for. Do you want something classic and timeless, or something more modern and edgy? Amethyst is a versatile gemstone that can be incorporated into a wide range of styles, so you're sure to find something that suits your personal taste.
Arteum.ro / Amethyst earrings
How to take care of Amethyst jewellery
When caring for
amethyst
jewellery, it's important to handle it with care to prevent damage. Amethyst is a relatively hard gemstone, but it can still be prone to scratching and chipping if it is not handled properly.
To clean amethyst jewellery, you can use a soft, dry cloth to gently wipe away any dirt or fingerprints. You can also use a soft toothbrush and warm water to gently scrub the gemstones, being careful not to use too much pressure. Avoid using harsh chemicals or abrasive cleaners on amethyst, as these can damage the gemstone.
It's also a good idea to store amethyst jewellery carefully to prevent damage. Keep your amethyst pieces separate from other jewellery to prevent scratching, and store them in a soft, padded jewellery box or pouch. Avoid exposing amethyst to extreme heat or cold, as this can cause the gemstones to crack or become discoloured.
In addition to handling and storing amethyst jewellery carefully, it's also a good idea to have it professionally cleaned and inspected on a regular basis. This can help to keep your amethyst pieces looking their best and ensure that they are in good condition. A professional jeweller can clean and polish your amethyst jewellery to remove any dirt or grime, and can also check for any damage or issues that may need to be addressed.
---
Overall, amethyst is a beautiful and popular gemstone that is perfect for any occasion. Whether you're looking for a special piece of birthstone jewellery or just a beautiful gemstone to add to your collection, amethyst is a great choice. With its beautiful violet colour and supposed spiritual properties, it's sure to add a touch of elegance and style to any outfit. So why wait? Start shopping for amethyst jewellery today and add some sparkle to your life!
RECENT ARTICLES
The Hearts and Arrows of a Diamond
The Ultimate Guide to Men's Wedding Rings
A guide to Trilogy Engagement Rings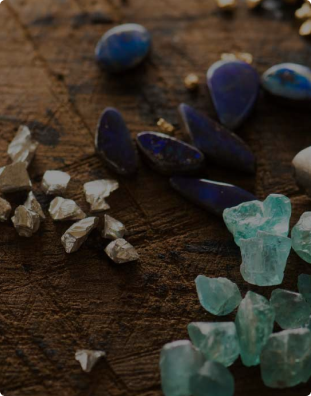 Featured / seasonal collection banner
RESPONSIBLY SOURCED.
BEAUTIFULLY CRAFTED.
SHOP NOW
Featured products
Featured products