India has for many years been a powerhouse of the global gemstone and jewellery industry and it is now reopening for business, including international business. By some measures over 80% of the world's diamonds are cut and polished in India, where traditional, centuries old technologies sit side by side with state-of-the-art twenty-first century techniques. Interestingly, for such a large industrial economy, many Indian jewellery manufacturers will take on almost any order, however large or small. Gold, especially 24 carat gold, has long been intrinsically linked with Indian jewellery consumer culture. However, more recently platinum, and other precious and semi-precious metals have risen in popularity alongside the rise and sprawl of the middle-class in the sub-continent. Indian cutters have specialised in some interesting and unusual shapes, including rose and sliced cut diamonds, and many of these are becoming increasingly popular in Western as well as Eastern cultures. The gemstone and jewellery sector contributes a staggering 7% of India's GDP and 15% of the country's export merchandise by value. It currently provides employment to more than 4.5 million people, a figure set to double by the end of the decade.
Due to its size and future potential the Indian government has designated the jewellery industry as a sector of focus for export promotion and as such it has embarked upon various campaigns to encourage foreign and domestic investment to further promote it. The Indian government has signed a Memorandum of Understanding with Russia, one of the world's largest diamond producing nations, relating to free gem trade coupled with the compilation of accurate records on the trading activity between the two countries. The logic of a partnership between the world's biggest rough diamond producer and the world's largest processor of rough diamonds is clear to see. Traditionally the combination of low costs and highly skilled labour has made India a global hub of the gemstone and jewellery trade. India produces almost a third of the total worldwide jewellery output, accounting for almost a thousand tonnes of gold every single year, providing an annual industry income of more than US$25 billion in 2019. The gradual adoption of western styles is starting to have a profound effect on the domestic jewellery market in India.
Jewellery, especially gold, has long been held by individuals as a secure method of saving and securing wealth but this is gradually evolving as the younger millennial generation are embracing other forms of savings and investment and increasingly view jewellery as a fashion accessory, rather than a store of wealth. The future growth of the Indian gem and jewellery industry will be boosted by a consolidation of smaller producers into more developed and much larger retail brands and we can see evidence that this is already underway. This process is both internal, as the domestic players begin to agglomerate their activities, and it is also externally driven by the market penetration of large global players. These developments been further encouraged by the fact that India is now more outward looking and free trade orientated than it has ever been before. The Indian jewellery industry has a profound 'can-do' attitude and a remarkable sense of optimism. In the post Brexit world, it will be essential for the UK to reach out for new partnerships around the globe and India will be one of the key opportunities for economic cooperation and development, not least in the gemstone and jewellery industry.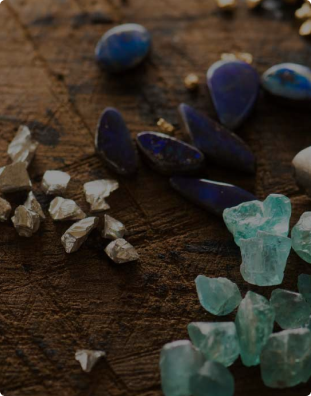 Featured / seasonal collection banner
RESPONSIBLY SOURCED.
BEAUTIFULLY CRAFTED.
SHOP NOW
Featured products
Featured products