(Christmas engagement ring - a Harry Winston inspired diamond ring we created in our workshop)
Christmas is, famously, a time for giving. It has now overtaken Valentine's Day as the peak time of year for marriage proposals and more people than ever before are choosing to give their loved ones festive jewellery gifts. Over recent years the way in which we conduct our Christmas shopping has changed markedly, with the rise of e-commerce and the emergence of 'Black' Friday and 'Cyber' Monday as a new pre-Christmas discount phenomenon. This has served to challenge the dominance of the high street and increase competition but it has also bewildered many as to where the best value for money truly lies. Bain & Co and MacKinsey & Co research both concluded that between 70-80% of jewellery buying 'journeys' begin online but only around 20-30% end in an online purchase. This suggests that most shoppers start by researching the best products, deals etc on the net, prior to then making a face-to-face purchase. This trend has been largely static over recent years and it may suggest that the market share of e-commerce is at (or around) its peak. The dilemma is that the lower overheads of online businesses (unburdened by expensive retail premises and large amounts of stock) cannot be fully appreciated by an audience that prefers dealing with human beings in person. Whilst it is true that some prefer shopping online and some will only browse shop windows for their gift purchases, the bulk of shoppers want a hybrid experience with the best of both worlds.
(London DE: UK's leading bespoke jeweller and gemstone supplier, specialising in coloured stones)
At London DE we offer that combined approach, with a 'clicks-and-bricks' business model. This means our customers can begin their journey by engaging with our website, blog, social media or digital marketing, then they have a choice as to where they complete it: either with a 'click-to-buy' or by meeting us at our workshop or sales office face-to-face. With this approach we can sell to 100% of the marketplace, by the means they feel the most comfortable with. This leaves the customer with just one thing to worry about: where to find the inspiration for the perfect engagement ring or jewellery gift. Whether it is an elegant, minimalist, retro, vintage or ornate style that you are looking for, more and more people are choosing to purchase bespoke pieces in which they have had a strong design input. Professional Jeweller magazine recently revealed that almost half of engagement ring purchases are now bespoke and a significant number of those contain stones or elements of pieces handed down from previous generations. Very topically, Prince Harry recently elected to use some Botswana white diamonds from a brooch once belonging to his mother, the late Diana, Princess of Wales, in a bespoke ring by master jeweller Cleeve and Company he directly influenced the design of. As well as resulting in a truly unique outcome, going bespoke enables your imagination to run wild.
(Harry & Meghan - a bespoke engagement ring design the Prince was personally involved with)
If you have seen a piece on the internet, social media, television or film that you have taken a shine to, today's smart phone world enables you to quickly and easily save and share so that you can take inspiration from almost anywhere and conjure it to life. You can now have the jewellery you have seen on the red carpets of Hollywood, Cannes, Paris or London made for you and all at a fraction of the price the celebrity wearing it would have paid to the luxury jewellery brands. The likes of Harry Winston, Cartier, Boucheron, Bulgari, Tiffany & Co, JAR, Boodles et al usually mark up as much as 300-400%. Ethical jewellers, such as London DE, work to margins of 20-30%, giving the consumer far greater value for money. We can provide the full range of jewellery items, from high end engagement rings for six figure sums, down to small pieces, such as studs, cufflinks, tie clips and tie pins, for less than £100. Increasingly popular items this year include shimla bracelets, as well as brooches, necklaces, earrings and pendants. Gold and silver chains can also add a fashionable edge to an outfit, especially when you are more dressed down. Consider coloured gemstones to give a Christmas jewellery present a flash of festive colour. The 'big-3' (ruby, emerald and sapphire) coloured gems are particularly in vogue at the moment and when they are set into yellow gold the results can be spectacular.
(Most jewellery buying journeys begin online and end face-to-face)
There are also a raft of other coloured stones to consider beyond the big 3, such as magnificent Brazilian
Paraíba
tourmaline, aquamarine, tanzanite, red beryl, golden beryl, Burma spinel, the list goes on and on! 'Chic minimalist' is a new style that has come in to fashion, whereby the designer seeks elegant geometric jewellery from neutrals and signs and symbols collections displaying a luxuriant, hand-crafted Ottoman finish. Coloured stones compliment almost any style and they add that air of uniqueness that are not offered by diamonds: for every 20 carats of diamonds that are mined, only 1 carat of other coloured stones are produced. This rarity does not always translate through into the price of the finished stone, as many coloured gems are less expensive than some diamonds. Some of the finest jewellery creations ever made contain diamonds and coloured stones in a fusion of colour and scintillation (or 'sparkle'). Regardless of what design you choose and what gemstones (if any) you choose to adorn your piece, which retailer you go to will have a profound effect on the value for money you will achieve from your purchase. For a fortunate few, a luxurious buying experience and a logo on a shopping bag in itself is something to pay four or five times over the cost price of the piece for but for those who want the same quality for a fraction of the price it pays go 'hybrid!'
(A beautiful LDE quad diamond bespoke ring produced by hand to a customer's unique design)
To search our huge range of gemstones and learn more about our bespoke jewellery visit:
londonde.com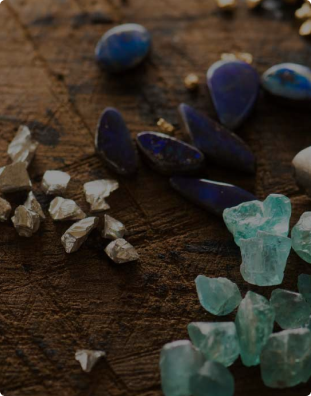 Featured / seasonal collection banner
RESPONSIBLY SOURCED.
BEAUTIFULLY CRAFTED.
SHOP NOW
Featured products
Featured products