For those in the jewellery market looking to create their own engagement rings or other pieces, buying loose diamonds online is something many will likely consider. However, if you haven't purchased loose diamonds online before, having some tips about the buying process can certainly help. That's why London DE Fine Jewellery has put together some useful tips below.

Here you'll find everything you need to buy the best loose diamonds on the internet in 2021.

6 easy steps for buying diamonds online



Set your budget: Having a good idea of how much you are willing to spend on loose diamonds with will help make your search online much easier.


Choosing the best site: There are a lot of sites out there, so choosing the best one for you is important. Select somewhere that offers a variety of choices and budget ranges, that's also certified.


Verify certifications: The two main certifications that are the standard in the industry are from the Gemological Institute of America (GIA) or the American Gem Society Laboratories (AGS).


Assess the 4 Cs: To select loose diamonds of the best quality, you'll need to assess their cut, clarity, colour, and carat.


Choose your setting: You'll also need to choose a ring setting for your loose diamond, or another setting for it, like earrings, etc.


Take your time: Before agreeing to anything, take the time to do your research and be sure you're comfortable with the decision.


Why shop online?
Many wonder why buying loose diamonds online is more beneficial than in-store. Firstly, you'll be able to shop from the comfort of your home. You'll also have more access to a much wider selection of loose diamonds.
How to determine your budget
As mentioned above, one of the most important steps to buying diamonds online is to set your budget. If you know precisely what you want to spend, you'll be able to easily determine what diamond you'll be able to get for such a price. Keep in mind that how much you're willing to spend will determine both the quality and size of diamond(s) you're able to purchase. Always be honest about what you can afford and you'll be happy with the result.
Assessing the 4 Cs
All loose diamonds are assessed by taking the 4 Cs into account.


Cut: The cut of loose diamonds is rated from poor to excellent. Another important component when it comes to evaluating a diamond's cut includes the effect light has on it, such as the reflection, refraction, and dispersion of light when it hits the diamond. The depth of the cut of a diamond is also a factor to consider.


Clarity: Flawless is the best diamond clarity, which doesn't contain any blemishes or inclusions. Internally flawless diamonds have blemishes on their exterior but are perfect inside. Ratings then range from slightly included diamonds that contain minor blemishes such as clouds or other marks to included diamonds, the lowest grade, which contain blemishes and display poor transparency.


Colour: There are three primary ratings on a diamond's colour chart, the first being colourless, which contain minimal traces of colour and boast an extreme brilliance. Near colourless diamonds contain slight traces of colour when compared to finer grades. Lastly, faint yellow diamonds contain a noticeable yellow colour.


Carat: Carat has to do with the size and weight of a diamond. Higher carat diamonds are larger and of higher quality.


Choosing your setting
If buying a diamond or loose diamonds for an
engagement ring
or other type of fine jewellery as a gift, this is when it's time to bring your partner or the recipient of the gift into the conversation to choose the right setting. There are a number of options out there, everything from more modern pieces fashioned from gold or sterling silver, to heirloom settings that may have been passed down in your family. If you intend the piece of jewellery to be a surprise, consulting with a diamond and jewellery expert will be your best bet to ensure no stone is left unturned.
Give yourself plenty of time
Not only should you make an informed decision for buying your diamonds online, but you should also give yourself enough time after you've ordered to have the stone set and your piece of jewellery prepared. This way you won't be scrambling at the last minute and if you've planned to propose (which is nerve-wracking enough) you can do so without feeling any additional stress.
Buying loose London diamonds online
As one of today's premier online loose diamond sellers, London DE Fine Jewellery has access to one of the largest networks of
certified diamonds
, including coloured and white stones. We have a running inventory that includes more than 1,000,000 different diamonds and gemstones of every size, quality, cut, colour, and carat, so finding one that's the perfect fit is easy.
We source fine diamonds and gemstones from the top of the supply chain, ensuring the very best precious stones. All of our stones have been GIA-certified. London DE also offers a guarantee that our prices won't be beaten within 30 days or we'll refund the difference.
Those looking for an eco-friendlier approach will be pleased to learn that London DE also offers
lab-grown diamonds
.
Contact us today for fine jewellery and loose diamonds and gemstones!
London DE Fine Jewellery is one of the UK's leading online supplier of
sapphires
,
diamonds
,
emeralds
,
rubies
, and other coloured gemstones. All of our stones have been ethically sourced. We also create custom bespoke pieces of jewellery from our Hatton Garden workshop in London.
For more information about our inventory or to place an order,
contact us online
or call +44 207 859 4754.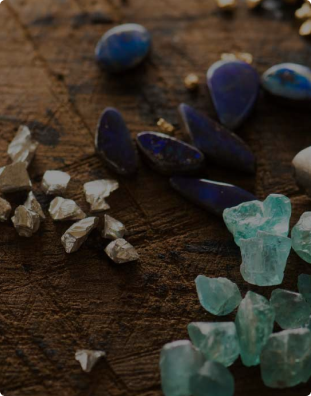 Featured / seasonal collection banner
RESPONSIBLY SOURCED.
BEAUTIFULLY CRAFTED.
SHOP NOW
Featured products
Featured products