(Since 2010 China has been the second largest jewellery market, after the USA)
China is now the world's second largest economy and the largest manufacturer on the plant. Within that market, the jewellery sector has grown apace but the variety, design and raw materials are highly varied and do not follow any discernible patterns observed in other consumer markets. Over the past decade the Chinese jewellery and gem market has grown from international obscurity to the second largest on earth, only the USA is bigger. Throughout the 2000s both the wholesale and retail jewellery markets in China grew by a staggering 30% compound per annum on average and in 2013, largely due to a slump in the price of gold, the market grew by an eye watering 72%. It is important to note that these increases were not linear and there were profound peaks and troughs in the figures. There are similarities between the domestic Chinese market and that of India, as both offer a very wide variety of jewellery. In both national markets significant quantities of gold, platinum and silver are used, which is having the effect of increasing the value of these metals globally. The emerging markets also contain a lot of non-precious metal jewellery, including metals like copper and aluminium, which they produce in vast quantities.
(Despite a 'blip' in 2014, Chinese jewellery demand is rising)
There is also the unfortunate imitation jewellery industry, in which some unscrupulous Chinese factories produce counterfeit products that purport to be luxury Western brands such as Cartier, Chopard, Van Cleef & Arpels and Rolex. For many years the Chinese authorities were slow to react to these blatant violations of trademarks and copyright but in more recent times they have begun to take punitive action against persistent offenders. Realising the huge potential of the Chinese market, Rio Tinto and De Beers have operated here since 2010. They have encouraged small scale independent local retailers to promote diamonds and other luxury products to the point at which the entire market is starting to grow at an astonishing rate. In 2015 Rio Tinto introduced diamond fashion jewellery to the Chinese market and saw immediate results and they have also found a receptive audience for the world famous Argyle diamonds. De Beers has seen significant growth in their Chinese outlets as well and they are now achieving sales of over $10 billion in the Far East.
(Rio Tinto are among the big names moving into the Chinese market)
Chinese consumers spend more money collectively each year than those of any other nation on earth. In recent research conducted by Bank of America and Merrill Lynch, China was shown to be leading the way in the amount its retail customers spend on self-indulgence and products that enhance appearance and prestige. This so called 'vanity consumption' has shown annualised growth of 15.6% in China over the past 5 years. The World Gold Council (WGC) have stated that China's jewellery demand actually fell by 33% to 623.5 tonnes in 2014, as a retracement of the oversupply of 2013. Macau, one of the autonomous regions of China, has seen significant growth in its jewellery industry in recent times, as the city-state's buoyant gaming, luxury and tourism industries continue to attract affluent visitors from the Chinese mainland. Foreign shoppers looking for jewellery, coupled with the increasing demand from domestic Macau residents with rising real incomes have been identified as the principle drivers of this growth. Recent research indicates that a boom in bridal jewellery has been at the centre of the overall expansion of jewellery business in Macau. This is clear evidence of a shift away from traditional local customs as the new aspirational middle classes clamber for Western opulence.
(Macau's jewellery industry is booming)
However there is a very different picture emerging in Macau's erstwhile neighbour, Hong Kong. Chinese visitor numbers from the mainland have been in sharp decline of late and a number of Hong Kong jewellers have reported a significant slump in sales. Major retailers such as the Emperor Watch & Jewellery Company have reported a fall in sales of over 40% this year and its rival Chow Tai Fook, the world's largest jewellery retailer, which relies on about 60% of its Hong Kong sales from mainland Chinese visitors, has reported a 30% decline in sales in 2016. The industry expectations are for similar results to arise from Luk Fook Holdings Internationa Limited, another key player in the local jewellery market. The Hong Kong tourist board has estimated that there has been an 80% reduction in the number of organised tour groups from mainland China and it believes they are being lured to other destinations, including Japan and South Korea. This is part of a broader picture which suggests the Hong Kong economy is struggling to keep pace with that of China itself. A recent Credit Suisse report cut the growth forecast for Hong Kong for 2016 from 2.4% to 1.6%, which is a far cry from that predicted for China. The high profile annual HKTDC Hong Kong International Jewellery Show does not seem to have helped the recent plight of the local jewellery trade.
(In spite of the Jewellery Show, HK has been struggling in the luxury market recently)
According to the WGC, higher-margin products are growing in popularity within China's burgeoning gemstone and jewellery market. Lower carat size jewellery is also performing well in China, notably among the younger generation. Interestingly a recent government crackdown on corruption in China is thought to have lead to a slight weakening in demand, as a good many bribes were laundered through gemstone and jewellery channels. This fact demonstrates how endemic corruption once was within Chinese society and how much progress has been made in tackling it. The latest data on Chinese jewellery sales suggests that 2016 will be another year of huge gains, with most estimates in the region of 20% growth. It is clear that as we approach the end of the current decade, China will likely emerge into the 2020s as the largest jewellery market in the world and it is possible that it may become the biggest overall economy on earth within 10-15 years.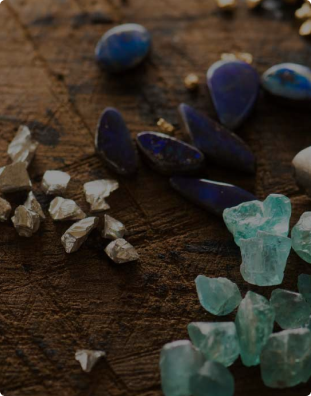 Featured / seasonal collection banner
RESPONSIBLY SOURCED.
BEAUTIFULLY CRAFTED.
SHOP NOW
Featured products
Featured products