With efforts continuing to contain Coronavirus, now might not seem the right time to consider gemstone opportunities in China, but the country is a focus for London DE founder Phil Spencer.

Red and green are traditional good luck colours in Chinese culture, and rubies and emeralds are much sought after by Chinese consumers looking for bespoke jewellery as a special gift for loved ones.

That's why gemstones entrepreneur and London DE founder Phil Spencer is upbeat about the coloured gemstones market's prospects in China, despite – and in some cases because of – the current Coronavirus outbreak.




This is because out of crises can appear opportunities. The present lockdown efforts going on in China to contain Coronavirus' spread are temporary. However, the restrictions imposed by authorities have created a vacuum within that market.

The current conditions can work in favour of jewellers elsewhere, providing an opportunity for a firm like London DE to explore, as Chinese customers look to overseas providers still able to cater to their gemstone demands.

Chinese consumers shopping online or as tourists in European cities often struggle to spend their Yuan, as the currency is frequently not accepted on Western payment systems. This is also a missed opportunity for a big and growing market.




Chinese shoppers don't listen to the same social influencers and they don't use the same online platforms. It makes it vital to engage on their channels – WeChat in particular – a one-stop-shop which combines social media features like Instagram with e-commerce like Amazon.

For entrepreneurial start-ups like London DE, this includes companies such Jgoo, which assists marketing efforts for UK businesses selling to China. Spencer suggests cruise ship passengers as one potentially lucrative group of shoppers.




London DE was founded in 2013 in the heart of London's Hatton Garden with the idea to ethically source coloured gemstones and diamonds to create handmade bespoke jewellery. Colombian Emeralds and rubies and sapphires from Sri Lanka and Myanmar are among London DE's specialities.

Coronavirus notwithstanding, China could be the next big opportunity. Gradually expanding in recent years through crowd funding, the company used Seedrs to raise £160,000 from crowd investors between two rounds in 2017 and 2019.




Next, London DE has its eye on international expansion. Spencer recently returned from the Emergence 2020 conference in Sydney, appealing to international venture capital and angel investors to get behind coloured gemstones.

The market for coloured gems is booming – favoured by royalty, celebrities and influencers. The price of emeralds is already 500% above 2010's level and the coloured gems market is tipped to quintuple in value from $2bn to $10bn over the next decade.

Visit our website to view our range and book a free consultation.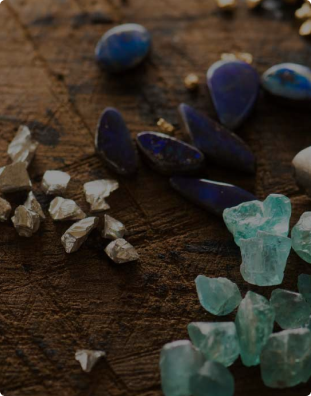 Featured / seasonal collection banner
RESPONSIBLY SOURCED.
BEAUTIFULLY CRAFTED.
SHOP NOW
Featured products
Featured products