When most people think of diamonds they immediately think of De Beers but it wasn't always this way. Up until the mid nineteenth century few could afford diamond jewellery, apart from the super rich and royalty. This changed rapidly in the later part of the 1800s when vast reserves of diamonds began to be exploited in South Africa and they quickly flooded the market, creating a slump in the price per carat. The ingenuity required to restore and maintain the market in a profitable state came from De Beers. De Beers was founded by one of the most controversial figures in modern history, the industrialist turned imperialist Cecil Rhodes. Rhodes began by renting water pumps to miners before investing in diamond mining operations directly. One of the fields he purchased was owned by a pair of brothers called de Beer and in 1880 he bought the rights to his arch rival Barney Barnato and created the De Beers Mining Company. Diamond mining lends itself well to merger and acquisition, as smaller entities soon find that working together enables the economies of scale to rapidly increase profits from shared land, labour and equipment. Consequently within a few short years the nascent De Beers owned the rump of South Africa's diamond mines.

(De Beers forged a reputation as the dominant force in 19th & 20th century diamond mining)
 View London DE diamonds 

here
By 1888 De Beers strategy of agglomeration under Rhodes had lead to the formation of De Beers Consolidated Mines Limited, which effectively held a complete monopoly over all South African diamond production and distribution. Rhodes sort to control prices by controlling both supply and demand simultaneously, thus he created a number of distribution arms via "The Diamond Syndicate," which included "The Diamond Trading Company" in London and the "Syndicate" in Palestine (modern day Israel). It was relatively easy for Rhodes to garner support within the industry as it was in everyone's interest to boost prices by manipulating the supply side whilst heavily marketing and advertising the product to raise demand. This has enabled the price of diamonds to rise in a near linear fashion, in stark contrast to the fluctuations experienced by other commodities. By the time of Rhodes' death in 1902, De Beers controlled 90% of the world's rough-diamond production and distribution.
(Cecil Rhodes in a late nineteenth century portrait)
Despite this phenomenal achievement the real driving force behind De Beers later expansion was Ernest Oppenheimer. Oppenheimer was Rhodes' competitor and owner of the Anglo American Corporation. Little by little Oppenheimer bought shares in De Beers and worked his way onto the board of directors, eventually becoming chairman in 1927. He set about re-structuring the business such that De Beers would determine the volume of diamonds they wanted to sell and the price at which they wanted to sell them for the entire year via a chain of subsidiaries. The stones would then be sold to market through centres such as Antwerp, London and New York. Despite the combined genius of De Beers and Oppenheimer, the Great Depression of the 1930s was inescapable and diamond prices slumped. Ever resourceful, De Beers launched the famous "a diamond is forever" campaign under the guidance of Oppenheimer's son Henry, in cooperation with the New York advertising agency N.W. Ayer in 1938. This campaign proved to be highly successful and received a further boost from the celebrity endorsement of Hollywood stars in their movies and media photos.
(De Beers still use the slogan to this day)
 View London DE diamond earrings

here
Having saturated North America and Europe by the 1960s, De Beers' ambition to conquer new markets knew no bounds. Japan is an interesting example of this, where up until 1960 the post war government had banned imported diamonds but by 1981 60% of Japanese brides had a diamond ring. Vast diamond reserves were discovered in Siberia in the 1950s, threatening De Beers' mastery of the market. Their response to this challenge was to buy every rough stone produced in the former USSR to maintain their single channel monopoly. Russian stones at this time were for the most part smaller but again De Beers resourcefulness meant that they were able to overcome this by using them in miniature pieces and eternity rings. This set a precedent for future cooperation between De Beers and other governments, most notably in Africa, at a time when many of the major gem producing countries were achieving their independence. A case in point is "Debswana," a joint venture between De Beers and the nation of Botswana which was entered into in 1969 and remains extant to this day. This made De Beers the biggest non-government employer in the small African nation and gave the government itself a 15% stake in the operation, which may be expanded to 25% in the near future.
(Traditionally Japanese brides did not wear diamonds, until De Beers entered the fray!)
At the turn of the 21st century the industry began to turn against De Beers' long enduring monopoly and the voices for change became significantly louder. In the late twentieth century De Beers had fended off challenges to their dominance from countries like Zaire and Israel by releasing huge quantities of diamonds that were identical to that country's product in order to quell demand. More recently countries with enormous reserves of their own, including Russia, Canada and Australia have refused to work with De Beers' single channel system. These problems, coupled with relatively flat diamond prices since the millennium, have forced De Beers to pivot away from a focus on rough supply and industry wide domination in favour of a renewed focus on the retail market and its own brand. De Beers ended its near century long chokehold over the diamond market in 2011 when it sold a majority shareholding to Anglo American, ironically the firm Oppenheimer himself originally founded! Despite this turn of events, De Beers continues to go from strength to strength as a retail brand, penetrating many new and emerging markets in the Far East and Asia, most notably in China where they opened their first store in 2010. None of the original families involved in the development of De Beers as the text book example of a total monopoly are still connected with the business but it continues to grow and evolve as a multibillion dollar operation.
Related Articles:
The Diamond Solitaire: A Timeless Design
A brief history of the diamond market
View Related Products: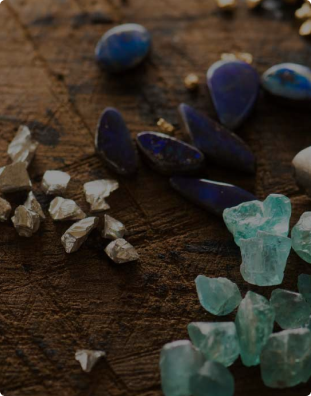 Featured / seasonal collection banner
RESPONSIBLY SOURCED.
BEAUTIFULLY CRAFTED.
SHOP NOW
Featured products
Featured products