Whilst buying your engagement ring might be the most daunting jewellery choice you will make, maybe coming in a close second in terms of most important jewellery choices is deciding upon your wedding rings. 

When you walk through a jewellery market in London, or visit an esteemed Hatton Garden jeweller; you can be overwhelmed by the hundreds of different wedding bands on offer. To alleviate that worry, here is a brief and essential guide to buying your wedding rings. 

Wedding ring type
There are a variety of styles that you can look at when considering what wedding rings to purchase.
Wedding ring band
This is most likely what you think of when you think of when you are asked to think of a wedding ring. A simple band of metal that wraps around your finger, in a circle that represents your unending love for your partner. We will elaborate more when we cover wedding ring shapes.
Court Track Wedding Ring Band | London DE
Eternity ring
Rather than a traditional and plain wedding band, an eternity ring is a different style of wedding ring. An eternity ring is a wedding ring that combines a band of metal, normally gold, silver or platinum; with a layer of gemstones, normally a set of diamonds. A collection of gleaming diamonds on a wedding ring is supposed to signify the long and hopefully eternal bond between you and your beloved.
Yellow Gold Diamond Eternity Ring | London DE
Ring shape
Within the world of wedding ring bands, there are a number of popular shapes you can choose from, each one having their own characteristics.
Court band
Platinum Court Wedding Ring | London DE
Court style wedding ring bands are among the most famous and classic styles of bands. The classification describes its shape, which is straight all the way round the top and bottom of the ring, and then softly rounded on the inside and outside to provide a comfortable fit. Part of the reason why Court wedding rings are so popular, is due to the comfort and ease of taking these rings on and off. This means that no matter the width of the band you choose to go for, you will have a ring with a seamless and relaxed fit.
Flat court band
Platinum, Flat Court Bevelled Edge Wedding Ring | London DE
Flat court rings, which are also a common choice for brides and grooms alike, combine the comfort that the traditional court-shaped wedding rings provide, but in a more minimalist, and contemporary style. The rings' curved interior means they are still very easy to wear, but unlike court bands, they have a flat exterior hence the name.
Bombé band
These are less popular now, but Bombé rings used to be all the rage. With their name coming from the French word for bomb, these now vintage ring styles are defined by a distinctive, rounded profile; and were extremely sought after during the 1950s and 1960s. They continue to be a stylish favourite of those with an interest in fashion history, they are also well loved by people who are looking for a ring that taps into something more retro.
D-shaped band
Yellow Gold D-Shaped Wedding Ring | London DE
D-shaped wedding rings are somewhat self explanatory. They are straight around the top and bottom, and are curved around the outside, with a flat interior. This provides the D shape which the ring's name is attributed to.
These wedding rings take their cues from court rings, with their straight lines and a soft, curved finish. However the flat interior, which creates the unique D-shape, makes it different to court rings.
Recent articles
Engagement Ring Trend Predictions for 2023
The ultimate guide to diamond cuts
Explaining Ethical Engagement Rings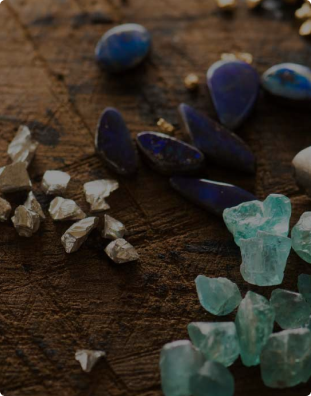 Featured / seasonal collection banner
RESPONSIBLY SOURCED.
BEAUTIFULLY CRAFTED.
SHOP NOW
Featured products
Featured products