When it comes to gifting jewellery, it can be easy to fall into the trap of buying something generic and impersonal. But with a little bit of thought and creativity, you can make a jewellery gift truly special and meaningful. Here are five ways to make a jewellery gift more thoughtful and personal.

Make sure your choices match the recipient's style!
When choosing jewellery as a gift, it's important to consider the recipient's personal style. Everyone has their own unique sense of fashion, and a piece of jewellery that aligns with that style will be more likely to be worn and appreciated. For example, if the recipient tends to dress in a classic, elegant style; a timeless pearl necklace or a pair of diamond stud earrings would make a great gift.
On the other hand, if they have a more bohemian or eclectic style, a statement necklace with bold colours and unique shapes may be more fitting.
To get a better sense of their style, take note of the jewellery they currently wear, and think about the types of clothing and accessories they tend to choose. Look for clues in the colours, textures, and designs they're drawn to; and you can even snoop through their social media profiles. 
Once you have a good understanding of their style, you'll be able to find a piece of jewellery that fits with it perfectly. It's a thoughtful way to show that you care about them and pay attention to their preferences. And ultimately, making a jewellery gift that aligns with the recipient's personal style will be more likely to make them feel special and appreciated.
Add an engraving to the piece of jewellery 
Estefania Solveyra / A pair of beautifully engraved rings
Adding an engraving to a piece of jewellery can make it truly one-of-a-kind and personal.This can be anything from the recipient's name, initials, or a special date or phrase, and it can be an intimate message or an inspirational quote, that makes the gift truly special. 
Engravings can be done in a variety of ways, from traditional hand engraving to modern laser engraving. Hand engraving is a time-honoured technique that adds a unique, personal touch, whereas laser engraving is a high-precision method that allows for small, intricate details and crisp, clean lines. 
Choose a piece of jewellery that incorporates their birthstone
Incorporating a person's
birthstone
in a piece of jewellery adds a personal touch to your gift.
Birthstones
have been associated with certain months of the year for centuries, and are believed to have special healing and protective powers. Each
birthstone
is unique, just like the person you're gifting it to, making it an ideal way to personalise a piece of jewellery.
Additionally, you can also consider layering
birthstones
to create a more meaningful and unique gift. For example, a necklace with
birthstones
of the recipient and their children, or a bracelet with
birthstones
of the recipient and their partner.
Give them a set of jewellery
Emerald set of jewellery
Creating a set of matching jewellery can be a thoughtful and elegant way to gift jewellery. Not only will the recipient appreciate the thought that went into curating the set, but they'll also have pieces that can be worn together or separately. For example, you could pair a delicate
emerald ring
with a
matching necklace
. This can create a cohesive and polished look and can be perfect for special occasions such as weddings, proms or even formal events.
Another way to make it a set is by choosing a theme or colour scheme that ties the pieces together. For example, if you know the recipient loves the ocean, you can select items that feature shades of blue and elements that recall marine life. Or you could choose a collection of items that are all rose gold or gold. By selecting pieces that complement each other, you can create a thoughtful and personalised set that the recipient will love.
Give then a bespoke piece of jewellery
Another way to make a jewellery gift truly special and personal is to design it yourself. Making a piece of
bespoke
jewellery with a highly qualified jeweller can be an incredibly rewarding experience. 
It's a great way to put your own creativity into the gift and make something that is truly one-of-a-kind and tailored to the recipient's tastes. Not only that, if you include the person you are giving the piece to in the design stage; the process of making a bespoke piece of jewellery can be something you really cherish together. 
This way you can infuse your own creativity, personal touch and sentimentality into the gift, and the end result will be something that the recipient will enjoy for years to come.
Tahlia Doyle / The process of creating a bespoke ring can be incredibly rewarding
---
Giving a jewellery gift doesn't have to be generic or impersonal. By considering the recipient's style, adding an engraving, using birthstones, making it a set or designing it yourself; you can make a jewellery gift truly thoughtful and personal. With a little bit of creativity and effort, you can give a gift that the recipient will treasure for years to come.
RECENT ARTICLES
 Ultimate guide to giving jewellery as a gift
 Chipembele – The largest gem grade emerald in the world
Amethyst: the vibrant violet birthstone
The Hearts and Arrows of a Diamond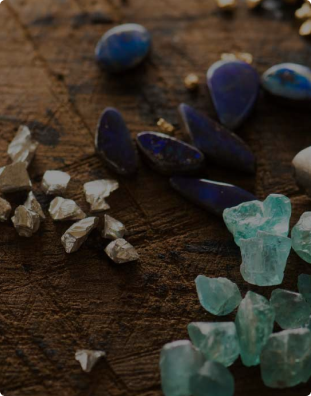 Featured / seasonal collection banner
RESPONSIBLY SOURCED.
BEAUTIFULLY CRAFTED.
SHOP NOW
Featured products
Featured products