Of the three precious coloured gems (rubies, sapphires & emeralds) emeralds are emerging as the most popular. The forces behind this nascent trend include improved reliability of supply, a broader appreciation for the stone and the range of tones, hues, saturations and colours in which it can be found. First discovered by the ancient Incas and Aztecs, stones from the Muzo mine in Colombia have taken centre stage among the most vaunted emeralds. The Conquistadores took these gems to the Spanish court from where they were traded with the Mughal rulers of fifteenth and sixteenth century India. In more modern times, Colombian emerald mining suffered greatly from political and social unrest and a lack of investment in the 1970s and 1980s but it has since been revived under the stewardship of private equity investors. This investment has lead to a good deal of mechanisation and the development of the 'mine-to-market' business model in which the focus has shifted toward greater transparency, ethics and accountability. In total this investment has amounted to more than $100 million, greatly enhancing both production and the lot of the local community and workforce. The Muzo 'brand' has developed into a force in its own right and the stones, cut and polished in Bogotá, have just begun to enter the market in large numbers.


(Mila Kunis - the iconic model of Gemfields Emeralds)
LA based jeweller and gem dealer Robert Procop has joined the chorus of voices extolling the virtues of Muzo emeralds, stating: "this is the decade of coloured stones, especially emeralds, through increased certification and identification of origin, colour and clarity and full disclosure of any enhancement. Clients are more informed and more intrigued." Some industry sources have stated that the prices fetched by the highest quality stones over recent years have been increasing by more than 30% per annum, and this has actually lead to significant shortages in the supply chain. As discussed in earlier articles the giants of the coloured stone world, including Gemfields (who started with Zambian emerald mining operations) have begun to turn their attention to Colombia. Since Gemfields acquisition in 2008 of the Kagem mine in Zambia, they have used their financial and organisational muscle to grow production to the point at which Zambian stones account for 30% of the emerald market. The rationale behind this expansion was explained by Gemfields CEO, Ian Harbottle, who pointed to the fact that "in the past seven years, there has been a sixteen fold increase in the prices for rough emeralds." Gemfields currently mine around 30 million carats of rough per year and they intend to increase this by up to 50% over the next three years, clearly demonstrating the direction of travel for the industry as a whole.
(Kagem Mine in Zambia)
The reason for this increase in production is simple, it is necessary in order to satisfy a vast increase in demand. Major fine jewellers are launching more emerald collections than ever before. Van Cleef & Arpels are leading the field and they have dedicated one of their two high jewellery collections to emeralds this year, Emeraude en Majesté. The head of Van Cleef & Arpels explains that they decided "to revisit our long tradition of coloured gemstone expertise by focusing on the emerald." This collection centres on two emerald types, Colombian and Zambian. A number of antique emerald pieces have also made a comeback this season, notably those of the New York jeweller (of French heritage) James de Givenchy. His brand, Taffin, enjoys the interplay of hues and tones and colours. In his own words one "falls in love with emeralds but I want to make jewels that people like to wear as well as treasure, and the variety within the emerald field today offers great possibilities for wearable, fun cocktail jewellery." 
(James de Givenchy)
In Russia emeralds have long fired the imaginations of jewellers, Tsars and Oligarchs alike! More recently Alexander Tenzo has reignited this tradition, with stones that fulfil special criteria: "they should be completely natural, almost clean, with a pure, distinct emerald warmth - no blue or yellow tints. The colour can be light or dark, but it should catch your eye and capture your heart." Tenzo recently used as a centre stone a very rare 19.89 carat, cabochon cut Russian emerald discovered some 50 years ago in a mine in the Ural mountains, a source that is now almost entirely exhausted. This piece is now on sale for $290K and Tenzo asserts that "it looks as if it is still growing, part of nature. It is a colour you can never forget, with all the spirit of the emerald." Chanel too have deviated from their usual penchant for white stones to create a collection containing Colombian emeralds entitled Les Blés de Chanel. Themed upon the life cycle of wheat, three symmetrical pear cut Muzo emeralds (originating from the same rough stone) are set into a necklace and two rings.
(A Taffin emerald piece)
Bulgari have clearly caught the green 'bug' as well. In fact they have had it for many years, creating some stunning pendants for Elizabeth's Taylor's fine jewellery collection in the 1960s, bought for her by fellow star Richard Burton (see our earlier article:
Sale of the century - Elizabeth Taylor's $137 million jewellery collection
) as a clear homage to her leading role in the 1963 Cleopatra, perhaps the earliest celebrity emerald collector! Lous Vuitton have also adorned their Act V collections with Afghan Panjshir emeralds and Cartier have featured a €1.8 million necklace comprising 66.83 carats of emerald beads and a 14.71 carat, cushion cut emerald centre stone in their 'Magicien' high-jewellery collection, which harks back to the Art Deco opulence of the 1920s. The greed for green has proved so strong that even diamond aficionados Graff have chosen to punctuate their collections with Nirav Modi's beautiful multi-strand necklace of Brazilian emeralds. With so many high jewellers including emeralds (and Colombian emeralds in particular) in their collections it is no wonder Gemfields are acting fast to boost the supply side.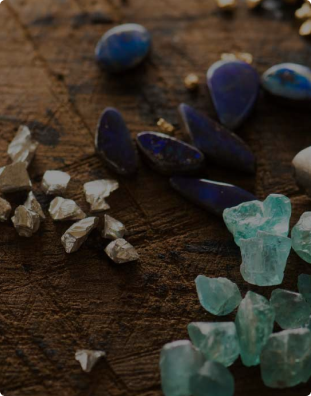 Featured / seasonal collection banner
RESPONSIBLY SOURCED.
BEAUTIFULLY CRAFTED.
SHOP NOW
Featured products
Featured products