From Cleopatra to Angelina Jolie, through Maharajas and Catherine the Great, emerald engagement rings and jewellery have been a must have for celebrity ladies. For many years some of the major high end jewellers, such as Van Cleef & Arpels, have endured a love affair with the emerald but this trend is now gaining traction across the gemstone and fine jewellery market. Joanna Hardy, a jewellery expert and author of "Emerald: Twenty-one Centuries of Jewelled Opulence and Power," has gone as far as to say that in the next two decades emeralds could reduce the overall precious gem market share of diamonds by 20%. This would have been unthinkable just a few years ago but the characteristics, flaws and merits of setting this beautiful green beryl gemstone into engagement rings has been underexplored. (edition.cnn.com)


(Angelina Jolie sporting a pair of emerald earrings and an emerald ring)
Some commentators have pointed to the allure of way in which emeralds hold the light and it has often been suggested that part of their modern popularity stems from their resemblance to the vintage age of art deco style and opulence in the 1920s and 1930s. Some psychologists have actually pointed to the colour green being associated with the ability to give and receive love and they have stated it can have a calming and balancing effect. These factors seem to lend themselves well to a long and happy relationship! However, on a practical note, emeralds are quite brittle and have a tendency to chip and crack so it is not recommended to do the house work whilst wearing one! Furthermore, you have to look after and care for these stones as impurities in water and detergents can damage them so it is best to take them to a specialist if you feel they need to be cleaned. Some experts recommend that you lightly oil an emerald with cedar oil every 5-10 years in order to keep it as vibrant as possible.
(Art Deco emerald and diamond ring)
In terms of the value of emeralds (a subject we have covered in much detail in previous articles) few other gems are appreciating at the same rate. Joanna Hardy, jewellery expert and prolific author on the subject, has gone on record to say that the price of high quality Colombian emeralds has "increased by factor of 10 since 2009." Gemfields, the world's largest producer of emeralds, has seen its stones increase in value six fold in the past 4 years. These price rises stem partly from high demand and partly through scarcity (they are in fact 20 times rarer than diamonds) in equal measure. Their rarity stems from the unique set of geological conditions that had to be exactly right over 500 million years ago in order for the beryl crystals to form within the earth's crust. For this to take place, magma and hydrothermal fluids rich in aluminium, beryllium, silicon and vanadium must cool amid a fine balance of heat and pressure.
(Joanna Hardy, jewellery expert, commentator and presenter, inspects an antique piece)
Part of the appeal of emeralds may also relate to how the human eye catches and the brain responds to their colour. The colour green produces the strongest response, a fact that is enhanced by virtue of natural light, including sunlight and candlelight, and also happens to be at its most intense in this part of the visible light spectrum. This same phenomenon also accounts for the pleasure of viewing a field of lush grass on a sunny day. Indeed the alluring colour of emeralds has been well chronicled since antiquity and most notably from the Conquistadors, who brought the first South American stones to Europe in the early 16th century. The Spanish then began a world-wide trade in Colombian emeralds, which continues to this day, taking them to the four corners of the globe. Nowhere did the Spanish find a greater market for emeralds than the Mughal rulers of India, who valued the stones so highly they actually carved verses of the holy Koran into them. This created an almost mythical status for these green gems, whereby people began to perceive them as having supernatural powers such as warding off snakes from biting them.
(One of the last Mughal rulers of India adorned with emeralds)
Historically jewellers have enhanced the lustre of an emerald by setting it in yellow gold, and this remains the most popular metal with which to create an emerald engagement ring. Here the subconscious comes into play and many people feel drawn to its apparent warmth. Due to the presence of chromium in the chemical composition of emerald crystals they don't just reflect light, they actually radiate it. In the twentieth century, emerald engagement rings experienced a renaissance in Europe and elsewhere. In 1922 Princess Mary, daughter of King George V, selected an emerald piece as her engagement ring which lead to a rush of similar high society purchases of the same. Throughout the 1920s and 1930s the emerald became an icon if the Art Deco era and in many senses it came to define it's vitality and opulence.
(Princess Mary, the Countess of Harewood, pictured in the early twentieth century)
In a truly bazaar episode in 1928, the Maharajah of Patiala made the journey from India to Place Vendome in Paris with his full fifty strong entourage. He stayed in the luxurious Paris Ritz and brought with him every one of his 15 wives and instructed the famous French jewellery house Boucheron to set 7 full trunks of diamonds and emeralds into fine pieces. Some of these emeralds were said to be the size of apricots and the task was so vast that it drew in the talents of the other major Paris jewellers, including Van Cleef & Arpels, Chaumet and Cartier. This lead directly to the creation of some of the most iconic diamond and emerald jewellery pieces of the age. From time to time these vintage masterpieces come up for auction and fetch a very high price. For example in 2011 Christies auctioned a broach for $6.5 million, fashioned by Bulgari and originally bought by Richard Burton as part of a set for Elizabeth Taylor while they were filming Cleopatra in 1963.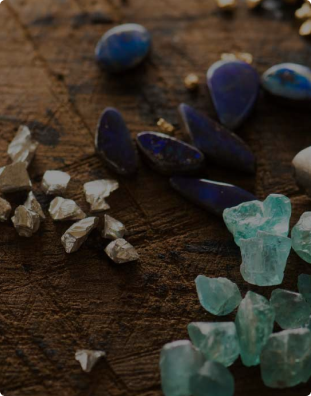 Featured / seasonal collection banner
RESPONSIBLY SOURCED.
BEAUTIFULLY CRAFTED.
SHOP NOW
Featured products
Featured products