With Christmas on the horizon many of us start to turn our attention to the annual question of what to buy our nearest and dearest.  When it comes to buying festive jewellery presents, the Christmas shopper is spoilt for choice and in fact it is the bewildering array of choice that has begun to make the challenge of finding the right gift for the right person all the more challenging!  To make your life (a little) easier, we have scratched our heads and examined our years of collective experience in order to provide the consumer with some advice as to how best to navigate this process.  Recent years have seen the rise of 'Black Friday' (which next falls on Friday 24th November 2017) but the fine jewellery buyer has largely shunned the e-commerce 'easy' option and the vast majority of purchases are still made face-to-face.  However, this does not mean that the internet has been marginalised from the buying process, far from it.  A recent Bain & Co study suggests that over 75% of jewellery purchasing 'journeys' begin with web and social media research, mostly conducted on the smart phones that have pervaded almost every aspect of modern life.  So it seems that the 'clicks-and-bricks' business model, in which shoppers garner ideas and inspiration from online sources prior to purchasing in person, is the way of the present and the future.  We have also seen a rise in individualism and a desire for uniqueness from jewellery shoppers, a fact borne out by recent research indicating that almost 50% of engagement rings are now bespoke.


(A handmade piece under construction in London DE's workshop) 
When it comes to that all important festive jewellery present buying process, follow our 5 point guide to achieve the best possible value for money, with the minimum of stress:
 Do your homework!
If you are buying a ring it is a very good idea to confirm the person's ring size prior to making a purchase, especially if you are buying an elaborate piece, such as a full eternity ring, which may be complicated or even impossible to re-size.  If they have a ring on the corresponding finger of the opposite hand you could measure this as a size template.  Try to ensure that you do not inadvertently cause a clash with any other piece of jewellery the recipient of the gift may already wear.  Here it is important to consider such things as the contrast between different metal types, as yellow gold, platinum, rose gold and white gold don't always work well in combination.  The same is also true when it comes to the colour of the gems you select for the piece.  Try to ensure the new piece you intend to buy blends in seamlessly with his or her existing jewellery and tastes.  Many people these days actually like to combine some metal and stone types so it pays to do some ground work on their sense of fashion.  Some jewellery houses have catered for this new taste with examples such as the 'trinity' ring, which typically combine rose, white and yellow gold in a three band ensemble, sometimes added to by the inclusion of diamonds and/or coloured gemstones.  As a general rule, white gold and platinum works well when paired with a more monochrome wardrobe, whereas rose gold has the advantage that it goes with almost any skin tone.
(A diamond 'trinity' ring, comprising white, yellow and rose gold) 
 If you are purchasing jewellery for a man it pays to factor in his lifestyle
Watches are a very good example of this consideration, as they are mostly styled and designed with lifestyle in mind.  For the frequent traveller, the dual-time watch helps mitigate the issues of crossing time-zones, whilst a sport minded chronograph will be better suited to the more athletic type.  If practicality is less of an issue, softer gold and bi-metal options may give a 'dressier' appearance.
(On the 'dressier' end of the spectrum is this gold Rolex Submariner) 
Add a splash of colour with coloured gemstones
Coloured gemstones are back in a big way!  Everyone has a favourite colour, which is normally the one they would choose themselves.  Try to find out what your special person's favourite colour is and bear it mind when selecting their jewellery gift.  It is also worth considering their birthstone and attempting to tie it in which the present.  If you are purchasing for someone who likes to be bold with colour, consider tanzanite or sapphire, whereas in contrast paler gems such as aquamarine play to a more discreet taste in jewellery.  Unlike diamonds, most coloured gems contain natural inclusions so it is the depth and saturation of colour that is key to the value and desirability of the stone.  The vast majority of coloured gems have been treated with heat and/or oil so it pays to obtain a certificate from a reputable gem lab and read its associated report carefully to ensure you have not been mislead.
(The 'big' 3 coloured gems: ruby emerald & sapphire) 
Personalise the gift tomake it unique and desirable 
Consider purchasing a piece that symbolises or reminds you both of the closeness of your relationship.  As with all gifts, the sentimental value is far greater than the financial and jewellery can be a perfect marker to celebrate the important milestones in life.  These include Christmas as well as weddings, anniversaries, the birth of a child, key birthdays and other important life events.  Engraving can help add to the uniqueness of a piece and it is noteworthy that bespoke jewellery can be handmade for around the same (or lower) price as many of the cast jewellery items sold by the large luxury brands.
(Highly skilled craftsmen hand engrave by eye) 
Consider personal style, lifestyle & sentimental value
If your loved one has a very experimental style or a very minimalist approach to his or her look, then coordinating jewellery is fairly easy.  If the recipient has a busy lifestyle that requires his or her fashion to accompany them from the boardroom to evening events, it is worth factoring in the practical considerations that facilitate this.
For more information visit our website:  
londonde.com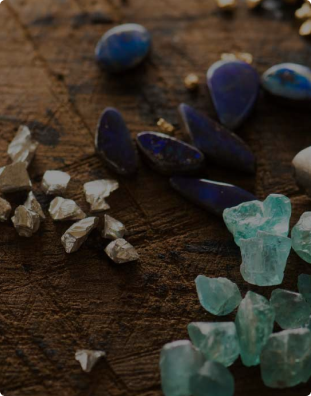 Featured / seasonal collection banner
RESPONSIBLY SOURCED.
BEAUTIFULLY CRAFTED.
SHOP NOW
Featured products
Featured products