Heirloom jewellery holds a special place in our hearts and in our history. These treasured pieces are often passed down through generations, carrying with them sentimental memories and the stories of our ancestors. They remind us of special moments and people that have been important in our lives, and represent a tangible connection to our family and our past. 

However, as time goes on and trends change, these heirloom pieces can sometimes feel out of place in a modern wardrobe or home. The styles, cuts and designs might be outdated, or may not match the current fashion trends. They may also be showing signs of wear and tear that make them less appealing to wear. If you're looking to incorporate your heirloom jewellery into your everyday life, there are a few ways to modernise it and give it new life.

Redesigning heirloom pieces of jewellery
Tahlia Doyle / Creating a new setting for an heirloom piece of jewellery
One way to modernise heirloom jewellery is to have it re-designed or remodelled. A skilled jeweller can work with you to give an old piece a fresh, updated look while still preserving its sentimental value. 
For example, if you have a family ring that is no longer your style, a jeweller could remove the diamond and reset it into a more contemporary design, like a solitaire, giving the ring a timeless and elegant look. Or, if you have a brooch passed down to you that you love but never wear, the jeweller could convert it into a stunning pair of earrings or even a pendant necklace. Another possibility is, if you have multiple small broken jewellery that you have kept through the years, you can have those melted down and create a new piece out of it that you can wear daily.
With the help of a skilled jeweller, the possibilities for re-designing and remodelling your heirloom jewellery are endless. This can be an excellent way to incorporate your family's treasured pieces into your daily wardrobe and give them new life while maintaining the sentimental value they hold. It's also a way of creating an heirloom of your own, with your own personal touch, that you can pass down to future generations.
Layering heirloom pieces with more modern jewellery
Emily Platt / Layering an heirloom set of pearls with a contemporary gold, diamond and sapphire necklace
An alternative to redesigning your heirlooms, is to layer your existing heirloom jewellery and mix it with more contemporary pieces. This approach allows you to incorporate your treasured heirloom pieces into your everyday wardrobe, while also giving them a fresh and stylish look. 
One way to do this is to pair a vintage necklace with a modern pendant.For example, you could wear a delicate gold chain with a family heirloom pendant that has been passed down for generations, paired with a modern geometric pendant. This creates an interesting contrast and adds a unique touch to your outfit.
Another way to mix and layer heirloom jewellery is by stacking rings. For example, you could wear a family heirloom ring with a more modern, delicate band. This creates a layered and eclectic look that is both stylish and meaningful. It also allows you to wear your heirloom jewellery in a more subtle way, which can be more suitable for everyday wear.
Additionally, you could also mix and layer different types of jewellery, such as pairing vintage earrings with a modern bracelet. This allows you to incorporate your heirloom jewellery into various aspects of your outfit, and it also creates a more dynamic and interesting overall look.
This layering and mixing approach is a trend that is still on-going and always fashionable, and it's a great way to modernise heirloom jewellery and make it more versatile and wearable in your everyday life. It also allows you to keep the memories and sentimental value of your heirloom jewellery close to you and show it off in a unique way.
Create alternative jewellery pieces using heirlooms
WireWrapTutorial / Seahorse created out of gemstones and wire
Another way to modernise heirloom jewellery is to incorporate it into different types of jewellery-making techniques. For instance, you can take an old, unused piece of jewellery and turn it into a unique piece of art. By using simple wire-wrapping techniques, you can create a one-of-a-kind pendant or earrings that incorporate your heirloom jewellery. This can be a fun and creative way to give new life to an old piece, and it's a great way to showcase the beauty of your heirloom jewellery in a new and unexpected way.
Tyler Nix / Heirloom engagement ring
There are many ways to modernise heirloom jewellery and incorporate it into your everyday life. Whether it's through redesign and remodelling, layering and mixing, unique display, or creative jewellery-making techniques, there are countless ways to give new life to these treasured pieces. With a little thought and creativity, you can make your heirloom jewellery a stylish and sentimental part of your wardrobe and home decor.
In conclusion, heirloom jewellery holds a special place in our hearts and in our history, but it doesn't have to be reserved for special occasions only. By modernising it through redesign, layering, and unique display, you can incorporate your treasured heirloom jewellery into your everyday life, and create a sense of continuity and warmth in your home and wardrobe. With a little creativity, you can give new life to your heirloom jewellery, and keep the memories it holds close to you forever.
RECENT ARTICLES
Caring for your Engagement Ring
What is heirloom jewellery? A symbol of love
Five women taking the jewellery world by storm
Guide to Anniversary Gemstones and Jewellery
Aquamarine and Bloodstone: March's brilliant birthstones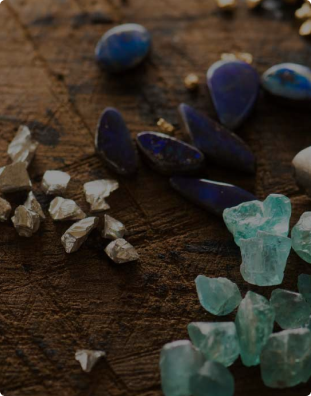 Featured / seasonal collection banner
RESPONSIBLY SOURCED.
BEAUTIFULLY CRAFTED.
SHOP NOW
Featured products
Featured products