The jewellery and gemstone industry in India contributes a quite remarkable 7% to the nation's GDP and it is has been identified as one of the fastest growing areas of the economy. Due to its pre-eminence in the Indian industrial mix, the government has marked it out for special attention for export promotion, including initiatives to boost investment and develop the skills necessary to secure the future of this vital sector. India's USP (Unique Selling Point) rests with its low cost base coupled with a ready supply of highly skilled labour, a combination which makes it by far the largest diamond cutting and polishing centre on earth. Incredibly, based upon the figures supplied by the Gems and Jewellery Export Promotion Council (GJEPC), India exports 95% of the world's cut and polished diamonds. This makes it the nation's second largest exporting industry after petrochemicals and as a direct result of this the Indian government has allowed unrestricted foreign direct investment, in stark contrast to many other areas of the economy, providing a basis upon which over half a million companies and sole traders can operate.


(Taj Mahal - Jewel in the Mughal crown)
The principle export markets for Indian gems are the Middle East, Far East and North America and a recent report by Research and Markets predicted a compound annual growth rate of almost 16% for the Indian gem and jewellery market from 2015 to 2020. The domestic market has also grown in recent years to the point at which India is now the world's third largest consumer of diamonds, accounting for just over 8% of global sales. As with many rapidly growing developing economies, the domestic market is showing a clear preference for Western styles and the big brands have been quick to adapt to the nuances of local tastes. Jewellery has become a visible status symbol in Indian culture and as real incomes continue to rise it has found an ever wider audience and De Beers diamonds have commented that India is now one of the major markets for their jewellery and perhaps one of the fastest growing. In recent years mining majors including Rio Tinto, De Beers and Alrosa have elected to join the Indian Diamond Trading Centre (IDTC), the stated aim of which is to cut out the middleman and enable jewellery manufacturers to buy direct from mine operators.
(Indian gem and jewellery sales are growing at a compound rate of 16% per annum)
World renowned luxury brand Montblanc International has entered into a partnership with Titan, India's largest watch maker, to open five boutique stores in Mumbai, Delhi, Hyderabad and Pune. Further investment has been announced by global brand Joyalukkas, who have pledged $220 million to establish 20 outlets across India and a further 10 overseas to add to their existing 95 stores. Mining giant Gemfields, specialist in coloured gem production and distribution, have acquired mines in Odisha and Jharkhand and they are now also participating in sapphire exploration in Jammu and Kashmir. The Reserve Bank of India (RBI) has developed a scheme whereby investors, trusts and mutual's can deposit gold with banks in return for a coupon, easing the reliance upon gold imports and supporting a positive trade balance. The RBI has gone further and allowed export houses to import gold, while some entities can offer bullion as collateral in return for loans to gemstone and jewellery traders.
(Montblanc - one of many global brands entering partnerships in India)
The Indian government has signed a Memorandum of Understanding with Russia, one of the world's largest diamond producing nations, relating to free gem trade coupled with the compilation of accurate records on the trading activity between the two countries. The logic of a partnership between the world's biggest rough diamond producer and the world's largest processor of rough diamonds is clear to see. Within India a number of government initiatives are helping the industry to grow and export. These include the establishment of a special low tax zone in Mumbai specifically aimed at the gem industry in a effort to rival the world's leading diamond trading hubs, including Antwerp, Dubai and Ramat Gan, Israel. Despite the huge number of craftsmen, dealers and artisans in the Indian gem industry, the rapid growth in demand has lead to a shortfall in skilled labour. To address this, the Gems and Jewellery Skill Council of India was established with the aim of training an additional four million apprentices by 2022.
The Skill Council plans a partnership arrangement with existing training centres, including the Indian Gemmological Institute (IGI) and the world renowned Gemmological Institute of America (GIA). In addition to this cooperation, they will also set up a network of colleges and training laboratories across India, covering all of the major gem processing hubs. These are to be championed by the Gems & Jewellery Export Promotion Council (GJEPC), who are also establishing jewellery parks to promote the agglomeration of skills and trade around the major centres. These include the Thane-Belapur Road site, three miles outside Mubai, which has provided a boost to the regional industry with modern technology, logistics and communications. To develop the gem industry managers and leaders of the future GJEPC have initiated a three year graduate training programme in Jewellery Design & Manufacturing Techniques, which is dovetailed with a Management Studies course delivered by the Welingkar Institute of Management.
(GIA - the world's most recognisable certification authority are now in partnership in India)
The gold industry in India is also vital to the success of the gem sector as well as the broader economy as a whole. In 2015 the Indian government established the Gold Deposit Scheme (GDS) and Gold Metal Loan (GML) programme to monetise the large amount of gold held by private citizens across the country. The Sovereign Gold Bond Scheme was also developed as an initiative denominated in grams of gold and sold to individuals by the RBI with oversight from the Ministry of Finance. The future growth of the Indian gem and jewellery industry will be boosted by a consolidation of smaller producers into more developed and much larger retail brands and we can see evidence that this is already underway. This process is both internal, as the domestic players begin to agglomerate their activities, and it is also externally driven by the market penetration of large global players. This process has been lubricated by the fact that India is now more outward looking and free trade orientated than it has ever been before.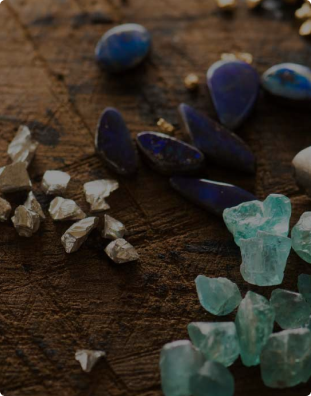 Featured / seasonal collection banner
RESPONSIBLY SOURCED.
BEAUTIFULLY CRAFTED.
SHOP NOW
Featured products
Featured products