We are officially approaching the Christmas holidays, which means more time on our hands to sit down on the sofa, snuggle up under some blankets and put on some movie classics. If you're a massive jewellery buff or gemstone nut, there are some fantastic movie moments you have to witness this season to get your sparkling fix, or even get some inspiration for some fabulous gifts. Here are a few of the most dazzling jewellery movie moments that you have to pop onto your TV this season.

Moulin Rouge
An absolute cult classic and music fantastical, moulin rouge is the perfect film to watch this season for its exquisite singing and dancing numbers, song throwbacks and heartbreaking storyline. Nicole Kidman adorns an incredible diamond bib necklace with intricate lacing reaching across her whole décolletage, matching her dancer persona of the 'Sparkling Diamond'.
How to Lose A Guy in Ten Days
An adorable romcom which is bound to please the whole family. This is a sweet and hysterical movie based around two attractives who work within the magazine industry, and inevitably fall in love. At the bridge of this movie, we see Kate Hudson gifted the 'Isadora' necklace for a gala – a canary yellow diamond necklace, very reminiscent of Tiffany's 'Tiffany' diamond which has been worn by the likes of Gaga and Beyonce.
Cat on a Hot Tin Roof
This 1958 movie fantasia really shows the absolute classicism and elegant beauty of this eras fashion and accessorizing. Elizabeth Taylor is truly the star in this movie, and still holds that title through to modern day. Within this movie, Taylor adorns a simplistic solitaire diamond necklace which are paired with a pair of pearl and diamond cluster earrings.
Want to recreate any of these movie moments in your own cinematic life? Check out our bespoke jewellery page and design your very own showstopper of a number in time for the new year!
Breakfast at Tiffany's
A movie so iconic that even our kids have heard of it – this fabulous classic paved the way for the glamour and demeanor of Hollywood. The beautiful Audrey Hepburn shows off a fantastic and maximalist pearl necklace which clasps a large diamond brooch; it is an absolute showstopper.
Cleopatra
Elizabeth Taylor is making yet another appearance here, being the actress with all the jewels. In this 1963 rendition of Cleopatra, the actress wears a striking gold-plated bib necklace with chandelier earrings and a fabulous hair piece – all designed by Joseff of Hollywood, who produced many other spectacular jewellery items for the film industry.
The Pink Panther
A wonderful film which is always celebrated at Christmas; The Pink Panther is a comical sensation which is timeless through the years. The Pink Panther diamond was the major focus of this 1963 film, and which an absolute breath taker once appearing on screen.
Pretty Woman
How can we forget about this wonderful movie? From rags to riches, this wonderful romantic is the heartwarming movie this season. Julia Robert plays her unforgettable role, as well as wearing some unforgettable outfits – including this red number with a striking ruby and diamond necklace.
Titanic
'Draw me like one of your French girls…' is one of the most iconic movie scenes of all time. A romantic tragedy with a true tale that we have all heard of. Just like Jack, many of us look to wonderful riches in awe of their beauty and jewels. Kate Winslet shows off these jewels by adorning perhaps one of the most recognizable movie jewellery items – 'The Heart of the Ocean', a dazzling sapphire and diamond necklace.
Ocean's 8
Finally, a comedy that is based around stealing some sparkling diamonds – The 'Toussaint' necklace. The film quoted that the necklace was a $150 million Cartier necklace, but in reality it was a recreation of a piece created and designed by a French jeweler in 1931 which no longer exists. If only it did – it is something quite striking.
Related Articles
Christmas Jewellery Gift Guide
Autumnal Gemstone and Jewellery Guide 2021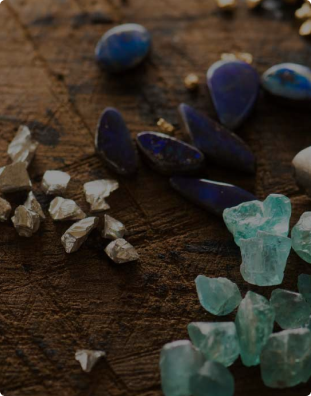 Featured / seasonal collection banner
RESPONSIBLY SOURCED.
BEAUTIFULLY CRAFTED.
SHOP NOW
Featured products
Featured products