She's been fashion's muse since dominating the runways in the 90's and has been the muse of many designers. But now, with her debut high jewellery collection, in collaboration with luxury French jewellers Messika, Kate Moss is the one behind the designs.

Debuted against a series of upturned Parisian monuments, the collection takes what it means to be high jewellery and turns it on its head.




The eclectic 70-piece collection has perfectly encapsulated Moss' iconic laid-back yet glamourous style. Traditionally, high jewellery has been known to be exclusive but, never one to follow the rules, Moss sought to change up the game and create jewellery "designed by women, for women". As a result, the collection boasts a range stunning and versatile jewels that could easily be worn at an awards ceremony or paired with a t-shirt and jeans.

"I don't like rules; I like breaking rules," Moss explains to Tatler; "There weren't any limitations set by the design team at Messika which I loved, I had freedom to create something I really love."

The supermodel has long been a fan of the Parisian-based jewellers and they have equally been a fan of hers too. Moss is listed as a muse of theirs and was also the face of their previous collection 'Born to be Wild'.

Established in 2005, Messika's ethos is to create jewellery "for modern-day amazons who look to the rock-chick energy of women like Kate Moss and the audacity of Marilyn Monroe." The brand is run by Valérie Messika, daughter of renowned diamond merchant André Messika. Like Moss, Valérie aims to create jewels that evoke contemporary femininity and compliment the confidence of the women who wear them. Moss, herself, describes Messika's aesthetic as "modern and young and always comfortable to wear, which is really important."




The brand brings a contemporary approach to high jewellery, with their debut collection presented just seven years ago, in 2013. It is not surprising then, that when meeting to discuss their collaboration, the two women were quick to get on the same page; helped by Moss bringing along her own jewellery box to show off her eclectic style.

Inside the box was a variety of jewels, amassed by Moss throughout her life, that impressed the jewellery designer. From Indian jewellery collected from her travels to India as a teenager to the Art Deco and Victorian pieces, Moss' exuberant taste in jewellery was great foundation to inspire the new collection.




When speaking to Vogue, Kate expanded on how her own of Indian jewels were the inspiration for the glamorous cocktail ring in the collection. "We set it in white gold to give it a modern feel," Moss explains; "It's such a statement piece, it would complete an evening look worn with a black cocktail dress."

The expertise of Messika's artisans, along with Kate's designs, has transformed an eclectic combination of pear-, triangle-, emerald- and brilliant-cut diamonds into an ultra-glam ring which, as the jewellery house describes, can be worn as a "haute couture tattoo."




Another of the supermodel's favourites, are a pair of flamboyant malachite earrings.




"These earrings are so gorgeous and inspired by my love of green gems and a bohemian lifestyle. I imagine wearing these in Ibiza for lunch on the beach, styled with a long flowing dress."

Vibrant malachite, set in yellow gold and, of course surrounded by diamonds, is a nod to the decadent glamour of the seventies and is just one example of the many time periods inspiring the collection.  Whilst the design is quintessentially Moss, the use malachite is new to Messika and indicates an exciting exploration of precious stones.

With such a statement collection for her high jewellery debut, we are excited to see what fashion's 'It Girl' will come up with in the future.

At London DE we offer a wide range of diamond and coloured gemstone jewellery, and can handcraft any bespoke piece to order. Get in touch with us today to arrange a free consultation and to find your perfect bespoke piece.

By Holly Johnson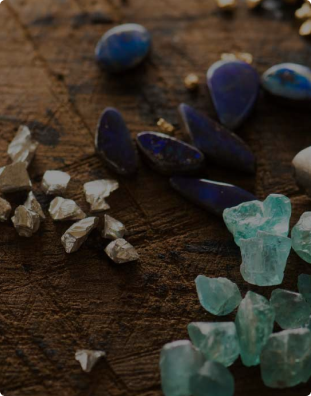 Featured / seasonal collection banner
RESPONSIBLY SOURCED.
BEAUTIFULLY CRAFTED.
SHOP NOW
Featured products
Featured products