Rings have a long history, being worn as a form of personal decoration since the days of ancient Egypt, and have held great value throughout our existence. They have been a sign of power, love, wealth, or even school and university affiliation, political belief or just as an addition to your personal style. But for a ring to be treasured by you and maybe generations after you, it has to fit.

How a ring should fit
Before you try to figure out your ring size or that of your partner, you should know how a ring should fit on your finger. 
The ring should be fit tightly enough around your finger that it won't fall off if you shake your hand around, but is loose enough that you would be able to take it on and off of your finger, and comfortably slide it over your knuckle. 
Another thing to keep in mind when thinking of your ring fit, is that your fingers change circumference size during both the day and over the year, based on temperature and blood flow. When you are in a colder environment, or haven't been very active during the day, your fingers will get a little bit smaller. In the heat, or after vigorous exercise, they will be a little bit thicker.
For this reason, it is best to check your ring size with a measurer, or go to a jewellery store where you can get it measured professionally, during the evening. The evening tends to be the time when your finger is usually at its largest width. This is because you have been using your hands throughout the day. Due to the changes in size that your fingers go through, you want your rings to fit your fingers when they are at their biggest. 
Also, it is important that you measure the finger that the specific ring you are planning on buying or getting made will be worn on. It is very normal for someone's hands to be slightly asymmetrical, so your two middle fingers for example may not have the same girth. It is important for the ring to match the ring finger you have in mind. Always measure for the finger you're sizing.
How to measure your ring size
There are multiple ways you can get your finger measured and find out your ring size. 
If you are going somewhere to get it professionally measured, or visiting somewhere for a consultation where a professional measurement is offered as a complimentary service; they will measure your ring finger with a ring sizer. This will give you an exact measurement, and allow you to express how comfortable different sizes will be. 
However if you are unable to go somewhere to get it professionally measured, or want to know your partner's ring size to find a suitable engagement ring whilst maintaining the element of surprise, there are other ways to find out the size of a ring finger. 
How do you find out your partner's ring size without them knowing?
If you are unable to ask your partner for their ring size, or haven't taken notice of it in the past or chatted about it in previous conversations, there are other ways to find it out. 
If you know they wear a ring already on their left-hand ring finger, you could get it discreetly measured somewhere if they take it off at any point. However this isn't always an accurate measure of your finger. If the ring you use to get discreetly measured is wider or narrower than 2mm, the measurement won't be entirely accurate. Even then, it would still be a good indication which you can use initially to narrow your search. 
A better option is to ask your partner's family and friends for help, because they might already know their size or be able to help you get them measured. One way to do this is by asking their friends to suggest going out and treating themselves by trying on some rings and having their finger size measured while there.
Ring sizes in the UK and internationally
Another thing you should keep in mind is that ring sizes are not the same around the world. For example, a size 12 ring in the U.S. and a size 12 ring in the UK will not be the same size, for example. This might seem very confusing, but there is a simple reason behind it. Ring sizes are informed by measurements and the different classifications that countries break their rings down into, meaning that American and Australian rings for example end up being different. But if you know the ring size from your country, you can use a conversion chart to find it out.
Ring size chart
To help you visualise the different ring sizes, here is a helpful chart.
The average engagement ring size in the UK
One of the things we often get asked is what is an average ring size? The answer in the UK is size is L½ for women and Q for the average man.
If your partner is more petite they are likely to have slightly smaller hands, with more slender fingers. An average finger size from someone like this is a size H or I for women, and around an N for men.
On the other hand, if your partner is above average height or build, they are likely to have a larger ring finger. It would be a good idea to start to think about rings around size M or N for a woman and a size T for men.
Different types of ring fit
Whilst we talked about how rings should fit earlier, not all rings are designed to fit the exact same way. Some designs provide a more unique type of fit. Comfort fit rings are rings that include a more rounded design so they can slide on and off easily. These rings can often feel more natural on the finger, and can feel less heavy or wide when wearing a ring with a wider band but cut in a comfort fit. With a convex shape, the ring bands have a softer edge on the inside.
Can you change the size of your engagement ring?
As we have noted, many people's fingers change in size during the day, and they definitely change over your life. 
Or if the ring you choose to propose with doesn't fit like a glove, it is worth noting that around 40% of rings that are made end up being resized. For this reason, getting an exact or professional measurement isn't always necessary, as long as you get a close estimate of their ring size it will be okay. 
Many jewellers, including us, will offer a complimentary first re-sizing of a ring if you purchase one from us or get a bespoke ring made with us. 
However, there is also a word of warning. Not all rings can be resized.
Some designs are unable to cope with the stress of their integrity being changed and then reformed. For example, full eternity rings or twisted bands can't undergo the resizing procedure. In these cases, it is important to get the ring finger that it will be worn on to be measured professionally.
If in doubt, ask the jeweller if the ring you are looking at can be resized.
Recent articles
Engagement Ring Trend Predictions for 2023
The ultimate guide to diamond cuts
Explaining Ethical Engagement Rings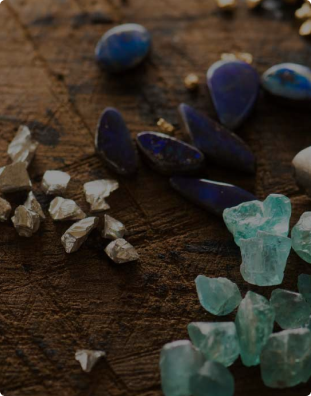 Featured / seasonal collection banner
RESPONSIBLY SOURCED.
BEAUTIFULLY CRAFTED.
SHOP NOW
Featured products
Featured products