For centuries the great royal houses have adorned themselves with some of the finest and most vibrant jewellery ever created. From Cleopatra's obsession with emeralds, which lead her to punish any theft from her three personal emerald mines with a grisly execution, through the ancient Romans, Greeks, Persians, Mughals, Ottomans, and Carthaginians to the Romanovs of the late Russian empire and their close affinity with the works of Carl Fabergé and his infamous 'eggs.' By the time of the Enlightenment it had become common practice for the upper echelons of society to symbolise engagement and subsequent marriage with the exchange of rings. Royal dynasties around the world began to create some of the most beautiful and highly prized bridal jewellery in their endless pursuit of eclipsing one another's perceived wealth and opulence. This trend has continued to this day and in fact the rise of mass media, and subsequently social media, has further fuelled the interest in royal engagement rings among the population at large. In this article we focus on the rings selected by the British Royal Family in the twentieth and twenty-first centuries in more detail.

 

Princess Beatrice of York
In the most recent Royal engagement Edoardo Mapelli Mozzi proposed to Princess Beatrice on a trip to Italy in September 2019. Beatrice selected a 2.5 carat round cut centre stone flanked by two 0.75 carat baguette cut diamond side stones, set in platinum and mounted on a diamond encrusted band from Shaun Leane, who stated that the diamonds were "ethically sourced and of the highest colour and clarity." Rumoured to have cost around £60,000, the ring was a blend of Art Deco and Victorian influences. The big day itself is rumoured to be set for 29th May 2020, with the reception at Buckingham Palace. Unusually among modern royals Edoardo chose to propose with diamonds rather than coloured gemstones, which have been the preferred option of most of the other royal couples in recent times. 
Princess Eugenie of York
Eugenie opted for colour with an oval cut pinkish-orange padparadscha sapphire, otherwise known as a 'lotus blossom' or 'peach' sapphire, centre stone surrounded by a halo of ten brilliant cut diamonds, flanked with two elegant pear cut stones. The proposal by Jack Brooksbank took place on a trip to Nicaragua and the ring itself was modelled on that of her mother, Sarah, Duchess of York. Brooksbank himself was intimately involved in the design of the ring, which was said to have set him back over £100,000. 
Meghan Markle, The Duchess of Sussex
Harry took the decision to design the ring himself, featuring a 3-carat cushion cut diamond from Botswana (a country with which Harry and Meghan have had a long relationship) with two 0.75 carat diamonds from Princess Diana's collection flanking the centre stone on a yellow gold band. Prince Harry proposed to Meghan on a "cosy night" at Nottingham Cottage when they were cooking roast chicken for dinner. Cleave and Company created the ring, which is said to be worth in the region of £250,000. Although Harry originally inherited his mother's 12 carat sapphire and diamond halo ring (see below) and Prince William her Cartier watch, the princes were said to have agreed that the first to get married would have the honour of proposing with the 12-carat sapphire ring. When William proposed to Kate Harry duly gave up the ring and thus had to create a new design when he popped the question to Meghan some years later. 
Kate Middleton, The Duchess of Cambridge
The centre stone of this luxurious creation is a very rare 12 carat, royal blue Kashmir sapphire, claw set in white gold and surrounded with a halo of fourteen diamonds. This ring originally belonged to Dianna, Princess of Wales and it is believed to be worth in excess of £300,000. William proposed to Kate in a small cottage on a trip to Mount Kenya in 2010, not far from the famous 'Treetops' lodge where in February 1952 the former Princess Elizabeth was informed that her father, King George VI, had passed away and that consequently she was now Queen Elizabeth II. 
Sarah, Duchess of York
When Prince Andrew, the Queen's second son, selected the engagement ring for his wife to be, Sarah Ferguson, he opted for an oval cut Burma ruby, set in a halo of ten diamonds and mounted on an 18-carat yellow gold ring by the House of Garrard. The proposal took place to coincide with Sarah's 26th birthday at Scotland's Floors Castle. 
Diana, Princess of Wales
As mentioned previously, Diana's ring is now worn by the Duchess of Cambridge. When Charles bought the ring from Garrard, the royal jeweller, in February 1981 it cost £28,000 but it is now thought to be worth more than ten times that amount! Unusually for royal engagement rings it was a ready-made piece that was part of the pre-existing Garrard collection. Charles chose to propose to the then 20-year-old Diana during a private dinner at Buckingham Palace and the couple later honeymooned on the Royal Yacht Britannia in the Scottish Hebrides. The 12-carat oval cut blue Kashmir sapphire was designed as a comparison between the endless ocean and never-ending love which, sadly, proved ironic in the case of Charles and Diana! 
Queen Elizabeth II
Prince Philip of Greece and Denmark announced his engagement to the then Princess Elizabeth on 9th July 1947. Unusually Philip took diamonds from a tiara belonging to his mother, Princess Alice of Battenberg, which were then crafted by Philip Antrobus into the engagement ring he presented to Elizabeth. It featured a 3-carat old cut diamond centre stone in a claw setting in platinum with five smaller diamonds on each shoulder. Whilst it is very difficult to determine the exact value of the ring, it is thought to be worth in excess of £250,000 and would likely fetch even more if it were ever to come to auction.
To create a ring similar to any of those outlined above simply
visit our website
and
contact us
to arrange a consultation with a member of our friendly team.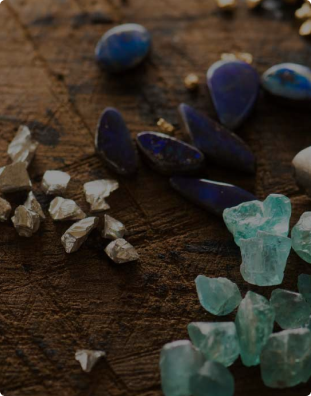 Featured / seasonal collection banner
RESPONSIBLY SOURCED.
BEAUTIFULLY CRAFTED.
SHOP NOW
Featured products
Featured products