Spring is in full bloom and with Easter just around the corner, it's time to start thinking about how to add a touch of sparkle to your wardrobe. What better way to do that than with some stunning Easter jewellery? From delicate pastel coloured gems to intricately designed jewellery that takes inspiration from the natural world, Easter jewellery is the perfect way to get in the Spring spirit. Here we'll explore the latest Easter jewellery trends and styles that will elevate your Easter ensemble to the next level.

Pastel coloured gemstone jewellery
Baby blue Aquamarine and Diamond Ring
Pastel coloured gemstones are a stunning Easter jewellery trend that has been gaining popularity in recent years. These gems come in a wide variety of colours, from soft pink to baby blue, and they are the perfect way to add a touch of colour to your outfit. They are subtle yet sophisticated, and the pastel hues complement the fresh blooms of spring beautifully. 
Fancy Yellow Diamond Halo Ring
Jewellery that is inspired by the natural world
Nature-inspired jewellery is one of the hottest trends this Easter season. Designers have taken inspiration from the natural world, creating pieces that capture the essence of spring. From delicate flower earrings to leaf pendants, nature-themed jewellery is a beautiful way to embrace the season. These pieces are perfect for adding a touch of whimsy to your outfit, and are great conversation starters at any Easter celebration.
Floral jewellery is a popular choice this season. From dainty stud earrings to flashy statement rings, floral designs are a great way to celebrate the arrival of spring. These earrings or rings can be worn with almost anything, from a casual pair of jeans and a t-shirt to a more formal dress or blouse.
Flowering emerald and diamond ring
For those who prefer a more minimalist approach, leaf-inspired jewellery is a great option. These pieces capture the beauty of nature without being too ostentatious. They are perfect for adding a subtle touch of sophistication to your outfit.
Gold jewellery
For those who prefer a more classic and timeless look, gold jewellery is a perfect option. Gold is a warm and luxurious metal that has been treasured for centuries. Gold jewellery comes in a range of styles and designs, from simple and elegant to bold and statement-making. Whether you choose a pair of classic gold hoop earrings or a delicate pendant necklace, gold jewellery adds a touch of sophistication and elegance to any outfit.
Gold ring combined with pastel colours in celebration of Easter
While gold is not explicitly linked to Easter in a religious sense, it does have symbolic significance that can be associated with the holiday.
In Christian tradition, Easter is a celebration of the resurrection of Jesus Christ, and it represents new life and hope. Gold, as a precious metal, represents wealth, prosperity, and abundance, and it has been used for centuries to symbolise new beginnings and the promise of a brighter future.
Moreover, gold is also associated with the sun, which has been a symbol of rebirth and renewal in many cultures. In ancient times, the sun itself was often worshipped as a god, and represented the cycle of life and death, with each sunrise bringing a new beginning. In this way, gold can be linked to Easter as a symbol of the sun and the hope and promise of a new dawn.
Elif / Gold rings are a classic jewellery choice for good reason
One of the benefits of gold jewellery is its versatility. It complements all skin tones and can be dressed up or down depending on the occasion. For a more casual look, pair some simple gold rings with a graphic t-shirt and jeans. Alternatively, a pair of statement gold earrings can instantly elevate a formal outfit, making it perfect for a special occasion.
Statement earrings
If you're looking to be the centre of attention this Easter, statement earrings are the way to go. Statement earrings have been a popular trend for a while now and it's not hard to see why. They come in a variety of styles, from bold hoops to chandelier earrings, and are a great way to add a touch of drama to your look.
Chandelier earrings
The beauty of statement earrings is that they can have a great impact on the way your body is framed, and reduces the need to accessorise with other pieces. They are perfect for those who want to stand out from the crowd and add some personality to any outfit.
Another great thing about statement earrings is that they are versatile. They can be dressed up or down, and can be worn with almost anything. Pair them with your bikini for an elegant beach look if you have escaped to warmer temperatures for an Easter break, or wear them with a little black dress for a more formal night out.
Hailey Bieber's statement hoop earrings
Easter is a time for new beginnings, and what better way to embrace the season than by adding some stunning Easter jewellery to your wardrobe. From delicate pastel gems to statement oversized earrings, there's a piece of jewellery for every style and budget. So why not treat yourself this Easter and add some sparkle to your life?
RECENT ARTICLES
Ultimate Guide to Wedding Day Jewellery
Diamond: The world's most popular gemstone and April's birthstone
The most famous pieces of heirloom jewellery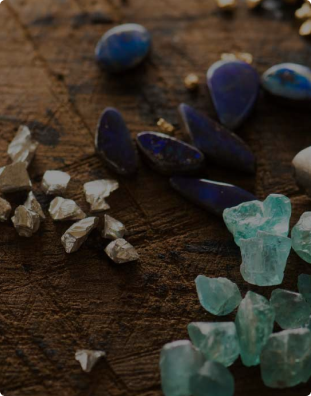 Featured / seasonal collection banner
RESPONSIBLY SOURCED.
BEAUTIFULLY CRAFTED.
SHOP NOW
Featured products
Featured products