A ring we all know and recognise, the diamond solitaire is easily identifiable by its minimalistic metal band adorning a single diamond point in pride of place. As a symbol of eternal and all-encapsulating love, it is no surprise that this design is one of the most popular when it comes to an engagement band of choice.
The history of this ring goes all the way back to the Roman Empire, where simple metal bands were created with gemstones placed in their centre, including diamonds which were only available to the leaders and upper-class individuals at that time. Furthermore, gold was the most commonly used metal due to its availability, but once the Georgian period came around the silver-set stone was introduced and brought into the eyes of jewellers everywhere as a colourful alternative.
During the Victorian era, the solitaire ring became even more elaborate and extravagant with new designs introduced making the settings more detailed and richly carved. This led to the evolution of the open claw setting, exposing the diamond further allowing a brighter sparkle. With further diamond deposits discovered in South Africa, the stone became more readily available to the everyday person allowing goldsmiths to experiment further with design.
Entering into the 20
th
century, a new age of jewellery dawned with technological improvements, introducing platinum as a new jewellery metal. This meant jewellers experimented with Edwardian and art deco styles which became extremely popular, making the solitaire ring come into its own. With platinum metal being incredibly strong and versatile, jewellers could manipulate the metal into intricate backholing and finely pierced galleries, and accentuate the gleam of the diamonds with its white body colour. Within the 20s and 30s, square cut diamonds meant the solitaire could hold a more geometric and edgy design, opening it up to a new variety of customer.
As WWII began, platinum became short in reserve due to it being declared as a strategic metal with much of it being shipped off for the war effort. This led to the rise in yellow gold solitaire, being paired with the square cut which provided a bold chunky design. In 1948 a young female copywriter working for N.W. Ayer & Sons of Philadelphia first coined the De Beers slogan 'A Diamond is Forever', cementing the diamond solitaire in its role as the quintessential choice for an engagement ring.
Unlike its ancestor rings, the solitaire ring to this day focuses mainly on its setting rather than the number of stones it holds – for instance, a solitaire ring can hold a central statement stone whilst also being lined by smaller diamonds on its shoulders. With its constant evolution from the ancient Romans to now, who's to say the solitaire ring won't keep changing its style and design into the future with new exciting innovations. What we do know is that this ring will always be timeless and one of the populations go to due to its simple yet dazzling appearance – one of the nation's love and favourites.
By Victoria Fletcher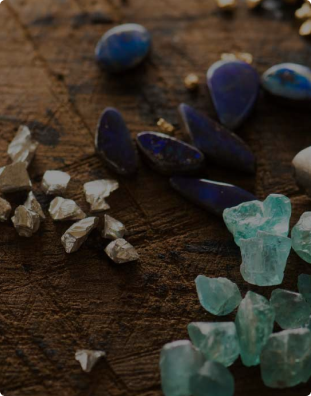 Featured / seasonal collection banner
RESPONSIBLY SOURCED.
BEAUTIFULLY CRAFTED.
SHOP NOW
Featured products
Featured products