(A 15 carat emerald necklace available at londonde.com)
After more than a century of the domination of diamonds, coloured stones are returning to the fore. References to the value of coloured gemstones can be traced back to ancient history, including descriptions in the bible such as "she is more precious than rubies," when referring to a virtuous wife. There are many other biblical references to coloured gems, including emeralds, sapphires, jasper topaz, chalcedony, onyx and many more. They are often used by the holy books and scriptures of all major religious denominations as a metaphor for angelic or chaste qualities, value, status and worth. Intriguingly diamonds are hardly mentioned and seem to have held little appeal to the scholars, literary figures and wealthy of antiquity. This status quo pervaded right through to the late nineteenth century, at which point De Beers forged their century long monopoly of the precious stone sector and dominated the engagement ring and jewellery market by way of very effective marketing and advertising. Ironically it was De Beers' runaway success that was ultimately their undoing, as the market gradually became saturated with new supplies of diamonds that undermined their profit margins considerably. Coloured gems are in fact 20 times rarer than diamonds and this has helped to explain their increase in both popularity and price over recent years. A pink diamond became the most value gem ever sold when it went under the hammer at Sotheby's for $71 million and another record was set at $57 million for a pair of pink and blue diamond earrings.
(The 'Pink Star' diamond sold for $71 million, the highest price ever fetched for a gem at auction)
Wealthy dealers and collectors alike are now prepared to pay phenomenal prices for the finest coloured gemstones. The main reason for the rise in prices for coloured gems relates to simple economics: rising demand versus restricted supply. The growth of the coloured gem market was recently summarised succinctly by Alisa Mousaieff, a fine jeweller and gem dealer, when she stated: "there is no questions that there are fewer high-quality stones and more buyers on the market than ever before." Rubies more than doubled in price between 2005-2015, driven largely by demand from China where they are revered as a symbol of wealth and royal dynasties. The nouveau riche of India have also developed an insatiable appetite for coloured diamonds and yellow sapphires. Another factor behind the rise of coloured gemstones are the newly emerging forces of mining and distribution companies, such as Gemfields PLC, who have started to consolidate the once fragmented artisanal supply side. In essence Gemfields are recreating the market conditions for coloured stones that De Beers produced in the late nineteenth and early twentieth centuries. Gemfields have purchased the world's largest emerald mine and biggest ruby deposit, affording them a 30-40% market share of these two stones. Such a monopoly has enabled them to provide a consistently steady supply of gems to jewellers and gem dealers, which has in turn incentivised them to invest in industry wide advertising and marketing campaigns.
(Alisa Mousaieff is a champion of coloured gems and jewellery)
Gemfields deploys over 15% of its revenue in marketing and advertising, which included hiring Hollywood superstar Mila Kunis for $5 million in 2013. As a result of this heavy investment, Gemfields have managed to increase the value of the rough emeralds it mines from $4 per carat in 2009 to $70 per carat in 2016, an increase of 1,650%. Gemfields also bought the famous Fabergé brand in 2013, with a view to expanding their interests along the entire length of the supply chain, from mine-to-market, incorporating more and more coloured stones into their designs. As a direct result of Gemfields' efforts, most of the significant jewellery houses have added to and increased their use of coloured stones. Tiffany & Co have been keen to use coloured stones form many years and they helped to stones such as kunzite, which was discovered in 1902 and named after Tiffany's gemmologist, as well as tanzanite, first found in the 1960s in Tanzania. As Melvyn Kirtly, Chief Gemmologist for Tiffany put it: "we have seen an intensely growing appetite for coloured gemstones." Many of the high jewellery houses have also benefitted from new techniques of working coloured gems, reducing the risks associated with damaging them in the creation process and increasing the versatility and array of possible designs. The pioneers in this area include Lebanese born, Swiss designer Albert Boghossian and Italian jewellery creator Marco Bicego, who specialises in unusual fusions that included green, grey and brown rough diamonds.
(Fabergé have long been known for their use of colour, such as in these famous eggs)
As a direct consequence of this new interest in coloured gems, many previously lesser known gems have risen in value sharply over recent years. Examples include alexandrite and tourmalines, the value of which have tripled over the past 10 years, not least because of the wide spectrum of colours in which they can be found. Despite the many advantages of coloured stones, one disadvantage has been a lack of transparency in the pricing structure and the effects of a bewildering array of gem properties that can profoundly influence the value and desirability of coloured gem. Over 90% of coloured gems are treated in some way, meaning that certified untreated stones fetch a significant premium and it is only when tested by a qualified gemmologist in laboratory conditions that one can be certain of any treatment and indeed of their true provenance. In fact some gems, including tanzanite, must be treated in order to develop their colour, making them in essence 'manmade' to a degree. Key to making sure you are getting the stone you are truly paying for lies in its certificate. The GIA (Gemmological Institute of America) have built a reputation as the main diamond and coloured diamond gem lab but, although they do certify coloured gems, they are largely outshone by the likes of
Gübelin and SSEF in Switzerland when it comes to coloured stones. In recent years the coloured stone share of the gem market has doubled from 5-10%, a trend that looks set to continue well into a colourful future.
(Recognised gem labs give you the certainty in terms of provenance, colour and treatment)
To search our huge range of gemstones and learn more about our bespoke jewellery visit:
londonde.com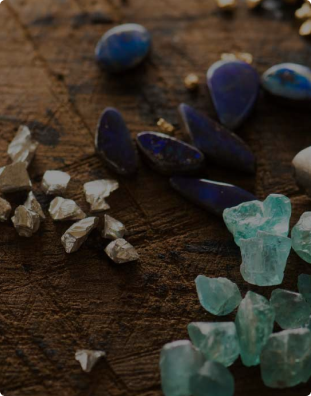 Featured / seasonal collection banner
RESPONSIBLY SOURCED.
BEAUTIFULLY CRAFTED.
SHOP NOW
Featured products
Featured products