(A magnificent bespoke emerald and diamond set available in 2018 @ www.londonde.com)
As the festive period starts to recede into memory, thoughts turn in earnest to the year that lies ahead. We have researched the published material of industry insiders to shine a light on what may lie in store for the jewellery market trends that develop in 2018. Over the course of 2017 many new jewellery fashions started to emerge, including the rise in popularity of new designs of earrings. Most experts are in agreement that the 2017 trend towards larger, statement jewellery, including shoulder 'dusting' earrings, and a move away from delicate designs will likely continue. The growth in sales of brooches is also set to gather pace this year, as it did last, thanks to its promotion by numerous fine jewellery houses and luxury brands. Increasingly hair adornments are becoming more and more popular and designers are showing an appetite to experiment with new innovations in this arena, such as Dauphin and Susan Foster to name but two. All of these trends point towards a greater emphasis upon jewellery pieces designed to be worn away from the finger, wrist and neck. It is clear that all designers continue to be enthralled by the recent move towards coloured gemstones and they are also turning to enamelware and nano-plating to create uniquely stylish pieces. Some have pointed to an increased appetite for the retro look of the 1980s, a style that has fallen in and out of favour across the fashion, interior decor and jewellery markets of the past two decades.
(CAD - Computer Aided Design - allows customers to 'see' a piece before it is even made)
It is true to say that many 80s styles are certainly in vogue at the moment, including drop earrings, collars, asymmetrical shoulder-length earrings and tropical influences. Demand for pearls is also increasing, as are combinations of different coloured gemstones, pearls, diamonds and metal types within designs. Bespoke jewellery, especially bridal jewellery, is also on the march and likely to continue apace for the foreseeable future. This is most clearly emphasised as bespoke, made to order engagement rings and wedding rings cross the Rubicon of 50% market share versus off-the-shelf designs. Personalisation is a concept that has been rising across the industry for the past 5-10 years and it is now reaching a crescendo. The increasing ethical concerns of the Millennial generation is also rapidly shaping the jewellery and gem industry of 2018. As the FairTrade mark extends to gold, it is likely that this (or other similar ethical logos) may enter the realm of coloured gemstones and diamonds (the latter achieving some progress through the Kimberley Process but with a significant road still ahead). We have already seen the Canadian diamond industry start to promote the social and environmental integrity of the their stones with the laser etched maple leaf and Gübelin gem lab have launched an emerald 'paternity test' to demonstrate the exact origins of the stone you are buying, giving the consumer a hitherto never achievable degree of certainty when it comes to the source, and hence ethics, of a stone's production.
(The Canadian diamond industry promote the ethics of their stones provenance by laser etching)
It is abundantly clear that new jewellery icons are being created that will disrupt the traditional view of what a jewellery set should contain. More women than ever before are choosing to have multiple piercings and this seems to be the case across a wide spectrum of age groups and demographics. Ring adornment is also starting to show significant growth and more statement pieces are now being produced than ever before. Bold mixing of colour, both in terms of gemstones and metals, and increasing use of gems themselves are leading to a new fashion of what some commentators have referred to as "decadent adornment." Many designers are also starting to experiment with new methods to carve and sculpt semi-precious stones, as well as working with rough gems. The rise of lab created synthetic gemstones, notably diamonds, is also starting to shake up the industry as these are becoming more and more accepted by Millennials, who like the idea they can be certain of their exact place (or lab) of origin. These gems are also opening up new sizes and cuts that were previously unavailable with natural stones. The rise in 3-D printing is also going to put pressure on the lower end of the jewellery market, where margins can often be tight. An interesting new trend towards jewellery pieces that make political and social statements are also on the rise in the wake of high profile solidarity movements, such as those against sexual harassment and abuse, including the #MeToo campaign on social media in the wake of the Harvey Weinstein revelations.
(Laboratory techniques to enhance and treat stones are becoming more refined and understood)
Treated stones are becoming more commonplace and public understanding and acceptance of this practice is increasing in 2018. Indeed it is a necessary 'evil' in a market place in which coloured gemstones are growing in prominence, as over 90% of these stones are enhanced in some way. Key to understanding this is the importance of laboratory testing and certification, which gives the consumer full confidence in the exact gemstone he or she is purchasing. Colour and or clarity enhancement techniques, as long as they are fully disclosed by the vendor and correctly certified, can actually present the savvy consumer with an opportunity to purchase a very fine, vivid gemstone without having to pay many times more for an identical but untreated stone. The practice of oiling emeralds with light cedar oil, for example, is now more widely understood as a non-obtrusive, organic process. When it comes to choosing an engagement ring, in another shift from tradition, couples are increasing making this a joint purchase in which both decide upon the stone(s) and design together. This is also feeding into the rise in custom made bespoke jewellery, as the personalisation this offers the couple concerned is now a major 'pull' factor in their decision making process. Furthermore this is leading to the growth in smaller brands and jewellery houses, as many of the large retailers, such as Harry Winston, Cartier and Tiffany & Co were largely discredited in 2017 when a Daily Mail expose revealed they were marking up by as much as 400% on some items!
(A traditional craftsman in the workshop of London DE)
To search our huge range of gemstones and learn more about our bespoke jewellery visit: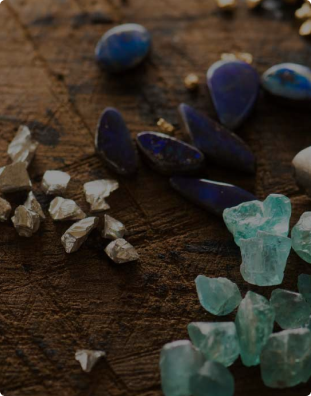 Featured / seasonal collection banner
RESPONSIBLY SOURCED.
BEAUTIFULLY CRAFTED.
SHOP NOW
Featured products
Featured products