(Double Halo Diamond Pendant Necklace, London DE, £2,800)
Those of you who are born within the month of April are blessed with the most fabulous of gemstones – the diamond. Their brilliance in jewellery, adorning a blinding sparkle and classy charm, is irresistible to most of us who look upon them with wanting. This stone symbolises purity, innocence, eternity, and courage, with a tranquil resonance when wearing it upon your person – but what kind of diamond should you purchase this summer? Within this blog I will be listing a variety of diamond-bearing jewellery pieces, from affordable to high end, to cater to whatever needs you may have when making purchasing decisions.
CHANEL
(The Sarafane Necklace and Earrings, Chanel, POA)
If money is not a worry for you this coming summer, then Chanel's Sarafane necklace and matching earrings is the one for you. Named after a popular dress worn by Russian women, these pieces are part of their The Maison collection and collaborates both diamonds and pearls in an intricate lace pattern. The Necklace centres a fabulous round cut 10.18 carat diamond which is colourless and totally flawless. The most wonderful piece to heirloom down the generations and dazzle any onlookers at extravagant balls.
DE BEERS
(Single Talisman Earring in Yellow Gold, De Beers, £1,300)
A hot trend that is circling our streets is ear art, where mismatched earrings are presented on both ears for an abstract look. De Beer's Talisman collection offers some fun additions to this trend, with their singular earrings with beautiful centre stones in a variety of colours. Its detachable charm and hoop present a gorgeous 0.08 carat diamond and hand-hammered gold texture, representing nature's power of creating both metals and gemstones for us to utilise. It is a beautiful piece to experiment with and add texture to an outfit.
LONDON DE
(Capricorn Ring, London DE, £4,000)
From our one and only workshop, the Capricorn ring available from our vintage collection is a gorgeous transitional piece – perfect for anyone on the diamond search right now. With a vibrant rose gold band, this ring gathers 80 brilliant diamond pointers along its body leading to a large central diamond totalling a stunning 1.12 carats. Its classical design matches with both evening attire and everyday wear, making a fabulous gift or engagement ring for a special someone. With this ring you would also be making a sustainable choice due to our ethical sourcing and local UK business collaboration, reducing your total carbon footprint.
BRILLIANT EARTH
(Juniper Diamond Cuff Bracelet, Brilliant Earth, £260)
This minimal yet striking bracelet from Brilliant Earth is a wonderful addition to your jewellery collection, with its juniper leave decoration adding a delicate ornament to your wrist. This item has an open natural cuff design with a total diamond weight of 0.1 carats – perfect for everyday wear as lockdown eases up. All diamonds are ethically sourced, and its precious metals are recycled, with 5% of all profits being donated to charitable causes.
DECADORN
(Herkimer Diamond Dropper Earrings, Decadorn, £49)
If you're looking for a more affordable option this April, Decadorn offer these beautiful birthstone dropper earrings with raw cut gemstones of Herkimer diamond. These are unpolished and 100% natural, dipped in 18 karat gold. Decadorn personally selects each raw cut gemstone to use within their pieces and ensure every earring is completely unique to the customer. This style is an alternative and abstract in design compared to the usual diamond dropper earring, but just as charming.
By Victoria Fletcher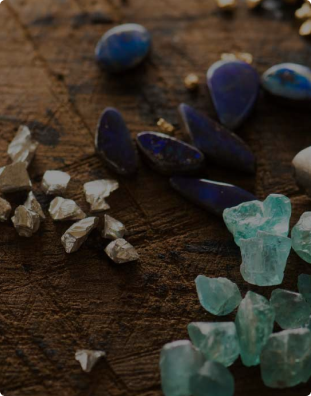 Featured / seasonal collection banner
RESPONSIBLY SOURCED.
BEAUTIFULLY CRAFTED.
SHOP NOW
Featured products
Featured products