Continuing our insight into the September birthstone and celebrating the end of the month, we have put together the world's three most famous and luxurious sapphire jewels.

The Rockefeller Sapphire
The Rockefeller family are no strangers to the finer things in life and over the years, have amassed one of the world's most impressive jewellery collections. Amongst these jewels was a 66-carat internally flawless sapphire with an exceptional cornflower blue colour. The gem entered into the Rockefeller dynasty in 1934 after John D. Rockefeller, Jr. bought the stone from an Indian Maharajah. In the early 1940's, skilled jewellers, Pierre Cartier and Raphael Esmerian, worked together to re-cut the stone into a magnificent brooch, flanked by calibré-cut sapphires and diamonds. With their combined craftsmanship, Cartier and Esmerian created a rectangle-cut so architecturally impressive that
Christie's
has called it a "masterpiece". When the brooch was sold along with the rest of Rockefeller's Zurich estate in 1971, it was Esmerian who purchased it for $170,000 before selling the following year to an Italian client.  This wasn't the last time that the jewel would belong to the Esmerian family as, in 1980, four years after Raphael's death, the brooch was bought by his son Ralph who wished to continue his father's gem legacy. Ralph repolished the stone to its current weight of 62-carats and mounted it onto a platinum ring before selling. Just eight years later, Ralph re-purchased the ring for $2,850,000 which, at that time, was a world record amount. The Esmerian family have since parted ways with the ring and it last entered into a public auction in 2001 at Christie's Magnificent Jewels sale in New York. The ring of course was a highly anticipated favourite and reached a huge $3,031,000.
The late Duchess of Cambridge had a well-documented love of fashion and owned an impressive jewellery collection. The most iconic piece in her collection was a Ceylon sapphire
engagement ring
, but this was just one of many luxurious sapphire gems owned by the Duchess. Whilst the Spencer tiara worn on her wedding day debuted a enchanting selection of sapphires, the second most note-worthy jewel was a captivating sapphire and pearl choker. The jewel, which is said to have inspired Meghan Markle's engagement ring, was originally a brooch given to Diana as a wedding gift from the Queen Mother. In her early years as a royal, Diana wore the brooch in a very conventional fashion however, as her confidence grew, so did her style. As a fan of shorter necklaces, Diana had the brooch redesigned to become the focal point of a seven-strand pearl choker.  The Princess wore the choker at several famous events including the 1985 White House dinner, where she danced with John Travolta, and at the 1996 Met Gala in New York. The most iconic time the choker was seen was in 1994 during a party at London's Serpentine Gallery. In that same evening, Prince Charles would be making an appearance on national TV to confess his adulterous affair with Camilla Parker Bowels. Knowing that all eyes were to be on her, Diana wore the choker with a daring black off-the-shoulder dress by
Christina Stambolian
– better known as "the Revenge Dress". Such a dress would never be seen on a member of the Royal family, so Diana's appearance was a silent but powerful statement marking the end of her 'Princess' image.
The Logan Sapphire
Weighing an astonishing 423-carats, the Logan sapphire is one of the world's largest faceted blue sapphires. Despite being surrounded by twenty round-cut diamonds, the sapphire's impressive transparency and intense natural colour is what makes the gem so special. Like many other spectacular sapphires, the gem was mined in Sri Lanka before being purchased by an Indian Maharajah. The cushion-cut gem later belonged to Ellice Victor Sassoon, third Baronet of Bombay, before being sold to American statesman, Meyer Robert Guggenheim. In 1952, Guggenheim gave the luxurious brooch as a Christmas gift to his wife, Rebecca "Polly" Guggenheim. During the family's lavish society parties for diplomats, Polly would impress guests by wearing the brooch on her shoulder. Despite the brooch's undeniable glamour, for Polly the jewel had a slightly different association. According to Smithsonian's Mineral Collection curator,
Jeffrey E. Post
, Mr Guggenheim was known to be a "notorious philanderer". In 1960, just a year after his passing, Polly donated the jewel to where to now sits in the
National Gem Collection
of the Smithsonian Museum. When asked by her friend how she could part with such a gem, Polly replied: "Every time I looked at it, all I could think of was my no good, cheating husband." Despite donating the brooch in 1960, Polly still had ownership until 1971 by which time she had remarried to become Mrs Rebecca Logan, which is where the sapphire gained its name.
At London DE we offer a wide range of coloured gemstones and can handcraft any bespoke piece to order.
Get in touch with us
today to arrange a free consultation and to find your perfect bespoke piece.
By Holly Johnson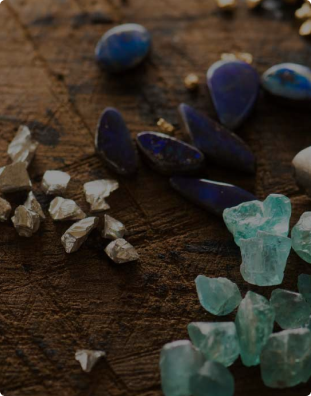 Featured / seasonal collection banner
RESPONSIBLY SOURCED.
BEAUTIFULLY CRAFTED.
SHOP NOW
Featured products
Featured products