Bespoke emerald engagement ring from London DE
Engagement rings
are items that are held in high esteem, and they are age-old ways of marking the new stage of your relationship, celebrating the history of your relationship so far and also symbolise the promise of a future marriage. 
The ring itself is more than just a marker of a new era. It is a symbol of your deepest feelings for one another, and also being a piece of jewellery that they should covet and wear every day for the rest of their life. 
What could be a better way of doing all of this than by creating your own engagement ring, rather than buying one off the shelf?
If you are confused about the world of bespoke engagement rings, and the almost endless possibilities that come with them, that is understandable. In our ultimate guide to bespoke engagement rings, we will hopefully answer any of the questions that you have, and also demonstrate the way in which you can create an engagement ring with us. 
Can I design my engagement ring?
Due to the importance we place on engagement rings, it is understandable that you might feel inadequate to design the ring that your significant other will hopefully wear for the rest of your life. Or you think it is best left to the professionals, who have designed rings for generations and know what people want. Or you might want to but have no idea where to start. 
But none of these things mean you should rule yourself out from designing your own engagement ring. 
Instagram / A streak of light catching this beautiful diamond engagement ring
If you can't find the exact ring you want off the shelf, whilst it is understandable to be confused about the world of bespoke engagement rings, you should believe in your ability to convey the design you want to a team of professionals. If you don't know where to start, you are not alone. Many people who go through the process of having an engagement ring designed for them often have trouble narrowing down their ideas or working out
exactly
what they want. At London DE we are happy to assist you in your journey to creating the perfect engagement ring, meaning that you will have our support at every stage of the process. 
What is the actual step by step process of creating a bespoke engagement ring?
The first stage of the process of creating a bespoke engagement ring is a consultation with us. 
At London DE we offer a free, no-obligation appointment where you can discuss creating any sort of bespoke jewellery you wanted to with our expert team. This includes a consultation on bespoke engagement rings. This consultation can either be conducted in-person at our Hatton Garden Studio, or if you live further afield you can choose to book a virtual appointment that will be held over zoom.
Our staff have earned a 5-star rating from jewellery authorities, and their unrivalled expertise in crafting responsibly sourced and beautifully crafted jewellery is evident when you get to speak to them; so they are the best people to lead you through the process of creating a bespoke engagement ring. 
In these consultation sessions we start the designing of your engagement ring by asking for your ideas and inspiration behind your ring, so our designers can understand what you have in mind and understand the story behind the engagement ring you would like to create. You will then come up with a fixed design idea with our artists. 
Computer Aided Design image of a bespoke engagement ring we have designed
Once this bespoke design has been finalised, we will create a CAD image (Computer Aided Design) of your bespoke engagement ring and send it to you via email. Along with the design, you will be provided with gemstone options and a no-obligation full price estimate.
Even though the design has been "finalised" at this stage you still have the freedom to arrange as many follow up consultations with us until the engagement ring is exactly as you would want it. Once you are ready to proceed, we will then take a deposit and your item will be lovingly crafted in our Hatton Garden studio and delivered to your door. 
How much does it cost to design your own engagement ring?
An engagement ring and its cost is a contentious topic. In the UK, the
average cost of an engagement ring in 2022
is £2100; and here at London DE we have a range of engagement rings starting at £1000 up to £12,000. 
The cost for designing and then getting a bespoke engagement ring starts at £2,495; but can obviously rise depending on the gemstones you choose, how intricate your design is etc.
How long does it take to design your own engagement ring?
Tahlia Doyle / The process of creating the ring itself
The process of designing your own engagement ring can vary from place to place in terms of how long it might take. Here at London DE, it takes us typically around four working weeks from the start of our consultations to the delivery of your ring. But this isn't a hard and set rule. If you are wanting to create a bespoke engagement ring and have a proposal date already in mind, you should leave at least six weeks to accommodate any changes or problems in the process. 
Do women want a bespoke engagement ring?
The engagement ring is likely the most important piece of jewellery your partner will wear, aside from your wedding rings. 
So it is rather sad that in a recent survey carried out by David's Bridal, found that 57 percent of women aren't satisfied with the engagement ring that their male partners gave them.
The largest source of dissatisfaction with the women who said they were unhappy, was the size of the gemstone at the centre of the ring, wishing it was bigger. 
The process of choosing an engagement ring is hard enough as it is. You have to know the ring size of the engagement ring finger, what style of band she would like, what gemstone and cut she would choose, how many carats is she expecting. The list goes on and on.
If you know the answers to any more than one of those things, you know more than most men at the outset of their search for an engagement ring. What makes things even harder is that in many cases, the woman you are buying for doesn't know the answer to all of those questions. 
Going through the process of getting a bespoke engagement ring, especially if she is involved in the design process, minimises the chance that she will be disappointed in the ring and also helps her focus on what she actually wants for an engagement ring. 
The magic of a bespoke engagement ring
Laurissi / bespoke engagement ring
The process of creating an engagement ring, especially doing it with the person who will eventually wear it, is magical. More couples are deciding to create their engagement rings together, coming to bespoke engagement ring consultations as a pair. This means that at the end of the process, you end up with exactly what the wearer will want. It allows you to transform your dreams and ideas into a real heirloom, an engagement ring that you and your family will treasure for hopefully many generations. The bespoke aspect of the jewellery makes it especially timeless and romantic.
We are all different, and the same goes for every love story that has been written between couples. It is only natural that you want an engagement ring to reflect your story authentically. Your engagement ring should make a unique statement.
There have recently been new studies carried out that explore younger couples attitudes towards engagement rings. The results suggest that young people would rather buy a bespoke engagement ring with a smaller carat stone or less valuable gemstone, rather than a flashy ring off the shelf. This is because they want to invest their money into their futures, rather than splashing out on an expensive but generic ring. 
Because of this, bespoke engagement rings including emeralds and rubies have risen in popularity, as opposed to more expensive diamonds. Where there is less competition for who has the biggest diamond, there is more opportunity to enjoy unique designs. 
But never mind what is rising in popularity. If you are interested in crafting a bespoke handmade engagement ring with us at London DE you'll have the freedom to choose any metal for the band, as well as any diamond or gemstone for the centre of the ring. There are so many different combinations, which can then also be set and engraved in any way you wish.   Click here to find out more, and book an appointment.  
Related articles
The Ultimate Engagement Ring Guide
Your Guide to Coloured Gemstone Engagement Rings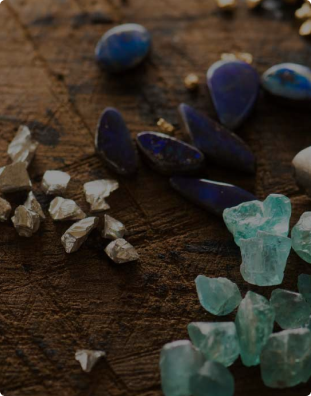 Featured / seasonal collection banner
RESPONSIBLY SOURCED.
BEAUTIFULLY CRAFTED.
SHOP NOW
Featured products
Featured products