Jewellery is a wonderful thing, and one of the things that makes it special are the gemstones that a good piece of jewellery uses. Most famous of all the gemstones, the diamond, is a very versatile gemstone that can be cut in a huge variety of ways and used to create a wonderful range of jewellery. But when you hear of all the different types of cuts, it can be incredibly confusing.

So here is our guide to diamond cuts.

Round cut diamonds
Round Cut Diamond Double Halo Ring | London DE
The first and most popular cut is the
round brilliant cut
, and its the shape of diamond that most people stereotypically think of. With fifty-seven intricate sides, it really does look stunning. It is also a cut famed for its total internal reflection, which allows light to travel through the stone, giving the most sparkle one could hope for. If you are looking for a classical or elegant piece of diamond jewellery, a ring with a round cut diamond will certainly fit the bill. 
Pear cut diamonds
Pear Cut Diamond Ring | London DE
Pear cut diamonds are rather self-explanatory, having been cut into the elegant shape of a pear. They are a classic cut that has risen in popularity in recent years, both set as a solitaire design or with pave shoulders. It is a beautiful way to cut a diamond, accentuates your fingers when used in a ring, and delivers a sense of old-school Hollywood glamour to your jewellery.
Princess cut diamonds
Princess Cut Diamond Pave Ring | London DE
The Princess cut is the next type of diamond to explore. It is a cut that is all about the angles it provides. It is a very contemporary cut, which feels fresh and new, and a world away from the most esteemed and classical styles.  
Marquise cut diamonds
Marquise Fancy Brown Diamond Ring | London DE
The marquise cut is a very unique way of fashioning a diamond. It is a traditional cut for pieces of elegant jewellery. Its origins can be traced back to the esteemed French Court of the 18th century, when King Louis XV of France (1710-1774) commissioned a jeweller to design a diamond cut that resembled the lips of his mistress. This lips-shaped diamond then became very fashionable and has remained trendy for many years.
Beyond its famous origin, a marquise cut is quite unique. Carat for carat, the marquise has the largest surface area of any diamond cut; so even if you choose a small carat stone it will always look very impressive.  
Oval cut diamonds
Oval Cut Diamond Ring with Twisted Shoulders | London DE
As we mentioned previously, round cut diamonds are popular with many people, granting a familiar and comforting feeling, and also reflect light really well. But if you want something slightly different, oval cut diamonds have a similar effect, but with a more elongated shape. An oval cut diamond can be set in a wide variety of ways, making it a very versatile cut. 
Radiant cut diamonds
Radiant Cut Diamond Ring with Split Shoulders and Halo | London DE
Another angular way of shaping a diamond is the Radiant cut, which is sort of a halfway house between an emerald cut and a round brilliant cut diamond. The radiant cut is a great blend of clean lines and soft brilliance. This is one of the more unusual shapes that are on the market and are quite rare when it comes to a white diamond like the one above. 
Emerald cut diamonds
Bespoke Emerald Cut Diamond and Halo Engagement Ring | London DE
If you are looking for a timeless diamond cut, the emerald cut is one you should consider. It is a particularly elegant cut when using a really clear diamond, because there is no way to hide a stone's discolouration or irregularities with an emerald cut. The style of cutting is what we call step cut. This means that unlike a round brilliant cut diamond, where total internal reflection takes place, the light bounces off in a similar way to light bouncing around a collection of mirrors.
Cushion cut diamonds
Bespoke Cushion Cut Diamond Engagement Ring | London DE
Finally, in the past few years there has been a sudden rise in the popularity of the cushion cut diamond. The cut has become so popular that it has now overtaken the Princess cut in being the second most popular diamond cut. But what is the cushion cut? It is a style of cutting a diamond in a similar way to both the square princess cut and the round brilliant cuts. The actual diamonds look like a softer square, or a cushion, hence the name. It is often accompanied by a brilliant diamond halo when used in a ring. 
Related Articles
Recent posts
The meaning behind different gemstones
Opal and Tourmaline: October's opulent birthstones
Ways you can make your wedding more environmentally friendly
Engagement rings
How to Propose with a Bespoke Engagement Ring
The Ultimate Engagement Ring Guide
Your Guide to Coloured Gemstone Engagement Rings
The 12 Engagement Ring Traditions You Need To Know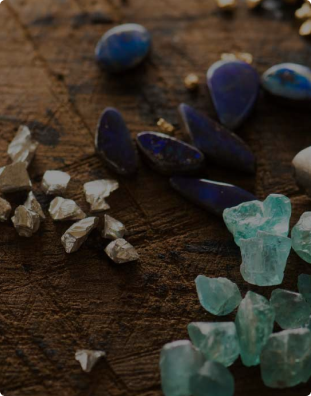 Featured / seasonal collection banner
RESPONSIBLY SOURCED.
BEAUTIFULLY CRAFTED.
SHOP NOW
Featured products
Featured products