(Railay Bay, Krabi, taken on a recent trip: Thailand is best known as a tropical beach destination)
Thailand is a medium ranking regional power among the South East Asian economies but it is showing signs of rapid economic development beyond its tradition staples of tourism, agriculture and fisheries. This ancient kingdom has long been an important hub of the gem and jewellery trade but in recent years it is really starting to assert itself as an important player in this arena. This is clearly shown by the growth of the Bangkok Gems & Jewellery Fair. In 2015 the industry employed over 1.3 million people in nearly 15,000 businesses in Thailand, generating over $11 billion in export revenue alone. Bangkok now hosts the highly successful Ruby Symposium each year and it is trying to position itself as the world's "ruby capital." According to industry insider Somchai Phornchindarak, the express aim of this is to "address the issues and challenges of the world's ruby trade and to establish a transparent and trustworthy supply chain on an international level." One of the key competitive advantages Thailand has over many of its ASEAN bloc neighbours lies in the low operational costs for companies working in the country, coupled with reasonable infrastructure and communications that are only set to get better. Whilst most of the current commercial gem and jewellery activity in Thailand is largely artisanal, there are clear signs of greater foreign and local investment building the economies of scale.
(With major shows and exhibitions, Thailand is positioning itself as a global gem hub)
As this process occurs, the link between miners, cutters, jewellery designers and merchants becomes ever more highly developed and greater synergies are starting to appear. The scope of the industry in Thailand is also starting to grow from its original focus on rubies and sapphires, to encompass diamonds and other gemstones, as well as precious metals and distribution. It is important to note that despite the relative competitive advantages of Thailand within the global gem and jewellery market, it is not able to go head-to-head with the leviathans of India or China in terms of the sheer quantity of goods produced. Instead they are most effective when operating at either end of the value spectrum, especially in the upper segment. In particular, Thailand has developed a reputation for highly skilled labour in colour stone enhancement, casting, moulding and gem setting. This enables Thai operators to continue to make a reasonable margin, even when they are forced to import many of the necessary raw materials. As demand has risen, the level of necessary imports of raw materials has also increased from almost zero to as much as 70% of finished products in the case of precious metals. Due to their reputation for quality, a large percentage of the gems and jewellery produced by Thai artisans and workshops are exported, notably to Switzerland, Hong Kong, Singapore, India and the USA.
("Gemopolis" in Bangkok has brought much of the industry together in a free-zone)
Hong Kong is actually the largest destination market for Thai gem and jewellery exports, accounting for almost 25% in 2015. These were mainly in the form of cut and polished precious stones, including half of all Thai coloured gem exports and over a third of total diamond exports. Hong Kong was also the recipient of a quarter of all Thai gold exports and the USA more than a quarter of all finished jewellery. In recent years the Thai government, keen to maintain this vital revenue stream, has done much to support and promote the industry, both domestically and overseas. Some of these incentives have included duty exemption on the import of raw materials, including precious metals, diamonds, coloured gems and pearls, as well as offering tax breaks for the Bangkok Gems and Jewellery Fair, held biannually in February and September. In 2008 the government took the bold step of creating "Gemopolis," an industrial free zone and trading centre, located in the commercial Suvarnabhumi zone of Bangkok, under the auspices of the Industrial Estate Authority of Thailand. Founded in 1990, the Industrial Estate Authority has developed apace in recent years and it now encompasses the entire supply side of the gem and jewellery industry, hosting over 140 businesses. Just some of the benefits for companies operating here include exemption from corporation tax, import duty and VAT for many capital outgoings and finished goods, as well as permission to trade in foreign currencies.
(Pandora are one of the best known brands to manufacture in Gemopolis) (Copyright Pandora 2014)
One of the best known businesses based in Gemopolis is Pandora. Although Pandora's head office and design functions are housed in Copenhagen, Denmark, the manufacturing takes place in Bangkok, where it employs more than 10,000 people and distributes its finished goods to over 90 countries across 6 continents, via almost 10,000 points of sale. The results Pandora are achieving with this set up are staggering: annual revenue increased by over 40% to over $2.5 billion in 2015 alone! This has enabled Pandora to set the head mark of opening 300 new outlets between 2016 and 2018 worldwide, a target for which it seems well on course to achieve. The new stores are predominantly focused upon the major retail markets of Europe, Asia and the Americas and will have the effect of increasing its investment into its Bangkok-based manufacturing centre, creating a virtuous circle for the local economy there! Its principle aim is upon China, where it intends to open more than 25 stores per year, and Japan and Australia, where it will launch a further 10 outlets in each country per annum. To facilitate this rapid expansion, Pandora announced in 2015 that it is to invest over a quarter of a billion dollars by the end of the decade in capital expenditure in its Gemopolis plant in order to increase production capacity, which will double its manufacturing output in Thailand. With this and other investment, it is clear that the Thai gem and jewellery sector can look forward to a bright future.
For more information and to buy diamonds, coloured gems and bespoke jeweller, visit our website:
londonde.com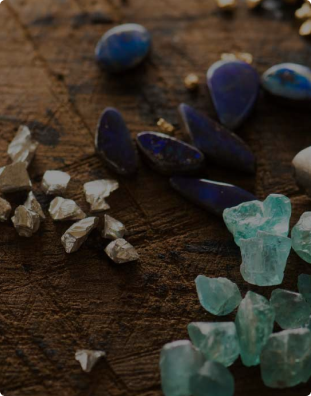 Featured / seasonal collection banner
RESPONSIBLY SOURCED.
BEAUTIFULLY CRAFTED.
SHOP NOW
Featured products
Featured products