Red is the colour of passion and romance, symbolising blood, life, death and love. So it is no surprise that July's birthstone, the ruby, is a favourite of the jewellery world. 

The meaning of the stone
It has long been linked with properties such as protection and granting you prosperity. The Ancient Burmese, regard it as the gem stone of soldiers. In Hindu culture, it is prized above any other gemstone.
Famous pieces of Ruby jewellery
Elizabeth Taylor, the legendary Hollywood star, was famously gifted a set of diamond and ruby jewellery from Cartier by her husband Mike Todd. Presented to her whilst she was swimming in the South of France, she beamed at the grand pieces. 
Rubies also have great royal pedigree, with Princess Margaret's engagement ring being made from a trio of rubies surrounded by diamonds.
The range of Ruby colours
Conjuring notions of wisdom and beauty, rubies can range from a deep, almost purplish red, to a pinkish red which looks almost like a pink sapphire. 
When looking for a piece of jewellery, the right ruby for you is the one that you are most taken with. 
To help you, here are some of our favourite pieces of jewellery that incorporate the red ruby. 
Ruby centre stone rings
There is a wide variety of various rings that have wonderful ruby centre stones, and here is a few of the ones we find most interesting. 
If you are looking for a deep red ruby, and a piece of jewellery that feels classic and timeless, then this
ruby and diamond halo ring
is perfect for you. 
If you would prefer to wear something on the opposite side of the spectrum, this
cushion ruby and diamond ring
is closer to the pink or purple range of the spectrum. 
If however you want something between those two extremes, this
oval ruby and diamond ring
has the richness of the deep red rubies that have been traditionally coveted, whilst also feeling glitzy and light. 
Ruby used in partnership with other gemstones
Whilst ruby can be brilliant on it's own as a solo performer, sometimes it looks it's best when paired with other elements, such as diamond, silver or gold. 
If that sounds interesting to you, then this
ruby and diamond eternity ring
that is set in gold, might be a piece of jewellery that you would enjoy wearing. 
Ruby earrings
So far we have focussed on the wonders of many different ruby rings, but in many cases the best pieces of ruby jewellery are in fact dainty earrings. 
We mentioned these in our last piece about
Beyonce's best jewellery moments
, but these
round ruby and diamond earrings
deserve their time in the spotlight. Containing some wonderfully cut, deep red with shades of purple rubies, and accompanied by delicate diamonds; they are truly stunning pieces of jewellery. 
Hopefully you have found this article on Ruby jewellery helpful, especially if you are born in July and it is your birthstone. 
If you want some more general suggestions about your accessories, why not read our article about
The Jewellery Pharmacy
, where we provide you with advice on which pieces to look for or go out and buy, with recommendations for each category of jewellery.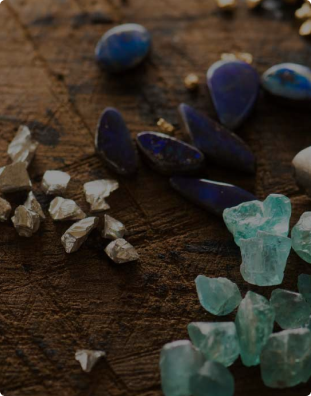 Featured / seasonal collection banner
RESPONSIBLY SOURCED.
BEAUTIFULLY CRAFTED.
SHOP NOW
Featured products
Featured products