Choosing an engagement ring is a daunting process, with so many things to consider that it is hard to know where to start. Whilst we've already given you a rundown of the most popular style of cuts (which you can read here); here are the things you should be thinking about when choosing an engagement ring.

Know your hand shape
When deciding what style of cut to choose, it's important to keep in mind the size and shape of the wearer's hand, as certain shapes look most flattering on certain types of hands. Whilst of course you can choose whatever style you like, there are some general rules to keep in mind to achieve the most flattering look.


For shorter fingers, elongated cuts with rounded edges, such as oval, pear or marquise, help to elongate the fingers. Their slender silhouettes also make them a great choice for slim fingers.


Longer fingers suit princess-cuts and round stones and, as they have the space, bigger stones look great too.


On wider fingers, angular and rectangle cuts look most flattering, such as emerald cuts, as the less skin exposed on either side of the stone will make fingers appear slenderer.


Larger hands can handle bold designs whereas smaller hands suit petite gems with soft edges like round, heart or princess-cut.


Use colour to express personality
Traditional white diamonds are undeniably beautiful but there's no better way to inject some personality into your engagement ring than by choosing a coloured gem. While recent years have seen the trend grow considerably amongst millennials and celebrities; coloured engagement rings were popularised by iconic figures such as Elizabeth Taylor, Jackie Kennedy and Princess Dianna. Opting for a coloured stone is also a subtle but effective way to add greater significance to your engagement ring. For centuries, coloured gemstones have been used to signify a myriad of meanings. For example, emeralds are associated with love and fertility; rubies are for courage and passion; amethysts represent protection and sapphires show trust.
Choose your jeweller carefully
One of the main things you should take your time to consider is who you choose to make your engagement ring. Selecting a reputable jeweller is integral to the success of your creation, especially if your opting for bespoke. Your chosen jeweller should have expert knowledge about all aspects of the creation process. This can be assured by a hallmark recognised by The Goldsmiths'​ Company London Assay Office. For quality craftsmanship, the ring should be created by either in-house or specially selected local craftsmen as production further away decreases the chance for the jeweller to make quality checks. Accreditations such as the 
"Created in the UK"
  by
The National Association of Jewellers (NAJ)
also signifies authenticity.
Whilst engagement rings are built to last, you may occasionally need repairs so it is important that an aftercare service is provided.
Have the jewels been sustainably sourced?
Engagement rings are a lifelong signifier of love which you wouldn't want tainted by unethically sourced gemstones. As sustainability has become a core principle for consumers, transparency within the diamond and coloured gemstone industry has increased. There is then no reason that a jeweller shouldn't be able to provide you with accurate knowledge and relevant certification which tracks the story of your jewel from mine to market. Ethically sourced gemstones will have been credited by official bodies such as:


The GIA  - Gemmological Institute of America



SSEF

- Swiss Foundation for Gemstone Research



CDTEC

- provide assessment and authenticity of Colombian gems


If you have chosen the right jewellers then transparency and traceability should be evidently clear; like us at
London DE
, who pride ourselves on our hands-on approach within the production process ensuring all our gems are sustainably sourced.
We offer a wide range of diamond and coloured gemstone engagement rings.
Get in touch with us
today to arrange a free consultation and to find your perfect bespoke ring.
By Holly Johnson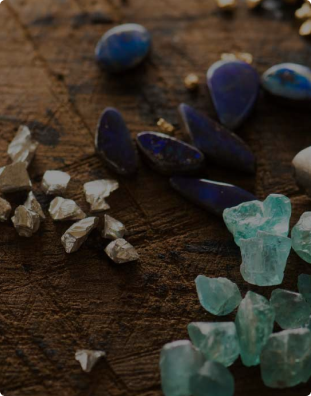 Featured / seasonal collection banner
RESPONSIBLY SOURCED.
BEAUTIFULLY CRAFTED.
SHOP NOW
Featured products
Featured products