If and when you are lucky enough to meet the person of your dreams, or someone you have a great connection with, it is easy to start rushing ahead and planning your ultimate life together. You will have both heated and rewarding conversations, you will make each other laugh, and you will grow to love spending time together. Once you have developed a real connection with someone, there comes a time when you can't imagine your future without that person. Where you want to be inextricably linked with one another through a sparkling engagement ring.

It is understandable to be rather worried when choosing an engagement ring though. It can be an intimidating process to pick out an engagement ring for your partner; and even if you take the less traditional approach of choosing the ring together, there are still a number of mistakes you can make when choosing an engagement ring. According to the Knot, 72 percent of grooms have faced challenges when purchasing an engagement ring. It is a road with many potholes. To help make this important decision, we've compiled some mistakes that people make when searching for an engagement ring. 

Choosing a ring without keeping your partner in mind
Jackie Tsang / Silver and Rose Gold engagement ring
Whilst this should go without saying, you would be surprised by the number of people who buy a ring because it looks nice, without thinking about you they are buying for. 
In an ideal world, before you even begin searching for your engagement ring, you should make sure to consider who you are buying for. This will influence many aspects of the ring, including the type of metal band that you use. 
Whilst an engagement ring with a certain type of band might look nice, you don't want to inflict a night like Rachel's on anyone. 
A woman called Rachel was proposed to by her partner. They had a magical evening together, and when he got down on one knee, she said yes to the love of her life! Everything was perfect, including a rooftop view from their hotel room and the romantic candlelight atmosphere.
However, when he pulled out the ring, she was mortified. He had picked out a wonderful yellow gold engagement ring. The ring looked lovely, only to later find out that Rachel was allergic to yellow gold!
Ignoring the life your partner leads
Moving away from the types of bands to look for, another way to mess up is to not choose a ring that is practical and is instead focussed on the wow factor of an initial look at an engagement ring. 
If your partner has a hands-on job, they may not be able to take great precaution when wearing their engagement ring. Or they might have to wear gloves or work around children, so you wouldn't want someone to buy you a flowering emerald engagement ring which would puncture their washing up gloves. Style is obviously important, but whilst it may not sound romantic, so is the ring's practicality. 
Choosing something that fits the trends, but will look weird in a few years
Frederick Medina / Engagement ring with a thin band
Moving onto another mistake many people make, which is making your choice upon what is trendy this year. 
The first thing you should consider when you buy an engagement ring is whether or not it is a timeless style. Just like any other type of fashion, engagement rings go through trends. What is popular one year may look outdated the next.
When you choose a ring, make sure it is something you can see your partner wearing for years to come!
Whilst trends are fun, it can lead you down a dangerous path. If you are following a recent set of trends, look at trends which incorporate timeless design features, because that means your engagement ring shouldn't age like sour milk. 
If you want help doing this, you can read our piece on
Engagement Ring Trend Predictions for 2023
, which looks at a series of engagement ring trends for next year which will incorporate timeless designs. 
Obsessing over the price tag
Whilst you should try to keep within your budget, you shouldn't obsess over the price tag of your engagement ring. 
As a mark of trying to prove their love, many people have been conditioned into the idea that you have to spend three times their monthly salary on an engagement ring. However, as we have stated before in both our
Ultimate Engagement Ring Guide
and article about
The 12 Engagement Ring Traditions You Need To Know | London DE
,
this idea of a three-month salary standard was the creation of an erroneous Japanese advertising campaign, which itself was a spin-off of a marketing campaign started by De Beers in the 1930s to boost the sale of diamond engagement rings.
Rather than spending more on a ring just because its cost's a certain amount and will signal something for others, pick the ring within your price bracket which means the most to you and your partner.
You want to find something that fits with their style. Often, you can get a beautiful ring that meets all of your partners needs without breaking the bank.
Instead of focusing on arbitrary rules about the cost of your partner's ring, choose something that you and your partner love, regardless of whether or not it costs enough.
Doing it all alone
Karina Thomson / A halo engagement ring
Buying an engagement ring is not a Rambo film. You don't need to do it all alone. 
To help you through the process of buying an engagement ring, you should get help from others!
This help can include friends and family members, jewellers, and other engagement ring specialists - just like us here at London DE. 
You can get help by asking questions, choosing a beautiful ring, and finding something within your budget.
Reducing a stone to the the 4 Cs
Sabrianna / sparkling diamond engagement ring
When buying an engagement ring, you need to know the 4 Cs. These are things that you should consider when looking at gemstones, known as the cut, clarity, colour and carat. But just because these are important, it doesn't mean you should obsess over trying to find a flawless stone which maximises all four of the c's. 
As long as you pick a beautiful stone, which does fairly well on the four c's, you should be fine. After that, you are just spending more for a higher grade stone, but with not much benefit and essentially diminishing returns for your supposed increase in quality.
Impulse buying your engagement ring
Daria Kopylova / wonderful and considered engagement ring
With your engagement ring being such an important purchase, it is important to be informed by what hit's your guts and what you are drawn to; but make sure you are not buying your engagement ring based on an impulse. 
While you may find a ring that you love, you should still take some time to think about your decision for at the very least a few days, if not a lot longer. These are major purchases.
Setting a ring budget and thinking carefully about your purchase makes you more likely to get a ring you will love instead of the one you bought because you felt pressured to do so based on a flash sales pitch from someone who works at a jewellers. 
RELATED ARTICLES
Recent posts
Explaining Ethical Engagement Rings
The meaning behind different gemstones
Opal and Tourmaline: October's opulent birthstones
Ways you can make your wedding more environmentally friendly
Engagement rings
How to Propose with a Bespoke Engagement Ring
The Ultimate Engagement Ring Guide
Your Guide to Coloured Gemstone Engagement Rings
The 12 Engagement Ring Traditions You Need To Know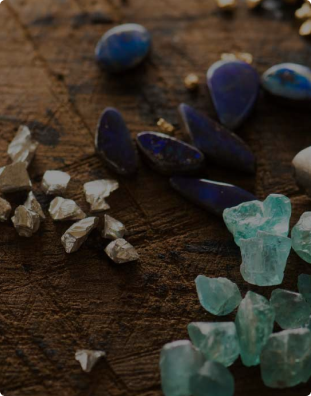 Featured / seasonal collection banner
RESPONSIBLY SOURCED.
BEAUTIFULLY CRAFTED.
SHOP NOW
Featured products
Featured products