Whilst it is true to say that ultra-high net worth individuals are usually the last people to notice a global crisis, it is striking just how robust demand for fine jewellery and fine grade coloured gemstones has remained during the pandemic. Some have pointed to the fact that there has been a spike in so-called 'lockdown' proposals and avid collectors have perhaps been less pre-occupied with their day jobs whilst most of us have been required to stay at home most of the time. It has been suggested that wealthy individuals have spent more than usual on jewellery items gifted for special occasions, such as birthdays and anniversaries, to compensate for the lack of face-to-face contact. It is true that the recent volatility in equity and property markets around the globe is juxta posed to the steady upward trajectory of fine gemstones. Some of the items that have seen the greatest increase in demand encompass rare antique models of fine timepieces, including Patek Philippe, Rolex, Cartier, Piaget, and Roger Dubuis, among others. Fine gemstones, most notably Colombian emeralds, Brazilian Paraíba tourmaline, Argyle Pink diamonds, Burma (Myanmar) pigeon's blood ruby, and Ceylon (Sri Lanka) and Kashmir cornflower and royal blue sapphires, as well as pink sapphires and spinel. Some of this demand has remained steady for those marking a certain auspicious occasion, such as a ruby or diamond wedding anniversary or a particular birthstone.
But crucially the super-rich have seen coloured gemstones, fine jewellery, and other 'treasure' assets as a safe haven in turbulent economic times. Most high net worth and ultra-high net worth individuals are privileged to have very secure employment and access to deep reserves of capital, so it is perhaps not that surprising that many of them have continued to spend apace through the Coronavirus pandemic. Coupled with this, they are not able to travel or go on holiday at present that in many cases they have time on their hands and some retail (or investment) therapy is exactly what the 'doctor' ordered! Many high-end investors view rare coloured gemstones as a sound investment and a 20-carat Kashmir sapphire sold last month for over (US)$200,000 per carat in Hong Kong in May. As with other asset classes, including property, the broader economic uncertainty has forced some to sell gemstones well below market value, presenting distressed asset purchase opportunities for some buyers. This is creating opportunities for some stones to be bought for as much as 30% under their pre-crisis prices. However, the rarest of all stones, such as ultra-fine Kashmir sapphires, pigeon's blood Burma rubies, Colombian emeralds, and vivid blue and pink diamonds, are holding their own in terms of value and may even be experiencing increases.
One of the consequences of the global travel restrictions has been a constriction in supply, as many coloured stones a still transported around the world by air passengers. Compounding this is the fact that many of the mines producing these stones are also closed, as it is almost impossible to practice effective social distancing in the cramped conditions that are usually found deep underground. The entire logistics train of the global gemstone and jewellery industry has been profoundly disrupted by the pandemic and may not return to complete normality until 2021. Most gemstones travel across the world from their mine of origin to the place in which they are cut and polished and on to the manufacturing locations. In terms of a bounce back within the gemstone and jewellery industry, Asia is leading the way with a marked increase in demand in quarter two 2020. Cindy Chao, a well-known Taiwanese jewellery designer, has reported that interest from collectors in her work has continued to increase, so much so that she still plans to go ahead with the planned opening of a new showroom in Shanghai later this year. Strong customer relationships are key to successfully sustaining businesses at this time and the power of these interactions are being demonstrated very clearly by the propensity for high net worth and ultra-high net worth to continue to invest heavily in rare coloured gemstones, from trusted sources.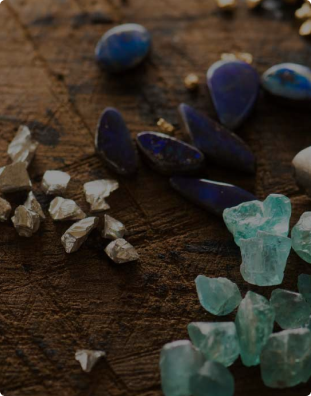 Featured / seasonal collection banner
RESPONSIBLY SOURCED.
BEAUTIFULLY CRAFTED.
SHOP NOW
Featured products
Featured products