Wedding day jewellery is the finishing touch that completes a bride's look on her special day. It's a way to add a touch of elegance, glamour, and personal style to an already beautiful occasion. But with so many options to choose from, it can be overwhelming to select the perfect pieces. This guide will walk you through the most popular options and help you find the jewellery that helps you feel your most radiant on your big day.

Matching your jewellery to your wedding dress
When it comes to wedding day jewellery, the first thing to consider is your gown. The style, fabric, and details of your dress should all be taken into account when selecting your jewellery. A simple, classic gown, such as a mermaid or A-line silhouette, pairs well with elegant, understated jewellery like a pair of solitaire studs or a delicate pendant necklace.
On the other hand, if your gown is more ornate, with a lot of beading or lace, you have more leeway to choose more dramatic pieces, such as a pair of statement chandelier earrings or a bold bib necklace.
Grace Loves Lace / A wedding dress with a plunging neckline
It's also important to keep in mind the neckline of your dress, as it will determine what type of necklace will be most appropriate. A plunging neckline calls for a long necklace or a choker to fill in the space, while a high neckline might not need a necklace at all.
A strapless or off-shoulder dress can be paired with statement earrings to draw attention to the neck and shoulders. And a dress with a high collar can be accessorised with statement earrings, bracelets and bangles to add some interest.
A good rule of thumb is to pick jewellery that complements, rather than competes with, your gown. Choose pieces that will enhance the overall look and feel of your dress without overpowering it. It is always a good idea to try on your chosen jewellery with your dress, as it will give you a better understanding of how it will look on the day. Also, don't forget about matching your jewellery to your other accessories such as your veil, shoes or a hair piece if you have any.
Choosing earrings for the big day
Earrings are a must-have accessory for any bride and can really enhance your overall look on your wedding day. They come in a variety of styles and designs, so there's something to suit every bride's taste and style.
Dangle earrings, for example, are a great choice for a formal event and can add some movement to a bride's look. They are typically long and hang down from the earlobe, catching the light and adding a touch of sparkle. They can be found in a wide range of designs, from simple and elegant to more ornate and dramatic. They are perfect for brides who have a sophisticated sense of style, and they would compliment an up-do hairstyle.
Stud earrings, on the other hand, are a timeless option that work well with any style of dress and can be worn with a necklace. They are simple, yet elegant and tend to be smaller in size, making them the perfect choice for brides with a minimalist style. They can be found in different materials like pearls, diamonds, gold, or even costume jewellery. They are versatile, affordable and perfect for everyday wear and can be worn after the big day too.
Finding the right necklace for the occasion
A necklace is another essential piece of wedding day jewellery. A delicate pendant necklace is a beautiful option that can add a touch of sparkle without overwhelming your dress. The pendant can be of a simple design such as a solitaire diamond, or a more elaborate one, such as a cluster of diamonds or a pearl. 
Alex McCarthy / Ornate Pendant necklace
A choker style necklace is also a popular choice and can make a bold statement. A choker sits closely around the neck and can add a touch of elegance and glamour to your look. They come in various designs, from simple bands to more elaborate pieces with precious gems.
Another option for the necklace is a long strand of pearls. It's a timeless classic that can add a touch of elegance and sophistication to your bridal look. It's an elegant choice for traditional bridal gowns, particularly those with a vintage or Victorian inspiration. 
---
In conclusion, wedding day jewellery is a crucial element of your bridal look that should be carefully selected to complement your gown, hairstyle and personal style. Whether you choose classic pearls, sparkling diamonds, or a one-of-a-kind custom piece, the right jewellery will make you feel even more beautiful on your special day. Have fun with your selections and make sure your jewellery feels like it represents your true self.
RECENT ARTICLES
Diamond: The world's most popular gemstone and April's birthstone
The most famous pieces of heirloom jewellery
How can you modernise heirloom jewellery?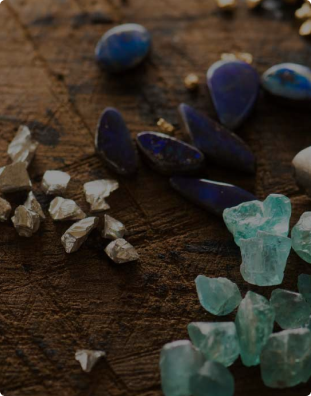 Featured / seasonal collection banner
RESPONSIBLY SOURCED.
BEAUTIFULLY CRAFTED.
SHOP NOW
Featured products
Featured products